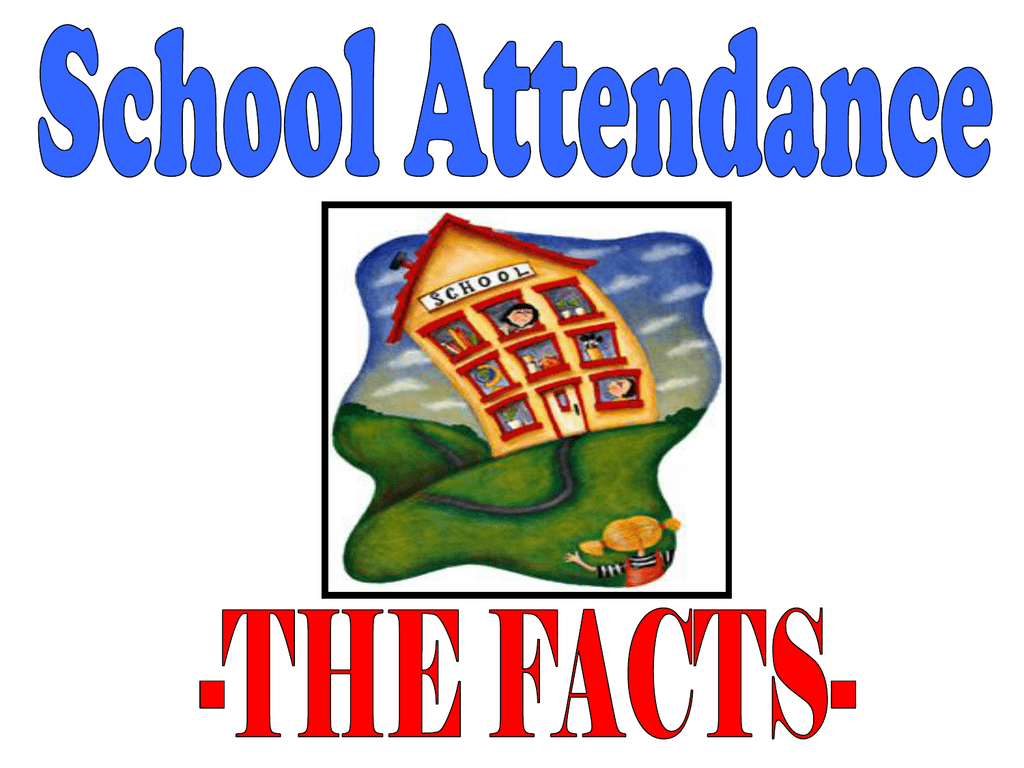 Allows a child to access a
FULL & VARIED curriculum.
As well as developing their
Absences are recorded as either
Authorised or Unauthorised
Parents/Carers should supply
a reason for all absences to the school
If school deem the reason to be
acceptable, school may authorise the
absence. If not it will be recorded as
unauthorised
•Contagious illness
•An operation
•Observing religious events
•Holiday agreed by school
•Birthdays
•Shopping trips
•Family outings
•Holiday not agreed by school
MEDICAL
OR
DENTAL
APPOINTMENTS SHOULD BE
MADE OUTSIDE SCHOOL
HOURS WHERE POSSIBLE
HOLIDAYS
SHOULD
BE
TAKEN IN SCHOOL HOLIDAY
TIMES
CHILDREN
SHOULD
BE
AT
SCHOOL ON TIME AS LATENESS
CAN ALSO BE UNAUTHORISED
ASWELL AS DISTURBING TO A
CLASSROOM
So how does absence affect students?
• 100-95% attendance gives the best chance of
success
It gets students off to a flying start
• 85-90% attendance makes it harder to
progress
Students have less chance of success
• 80% and below is not fair on your child
Court action will follow
190
Days at
school
100%
10 days
absence
180
Days at
school
95%
GOOD!
19 days 29 days
absence absence
Half a
term
171
Days at missed
38 days
school
161
absence
Days at
152
school
Days at
school
90%
85%
WORRYING
80%
47 days
absence
143
Days at
school
75%
SERIOUS
Court action!
The Education Act 1996 states:
'If any child of compulsory
school age, who is a registered
pupil at a school, fails to attend
regularly, the parents shall be
guilty of an offence'.
A Penalty Notice issued to
each parent for each child, by
the Local Authority for £50 if
unpaid within 28 days this
rises to £100 if paid within 42
days. Non payment results in
court action.
An appearance in a
Magistrates Court which, if
found guilty and prosecuted
may result in a Parenting
Order, Community Order, a
Fine of up to £2,500 and /or up
to 3 months in Prison.
Late for school
Late for lessons
Late for work
It doesn't matter if I'm late
..............................does it?
19
Days
13
Days
10
Days
6.5
Days
3
Days
5 mins
10 mins
15 mins
20 mins
30 mins
Well, it does because……….
• I miss the beginning of the lesson
• I don't know what to do
• I have to stop others listening and learning to ask them what
to do
• I may have to disturb everyone to get to my seat
• The teacher may be in the middle of giving instructions
• I miss registration
• The teacher is irritated and gets grumpy
So what should you do?
• Be on time for school and lessons
• Book medical appointments out of school hours when
possible
• Plan holidays in the 175 non-school days
• Celebrate special times after school, at weekends and in
those 175 days !
• Go late-night shopping!
• If you are absent, talk to your teachers about catching up
with your learning
Don't miss out on success!!