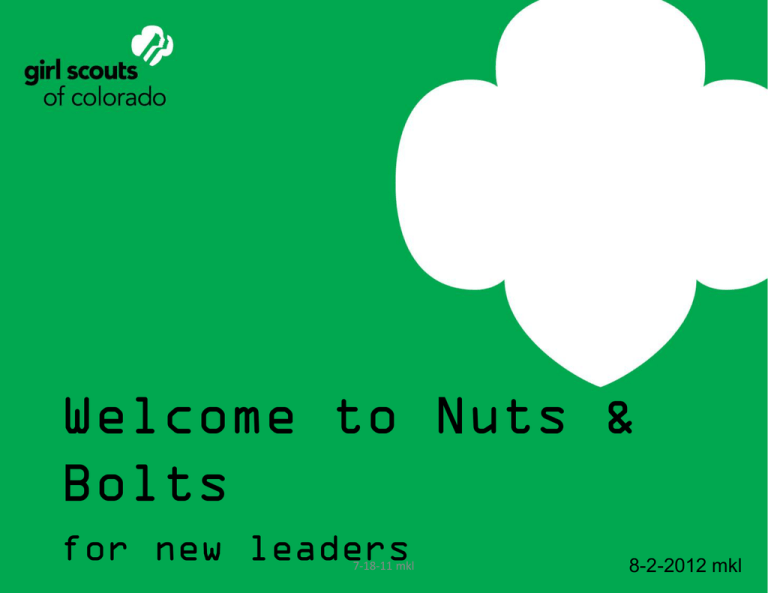 Welcome to Nuts &
Bolts
for new leaders
7-18-11 mkl
8-2-2012 mkl
The work of today
is the history of
tomorrow and we
are its makers…"
Juliette "Daisy"
Gordon Low
founder of the Girl
Scouts
Session Agenda participants will
learn:
• About Girl Scouting, Girl Scout
structure and support
• The steps in starting a troop
• How to involve families
• How to facilitate girl-led troops
• How to manage troop finances
• About possible troop activities
• How to locate Girl Scout resources
Girl Scout Promise
& The Girl Scout
Law
The Girl Scout Promise
On my honor, I will try:
to serve God and my country,
To help people at all times,
And to live by the Girl Scout Law.
The Girl Scout Law
I will do my best to be:
honest and fair,
friendly and helpful,
considerate and caring,
courageous and strong, and
responsible for what I say and do,
and to
respect myself and others,
respect authority,
use resources wisely,
make the world a better place, and
be a sister to every Girl Scout.
Girl Scout Leadership
Experience
WHAT
girls
do
BENEFITS
To girls
3 HOWs
How Girls
Experience Girl
Scouts
What girls
CONTRIBUTE
to the
world
Girl Scout
Structure
World
Associatio
n of Girl
Guides and
Girl
Scouts
Girl
Scouts
of the
USA
Volunteer
Board of
Directors
Pathway
Voluntee
rs
Voluntee
r
Service
Unit
GIRLS
Girl
Scouts
of
Colorad
o Staff
Membership
Connection
Committee
Levels of Girl
Scouting
Girl
Scout Ambassadors
11th and
12th Graders
Girl Scout
Seniors
9th and 10th
Graders
Girl Scout
Cadettes
6th,7th, and
8th Graders
Girl Scout Juniors
th
th
Getting your Troop
Started
New leader timeline
Start researching
meeting locations
and times
1
Become an
Approved
Volunteer
Complete a new
volunteer
interview
Complete
Required
Training –
GS101, Nuts and
Bolts, Level 101
Hold Family
Information meeting
Recruit leadership
team and girls for
troop
Become familiar
with resources like
Quickstart Guide,
Volunteer
Essentials and
Safety Activity
Checkpoints
2
Work with parents to
get girls registered
Attend Service Unit
leader meetings
5
3
Stay in touch with
Program Teamfor
troop number &
introduction to
Service Unit
Select a bank and
complete online
steps to open
back account
Build a draft troop
dues budget
4
Hold first meeting
with girls that
combines girl-led
planning and Girl
Scout fun
Online
Registration
Registration is first and foremost the
family's job!
http://www.girlscoutsofcolorado.org/paren
ts/register
• Membership fee is $15 due annually
• After the first year, the troop leaders
can renew the troop online
• Parent's can input 5-digit troop number
at time of registration This will
ensure placement in your troop
• Financial Assistance is available,
On-line Troop
Management Tool
This tool is accessible only to 01
troop coleaders by logging into the
registration site
What can I do with the Troop Management
Tool?
• Re-register existing troop members
• Email troop members
• Check girl and adult memberships and
print rosters
• Update troop meeting information
• Register troop members to Council
Your responsibility
to girls
• Use the three "Hows" to build
leadership in girls: girl-led,
learning by doing, and cooperative
learning
• Create a safe and inclusive space
for girls and adults
• Be a positive role model
• Share your knowledge, experience
and skills
• Partnering with girls to plan and
implement Girl Scouting activities
like Journeys and badges, community
service, cookie program and outdoor
Your
responsibilities
effectively with
-• Communicate
administrative
girls,
parents, volunteers, and staff
• Collaborate with families to ensure
that all girls and adults are
registered members of GSUSA
• Oversee proper management of troop
funds
• Maintain close connection to
volunteer service unit support team
• Take advantage of adult learning
opportunities
• Follow Girl Scout Safety Guidelines
Girl Scout Safety
Guidelines
•
•
•
•
•
•
•
•
•
•
•
•
Follow the Safety Activity Checkpoints
Arrange for proper adult supervision of girls
Get documented parent/guardian permission
Report abuse
Be prepared for emergencies
Travel safely
Ensure safe overnight outings
Role-model the right behavior
Create an emotionally safe space
Ensure that no girl is treated differently
Promote online safety
Keep girls safe during money-earning
activities
Adult to girl
ratios
Group meetings:
Two non-related
adults (at least one
of whom is female)
for this number of
girls
Group meetings:
Plus one adult for
each additional
number of girls
Events, travel, and
camping: Two
unrelated adults (at
least one of whom
is female) for each
number of girls
Events, travel, and
camping: Plus one
adult for each
additional number
of girls
Girl Scout Daisies
(K– grade 1)
12
6
6
4
Girl Scout Brownies
(grades 2–3)
20
8
12
6
Girl Scout Juniors
(grades 4–5)
25
10
16
8
Girl Scout Cadettes
(grades 6–8)
25
12
20
10
Girl Scout Seniors
(grades 9–10)
30
15
24
12
30
15
24
12
Girl Scout
Ambassadors
(grades 11–12)
Review
1.
Are adult volunteers required to
register as members of GSUSA?
2. How can leaders ensure that no girl
is treated
differently in the troop
or group?
3. At a minimum, how many adults are
required at all
times at Girl Scout activities?
4. What are the "3 Hows" of Girl
Scouts leadership
development?
Family Involvement
Meeting
Family
Involvement
• Discuss Girl Scouting
Meeting
• Explain girl and adult
expectations
• Ask for help
• Review meetings & procedures
• Discuss dues
• GSUSA membership registration fee is
paid by family the 1st year (Girl
Scout membership runs 10/1 - 9/30)
• Troop dues
• Collect Annual Parent Permission &
Health History forms
Troop leadership
team positions
 Leader/co-leader (01)
Troop Fall Sale Manager
Troop Cookie Manager
Troop Treasurer
Overnight Chaperones
Positions require volunteer approval
through Council
How can parents
help?
• Arranging and managing meeting
places
• Provide supervision to meet safety
ratios
• Finding guest speakers for special
events
• Assisting with trips and
chaperoning
• Act as troop First Aider or
Emergency Contact
• Bringing snacks to the troop
meetings
When and where to meet
• How often should you meet?
Semi-monthly or monthly?
• For how long?
1 hour, 1 ½ hours, longer?
• Where can your troop meet?
Schools, libraries, community buildings,
houses of worship, childcare
facilities, etc.
Check cost, safety, size, accessibility
resources, bathrooms, potential
allergens
Review
1.
What is the best way to
register as a member of Girl
Scouts?
2. List three places where troop
meetings can be held.
3. Because specialized training
begins in November, this
leadership team member should be
recruited in the early Fall.
4. Why is a family involvement
meeting important?
Troop finances
Troop bank
account
• Select a bank
• Complete the GSCO online form to request a
Bank Account Authorization Letter
• You will need a co-signer who:
• Is unrelated
• Is an approved volunteer
• All troop financial, bank, and product
sales records are open to girls and
guardians and GSCO Council at any point
in time.
• Do not allow troop finances to mix with
personal finances
• Troop money belongs to the troop, not the
individual girl
Troop Dues
Possible Start up costs include:
•
•
•
•
•
Troop or individual girl set of curriculum
Petals, Badges, Awards, Patches
Girl uniforms
Supplies for activities, field trips, etc.
Leader training costs (including First Aid)
 Product Sales can help when girls set goals
for large ticket trips and activities
 Opportunity Grants are available to help!
Shop online or at Denver Store
www.girlscoutshop.com/Colorado-COUNCIL
Girl-led
Finances
• Goal setting, money
management, business
ethics, people skills,
decision making
• Girls involved in troop finances
at any age!
• Create a budget together including
how much things cost
• Determine how much the group needs
to earn
• Make a plan, write it out
• Keep financial records open and
Troop money
earning
Council Sponsored Money
Earning
Fall Product Sale - September – November
Magazines, nuts and candy
& family sale
is a
friends
Cookie Sale -January – March
Booths
and door to door sales
Group money-earning
Organized by the group, not the council
Planned and carried out by the girls
Never carried out during Product Sales
times
Money Earning
checklist
• Girl's goals are based
on planning,
budgeting amount needed to support
planned activities
• Personal safety of girls is insured
• Girl participation is voluntary
requires the written permission of
parents/guardian
• Families understand why money is
needed
• Troops observe all local ordinances
• Money is safeguarded
DON'T resell product, sell on
internet,
Review
1.
What do you do once you have
selected a bank?
2.What is one of the best ways to earn
troop funds and reduce costs for
girls and families?
3.True or false: girls must have
written permission from their parent
or guardian to sell cookies.
4.When are the annual troop reports due
to Girl Scouts of Colorado?
5.What are two things your troop should
take into account when budgeting?
Outings and Field
trips
Progression
• The type and length of the outing and
trip varies by the age and experience
of the girls
• Questions to ask when planning:
• Are the activities appropriate for
the personal, behavioral, and social
development of the girls?
• Are the girls ready for these
activities?
• Are the leaders ready for these
activities?
• How can this activity be girl-led?
Field trip Safety
• Secure volunteers to meet adult-to-girl
ratios
• Annual Parent/Guardian Permission form vs.
Parent Permission for Girl Scout Activity
• Permission and Health History forms must
accompany girls . at all times.
• Ask for visual or verbal confirmation of
current drivers' licenses and insurance of
all adult drivers.
• In Colorado, all girls under 8 years of age
must be in a child restraint system when
traveling by car (CO State Law).
• Check Safety Activity Checkpoints
• Keep parents/guardians informed in the
planning, especially if more money will be
Insurance
• Every registered girl and adult
member is covered for accidents by
Basic Insurance
• Girl Scout insurance will always be
secondary and subsidiary to family's
primary insurance carrier
• Girl Scout insurance does not cover
non-registered Girl Scout
participants including siblings,
tagalongs, and unregistered adults
• Girl Scouts of Colorado carries
liability insurance to protect itself
and persons acting on its behalf
First Aid /CPR
First Aid requirements are based on
how much danger is involved in the
activity and how remote the area is
from emergency medical services
(EMS) and are strongly recommended
to be taken.
• Less than 30 minutes from EMS =
First Aid/CPR
• 30 minutes or more from EMS =
Wilderness First Aid or Wilderness
First Responder
• A certified First Aid/CPR trained
adult must accompany troop on any
outing away from the regular
Review
1. What is progression in Girl
Scouting?
2. When is it appropriate to use the
Annual Parent Permission Form?
3. When is a First Aid/CPR certified
adult required?
4. How can you accommodate a girl(s)
who's schedule does not allow for
attendance at a troop event/trip?
Girl Scout Resources
Adult learning
• Overnight Trips – required for
trips of one or two nights (and
pre-requisite for Cooking & Camping
and Extended Trips)
• Cooking and Camping – required for
troops planning to cook or camp in
the outdoors
• Extended Trips – required for trips
of three nights or more
• Enrichment Workshops
• Training Events
• Springaganza
• Fallapalooza
Resources
• www.girlscoutsofcolorado.org
• www.girlscouts.org
• www.wagggsworld.org
• Volunteer Essentials
Activity Checkpoints
Safety
• Service Unit team, other leaders,
Program Team staff and other GSCO
staff members
• Customer Support Line at 877-4045708
• GSCO newsletter signup is automatic
with online registration.
• You should opt in to regional e-
Questions?
Thanks for participating!