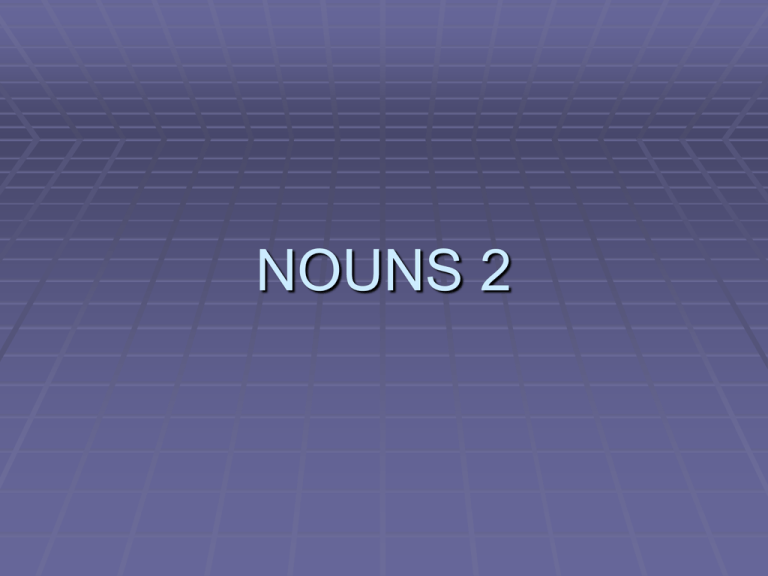 NOUNS 2
Rod imenica (Gender of Nouns)
 1. U engleskom jeziku imenice imaju tzv.
prirodni rod, za razliku od srpskog, gde imaju
gramatički rod.
 2. To znači da su muškog roda (MASCULINE)
one imenice koje označavaju bića muškog pola
(HE): man, brother, son, George, husband
 3. Ženskog roda (FEMININE) su one imenice
koje označavaju bića ženskog pola (SHE):
woman, sister, daughter, wife, Mary
 3. Srednjeg roda (NEUTER) su svi
pojmovi, predmeti, biljke (IT): bread, table,
mountain, gold, star, tree, house, pen, light
 4. Zajedničkog roda (COMMON) su
imenice koje istim oblikom označavaju
bića i muškog i ženskog pola: child,
parent, pupil, cousin, friend, teacher,
doctor, artist, cook, neighbour, foreigner
 5. Rod kod imenica koje označavaju ljude ili







životinje može da se označi upotrebom različitih
reči:
Masculine
Feminine
Man
woman
Boy
girl
Brother
sister
Husband
wife
Father
mother
Grandfather
grandmother
 Masculine
 Son
 Grandson
 Uncle
 Nephew
 Bridegroom
 King
 Sir
Feminine
daughter
granddaughter
aunt
niece
bride
queen
madam
 Masculine
 Bull
 Cock
 Drake
 Gander
 Ram
 Fox
 Buck
Feminine
cow
hen
duck
goose
ewe
vixen
doe
 6. Razlika između muškog i ženskog roda




kod nekih imenica označava se pomoću
imenice ili zamenice koja se stavi ispred
oblika za zajednički rod:
Boyfriend
girlfriend
man-servant
woman-servant
He-goat
she-goat
He-bear
she-bear
 7. Kod izvesnih imenica oblici za ženski




rod dobijaju se dodavanjem sufiksa na
imenicu muškog roda:
-ess: lion+-ess = lioness
Heir
heiress
Host
hostess
-ine: hero+-ine = heroine
 8. Životinje se obično označavaju
zamenicom "it" (srednji rod). Ukoliko je pol
životinje poznat, koristi se neka od niza
imenica za muški ili ženski rod, i naravno
odgovarajuće zamenice "he" i "she".
 9. Zamenica "she" se ponekad koristi za
brodove, automobile, države, mašine.
Međutim, ova upotreba se smatra
zastarelom i treba je izbegavati.
Broj imenica (Number of Nouns)
 1.U engleskom jeziku sve imenice se mogu




podeliti na:
a) NEBROJIVE (Uncount Nouns), koje se
upotrebljavaju samo u jednini;
b) BROJIVE (Count Nouns), koje imaju množinu
2. Skoro sve gradivne imenice, veliki broj ličnih i
apstraktnih imenica, kao i jedan broj zbirnih
imenica su nebrojive:
a) wood, milk, bread, water
 b) London, Great Britain, Mount Everest
 c) success, luck, honour, knowledge
 d) machinery, furniture, money, police
 3. Brojive imenice grade množinu
dodavanjem nastavka "s"
 Cat
cats
 Dog
dogs
 Day
days
 Međutim, postoje i izuzeci:
 a) Kod nekih imenica dodaje se nastavak





–es (iz), kao što su:
Church
Glass
Box
Face
Horse
churches
glasses
boxes
faces
horses
 b) Imenice koje se završavaju na –y kome






prethodi suglasnik, grade množinu tako što –y
prelazi u –i i dodaje se nastavak –s:
Baby
babies
Duty
duties
Lady
ladies
c) imenice koje se završavaju na –y kome
prethodi samoglasnik, grade množinu samo
dodavanjem –s:
Joy
joys
Boy
boys
 d) Imenice koje se završavaju na –f ili –fe menjaju u








množini to –f ili –fe u –ves:
Half
halves
Knife
knives
Loaf
loaves
Wife
wives
e) Druge imenice koje se završavaju na –f ili –ff, grade
množinu dodavanjem nastavka –s:
Chief
chiefs
Roof
roofs
Cliff
cliffs
 f) Imenice koje se završavaju na –o kome prethodi







suglasnik grade množinu dodavanjem –es:
Hero
heroes
Potato
potatoes
Tomato
tomatoes
g) Imenice koje se završavaju na –o kome prethodi
samoglasnik grade množinu dodavanjem –s:
Studio
studios
Piano
pianos
Photo
photos
 h) Nepravilna množina: jedan broj imenica








zadržao je starije oblike množine:
Child
children
Man
men
Woman
women
Tooth
teeth
Foot
feet
Goose
geese
Mouse
mice
Ox
oxen
 i) Mnoge imenice uzete iz grčkog i latinskog







zadržale su originalni oblik množine:
Datum
data
Formula
formulae
Index
indices
Medium
media
Phenomenon
phenomena
Stumulus
stimuli
* U govornom jeziku često: index-indexes,
formula-formulas
 j) Jedan broj imenica latinskog i grčkog
porekla koje se završavaju na –is, grade
množinu na –es (izgovara se [i:z]):
 Basis
bases
 Crisis
crises
 Thesis
theses
Složene imenice
(Compound Nouns)
 1.Složene imenice mogu nastati
spajanjem dveju imenica, priloga i imenice
ili gerunda i imenice:
 Race-horse, tooth-brush
 Byword, insight
 Looking-glass, sitting-room
 2.Složene imenice mogu se takođe razviti
iz raznih gramatičkih odnosa, kao što su:
 glagol-objekat: cut-throat, pickpocket
 Objekat-glagol (sa sufiksom): enginedriver, shipbuilding
 Pridev i imenica: blackboard, midday,
grandmother
Množina složenih imenica
(Plural of Compound Nouns)
 3. Složene imenice obično imaju nastavak za





množinu na poslednjoj reči:
Bedrooms, girlfriends, grown-ups
Ako je prva reč u složenici "man" ili "woman"
onda se i ona stavlja u množinu:
Men friends, women doctors
4. Ako se složene imenice sastoje od imenice i
predloga s imenicom, prideva ili priloga, onda
samo imenica dobija nastavak za množinu:
Brothers-in-law, passers-by, courts-martial
Isti oblik u jednini i množini
(Singular & Plural – Same Form)
 6. Jedan broj imenica ima isti oblik i u
jednini i u množini:
 a) Imenice kao: species, series, means
 There has been an interesting series of
concerts recently.
 There were several series of lectures at
the university last spring.
 b) Imena životinja i biljaka često




zadržavaju isti oblik i u jednini i u množini,
naročito imena nekih vrsta riba, kao
"salmon", "cod", "mackerel":
One sheep
five sheep
One deer
a herd of deer
One swine
a herd of swine
He caught some fish while sailing along
the shore.
 c) Imenice koje označavaju količinu, meru
i razdaljinu zadržavaju isti oblik ako se
ispred njih koristi broj:
 A five pound note; a three mile walk; he is
five foot seven; three hundred people
 Ali se kaže:
 He spent five pounds; they walked ten
miles; hundreds of people
Samo u množini
(Plural Only Nouns)
 1. Neke imenice se upotrebljavaju samo u
množini. Neke od njih označavaju predmete
koji su sastavljeni od dva jednaka dela:
 Scissors (makaze), trousers (pantalone),
scales (terazije), glasses (naočare)
 2. Sledeće imenice upotrebljavaju se samo u
množini u navedenim značenjima:
 Doings (postupci), contents (sadržaj), goods
(roba), looks (izgled), clothes (odeća),
manners (ponašanje), headquarters (sedište,
centrala), premises (prostorije)
Množina gradivnih imenica
(Plural of Material Nouns)
 1. Gradivne imenice po pravilu nemaju




množinu, jer označavaju materiju , a ne
količinu:
Cheese is made from milk.
I don't like wine.
We had fish for dinner.
This is very good cloth.
Ukoliko želimo da izrazimo količinu, koristimo
druge imenice: a packet of cheese, a litre of
milk, a bottle of wine, a kilo of fish, a metre of
cloth.
 Gradivne imenice imaju množinu u dva





slučaja:
1.Ako se govori o raznim vrstama iste
materije:
There were cheeses of all kinds for sale.
The best wines are made in France.
2.Kod imena tečnosti: coffee, water, juice
Two coffees and two juices, please.
Množina apstraktnih imenica
(Plural of Abstract Nouns)
 Veliki broj apstraktnih imenica nema




množinu. Međutim, neke se upotrebljavaju
kao zajedničke, i tada imaju množinu:
He is not fond of work.
His works have been published recently.
There is plenty of room upstairs.
There are three rooms in our flat.
Množina zbirnih imenica
(Plural of Collective Nouns)
 1. Većina zbirnih imenica ima množinu: crowd,






family, nation, goverment, jury
There were crowds of people in the street.
2. Ukoliko se misli na pojedinačne članove grupe a
ne na grupu u celini, koristimo glagol u množini:
The government are not all of the same opinion.
Ali:
The goverment has resigned.
3.Neke zbirne imenice nemaju množinu: police,
clothing, furniture, money, cattle
Padež (Case)
 Savremeni engleski – 1 padež – genitiv
 Označava se nastavkom 's, a imenica se ne




menja
Mesto imenice u rečenici i predlog koji ide
ispred nje određuju njenu funkciju u rečenici:
Mary is looking at the teacher.
The teacher is looking at Mary.
Mora se voditi računa o redu reči i o upotrebi
predloga
Genitiv na 's
(Saxon Genitive)
 1.Sve imenice u jednini i imenice u množini





koje se ne završavaju na –s grade genitiv
dodavanjem 's:
The boy's book, children's toys, men's hats
2. 's se izgovara kao s ili z:
Cat's paw, the boy's father
3. Ako se imenica završava na S, Z, Š, Č
onda se 's izgovara kao iz:
Horse's, boss's, George's, fox's
 4. Ako se imenica završava na –s dodaje
se samo apostrof:
 Dickens' novels, headquarters' decision
 5. Takođe imenice u množini na –s u
genitivu dobijaju samo apostrof:
 Teachers' handbook, the Jones' house.
Upotreba imenice






Imenica se u rečenici može upotrebiti kao:
1. Subjekat: John writes carefully.
2. Objekat (D i I): He gave John your letter.
3. Deo predikata: He is a professor.
4. Atribut (uz imenicu): In my student days
5. Dodatak imenici, pridevu ili glagolu: a
person of great talent; good at housework; he
lives in a nice house; they appointed him
director.