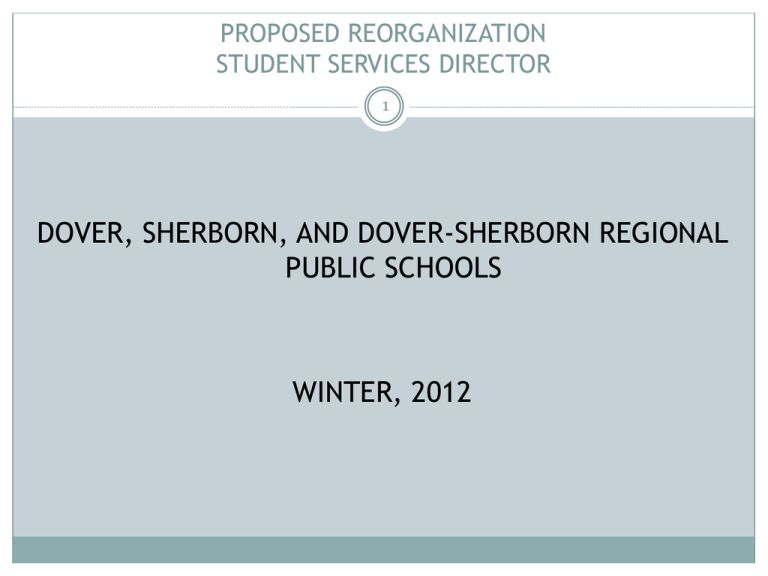 PROPOSED REORGANIZATION
STUDENT SERVICES DIRECTOR
1
DOVER, SHERBORN, AND DOVER-SHERBORN REGIONAL
PUBLIC SCHOOLS
WINTER, 2012
HISTORY AND DISCUSSION BASIS
2
The Superintendent of Schools and the Dover, Sherborn
and Dover Sherborn Administrators of Special Education
have embarked on a study of the administrative service
delivery of special education from a district and
regional perspective. This effort is in concert with the
Strategic Direction embraced by the stakeholders of the
three districts. This effort aligns itself with Goal 1 –
Academic Excellence which seeks to review "Pre K-12
Special Education Departments seeking improvements
and efficiencies". At the Joint School Committees
meeting of January 28th of this year, a brief outline of
the proposal was distributed to School Committee
members.
HISTORY AND DISCUSSION BASIS, continued
3
The following will detail the rationale for a proposed
model, as well as the results of a review of pertinent data
and Work Group activities conducted over the course of
the time period August, 2011 to the present.
************************************
Although a successful model of intra-special education
administrators is currently in place in the districts,
Lashley and Boscardin (2003) emphasize the need to
promote collaboration between general and special
education teachers and administrators that assures high
quality educational programs and access for all students
regardless of ability. It is our contention that the present
structure does not allow for an articulation of such
collaboration across the Pre K-12 continuum.
HISTORY AND DISCUSSION BASIS, continued
4
This proposed reorganization plan has the
potential to engage all administrators in
experiences that offer the opportunity to enhance
their understanding of leadership, organizational
structure and education in general. Given that
the career path and administrative training
programs for general and special education
administrators is a "dual system" of preparation
(Council for Exceptional Children, 2003), the
benefits derived from this collaborative model of
service delivery has implications for students in
both special and general education.
ACTIVITIES TO DATE
5









The Administrative Work Group, consisting of the Superintendent and
three Administrators of Special Education, and with input from the
Business Manager, conducted a range of activities.
Reviewed current practices and structures in all three districts
Discussed the history of special education structures in each district
Considered state and federal laws and regulations and educational
trends
Met and discussed with building level administrators
Defined roles and responsibilities under current structures
Compared administrative structures in similar districts
Analyzed budgetary implications
Researched models of most effective practices
Identified long term effects and goals
GOALS OF THE REORGANIZATION
6
 Opportunities for increased efficiency and reduced
redundancy will be identified and addressed.
 The reorganization will align with the goals of the
Strategic Plan.
 There will be increased consistency and continuity
of service across grade levels.
 There will be increased capacity to meet student
needs within the Districts.
GOALS OF THE REORGANIZATION, continued
7
 Complex cases that require multiple services
can be more clearly recognized, analyzed,
and communicated within the Districts, to
the benefit of students, staff, and families.
 Parents and community will better
understand and be able to access the range
of resources that the Districts can provide to
meet student needs.
PROPOSAL FOR RESTRUCTURING
8
 Student Services Director: one Central Office
position for the three districts
 3 Team Chairpersons, one at each district, who will
assume many of the day to day, building based
activities.
 The Student Services Director will assume
additional areas of responsibility.
Student Services Director: one Central Office position for
the three districts
9
STUDENT SERVICES FUNCTIONS:
 Nurses/School Health
 McKinney-Vento: for Homeless Students and Families
 Special Education for ages 3 -22, in district and out of
district
 Coordination with guidance at the building level
 Title I
 English Language Learners
 Civil Rights
 Wellness Committee
Team Chairpersons: one new position at each District level,
with collaboration with DSEA
10
Position responsibilities include:
 Schedule and facilitate student evaluations
 Schedule and facilitate Initial and Re-evaluation
meetings
 Review IEPs, evaluation requests, and consent forms
 Develop and present training
 Conduct transition meetings for appropriate grade
levels
 Coordinate Extended Year Services
 Coordinate MCAS accommodations
BUDGET IMPLICATIONS
11
Areas and dollars identified to date (note, costs
are approximate, but proportional):
ITEM
COST REDUCTION
Student Services Director
3 Administrators of Special Education
COST INCREASE
$110,000
DIFFERENCE
($315,000)
$210,000
3 Team Chairpersons
Reduction of .4 FTE Guidance
($ 32,000)
Projected difference:
($347,000)
$320,000
($27,000)
BUDGET IMPLICATIONS, continued
12
As the transition occurs, other efficiencies will be
considered, such as:



Secretarial/clerical hours
District wide contractual services efficiencies
District wide staff allocations and assignments
CONCLUSION
13
The Superintendent and the Administrators of
Special Education thank you for your consideration
of this information. We seek School Committee
approval to proceed with this reorganization design,
and realize that all three School Committees will
need to approve the proposal.