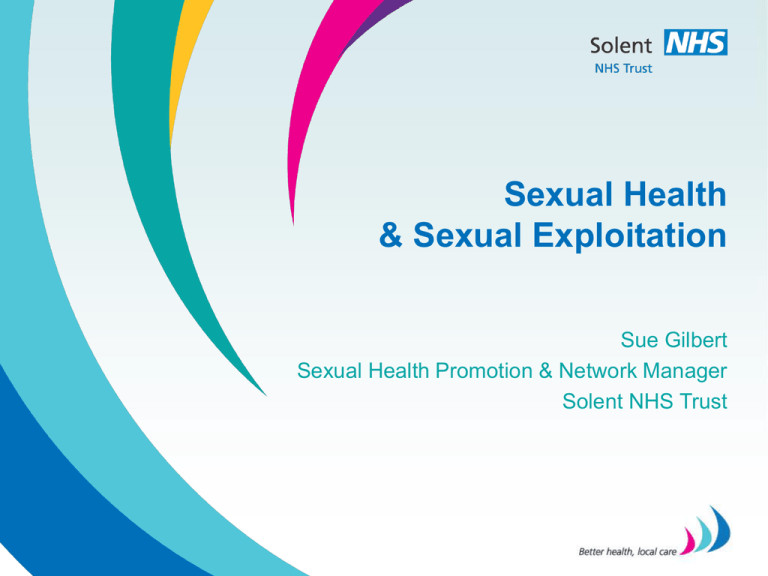 Sexual Health
& Sexual Exploitation
Sue Gilbert
Sexual Health Promotion & Network Manager
Solent NHS Trust
Speaking the same language?
● 8
● 143
● GNRN
● Cu46
● TDTM
● DUM
●
● GNOC
Code 9
Definitions of Sexual Health
"The integration of the physical, emotional, intellectual and social aspects of
sexual being, in ways that are enriching and that enhance personality
communication and love" (World Health Organisation 1975)
"The capacity to enjoy and express sexuality without exploitation, oppression,
physical or emotional harm" (FPA 2006)
Positive sexual health
● Emotional health – freedom from fear, shame and guilt, respecting self and
others
● Social health – making informed choices about sex and relationships
based on personal beliefs and values
● Physical health – freedom from infection and unwanted pregnancy
Positive health?
The Headlines…
'
Many girls' abused by
boyfriends-
BBC News 1st September 2010
'Teenager commits
suicide after 'sexting'
a nude photo to her
boyfriend made her
life a misery'
Daily Mail 2009
'Generation Sexting –
what teenage girls
really get up to on the
internet should chill
every parent'
Daily Mail 2009
One in four pupils 'swap
porn images of
themselves'
Daily Mail 2010
Consensual sex?
● A third of teenage girls
suffer sexual abuse in a
relationship and a quarter
suffer violence at the
hands of their boyfriends.
● Nearly 90% of 1,400 girls
aged 13 to 17 had been
in intimate relationships.
Source: NSPCC and University of
Bristol 2010
● One in six said they had
been pressured into
sexual intercourse and
one in 16 said they had
been raped.
● One in three said their
boyfriends had tried to
pressurise them into
unwanted sexual activity
by using physical force or
emotional bullying.
Who is at risk of sexual ill
health?
ALL young people…
Common themes
●
●
●
●
●
●
●
●
●
Low self esteem
Low aspirations
Low expectations
High numbers of sexual partners
Least access to sexual health services
Least confidence in 'helping' professionals
Higher rates of unplanned pregnancies
Higher risk of STI's
Greater risk to psychological well being
Barnardos project Southampton 1999
Teenage Pregnancy
Where young people experience multiple risk factors their
likelihood of teenage pregnancy increases significantly. A
young woman demonstrating five or more risk factors
has a 31% probability of becoming a mother under 20,
compared with a 1% probability for someone
experiencing none of the risk factors.
NHS Medway (2007)
The issue is complex as there are a range of factors that are
associated with whether a teenager becomes pregnant
Looked after children /
young people leaving care
Behavioural
problems
Disengagement
from school / poor
attendance
Poor educational
attainment
Sexual abuse in
childhood
Social
deprivation
Lack of confidence
in resisting pressure
to have sex
Mental health
problems
Emotional
well-being
Low aspirations
Cultural influence
Low self-esteem
Peer influence
Parental
influence
Alcohol/substance
misuse
Teenage
Pregnancy
More likely to
have sex early
Teenage
mother
Poor and inconsistent
contraceptive use among
Fear of
Lack of confidence young people
parents/carers
in mainstream health
finding out
Lack of easy
services
access to
Young
people
lack
skills
contraception
Parents and professionals
and
confidence
to
make
lack confidence to discuss
and carry through
sex and relationship issues
positive choices
with young people
Ethnicity
Less likely to use
contraception
Poor knowledge and skills
among young people in
relation to sex, relationships
and sexual health risks
Low knowledge levels among
boys and young men
Data
England and local area 2011 (per 1000 women)
U18 conceptions rate
England
Southampton
Portsmouth
Hampshire
30.9
47.4
33.3
23.3
leading to abortions
48.8%
41.2%
42.0%
49.2%
Supporting
parents
To discuss sex
&
relationships
Building
aspirations
and self esteem
SRE in
schools
and out of
school
settings
Young people
friendly
Contraceptive
services
Strong
messages
to young people
and partner
agencies
Champions
&
Strategic
leadership
Workforce
training
on SRE
Strong use of
local data
Targeted SRE
work
with young
people
at risk
Strong youth
service
things to do,
places to go
STI's
● 1 in 14 under 25's
have chlamydia
infection
● Pelvic infection
● Infertility
● Increase in other
STI's
Other…..?
●
●
●
●
●
●
●
●
●
●
Self harm
Bullying
Suicide
Substance & alcohol misuse
Eating disorders
Isolation from friends & family
Homelessness
Commercial Sex Working
Trafficking
FGM
A Holistic Approach
Sexual
health
practitioners
Safeguarding
those at risk
Accessible
services
YOUNG
PERSON
Effective
SRE
Partnership
working
Risk/Needs
assessment
Workforce
Training
Solent Sexual Health Services
- accessible to all
● Sexual and Reproductive Health & Genito-urinary Medicine
● HIV Services
● Unplanned Pregnancy service (Solent & bpas)
● Psychosexual Medicine
● Sexual Health Promotion and Chlamydia screening
● Specialist Outreach Nurse Team
● Network and Training
ALL CONFIDENTIAL
Accessible Services
Specialist Outreach Services
● Referral pathways in to and out of specialist services
● Specialist Sexual Health Nurse (1-1 RAT, consultation, contraception,
safeguarding)
● Sexual Health Promotion Practitioner ( RAT,1-1 targeted SRE, behaviour
change work, GTBT targeted group SRE, safeguarding)
● Professionals Training – RAT, vulnerable adults
● Partnership work- Barnardo's (FCASE) and No Limits (Right 2 B Safe)
The aim of Sexual Health Promotion
"To improve the positive sexual health of the general population and
to reduce inequalities in sexual health".
Specific aims include reducing:
● rates of new and undiagnosed HIV infection
● rates of Sexually Transmitted Infections
● unintended pregnancies
● psychosexual problems and to facilitate more satisfying, fulfilling and
pleasurable relationships
Effective Sexual Health Promotion A Toolkit for Primary Care Trusts and others working in the field of promoting good
Sexual Health and HIV Prevention DH 2003
Risk Assessment Tool
● Identification and assessment is embedded in legislation
(Working Together and supplementary guidance - 2009)
● 4LSCB guidelines
● Contributes to Common Assessment Framework (CAF)
(& SERAF)
● Meets Information Sharing Protocols
● Supports appropriate referral to Safeguarding and Child
Protection teams in health and social care
12 years 364
days (and
under)
Any sexual
activity is an
offence – unable
to consent to
sexual activity –
Refer on
13
years
14
years
15
years
Mutually agreed sexual activity can
be consensual but remains an
offence…
Risks to be assessed and young
people vulnerable to abuse /
exploitation to be referred on as
appropriate
16 years and
over
Sexual activity is
legal in
consenting
relationship (N.B.
still consider risks,
coercion &
vulnerability up to 18
years as ?offence)
Sex & Relationships Education
'SRE has more impact on reducing
sexual risky behaviour if it is taught
through small group work with a focus
on skills and attitudes (rather than
knowledge) (Trivedi et al, 2007)'
Effective Sex & Relationships work consists of a balance of elements
Skills
Knowledge
SELF ESTEEM
IDENTITY
Values
Beliefs
Attitudes
'GIRL
TALK'
'BOY
TALK'
www.letstalkaboutit.nhs.uk
Contact details
www.letstalkaboutit.nhs.uk
For clinics, professionals page for referrals and training/conference details
www.sshvirtualtour.nhs.uk
how to access our services
www.4lscb.org.uk
susan.gilbert@solent.nhs.uk
SNHS.sexualhealthpromotion@nhs.net
SNHS.sexualhealthoutreach@nhs.net
FCASE
Families and Communities
Against
Sexual Exploitation
FCASE – What is FCASE?

Two year DfE grant funded project

1st April 2013 – 31st March 2015

Hampshire, Birmingham, Middleborough

Contribute to the development of safeguarding services that support
and protect children at risk of harm

The aim of Families and Communities Against Sexual Exploitation
(FCASE) is to embed more effective practice on safeguarding
children and young people, including those in foster care, from
sexual exploitation, through harnessing the protective factors within
a child's family and/or foster home; and the wider community.
FCASE – What is FCASE?
Objectives

Embed FCASE methodology alongside a Safer You Plan, ensuring early
identification of children vulnerable to CSE.

Engage 210 children/young people (70 in Hampshire) and their
parent/carers to recognise CSE and reduce risk.

Provide awareness training to 1800 professionals (600 in Hampshire)
working with children across three areas to recognise CSE risk indicators.

Provide support/information to communities to understand CSE and
strategies to keep children safer through 36 events (12 in Hampshire).

Provide independent evaluation and resources to inform and disseminate
national practice, by the end of year 2 (Toolkit).
FCASE – Outcomes

Enhance parent/carer – child/young person relationships.

Reduction in family conflict.

Reduction in the level of risk/harm for children/young people.

Stable and secure accommodation.

Children/parents/carers contribute to planning and decisions.

Adults/children to identify abusive/exploitative behaviour.
Case Study- The Smith
family
-
-
-
Mother, father 2 daughters (Mary 23 and Lucy
16) and son aged 12.
Daughter identified trough our missing service
and offered FCASE as low risks of CSE were
identified
Mother and father allocated a worker
Lucy was allocated a different worker
Parents
-
-
-
-
-
-
Week 1 –Understanding & Living
with Risk
Young Person
-
Week 1 -Relationships
-
Week 2 – Risk
-
Week 3 – Abusive Relationships
Week 2 – What is CSE?
Week 3 –Abusive Relationships &
Gooming
Week 4: The Internet - how to get
help and support?
-
Week 4: Grooming in
relationships
-
Week 5: Consent, The Law and
E-Safety
-
Week 6: Review of Learning
Week 5: Consent
Week 6: Review of Learning
What has changed for the
Smith Family?
The family has said that this programme has enabled them
to:
- Understand and identify risks
- Learn and Discuss CSE
- Maintain consistent boundaries
- What to do if a child goes missing again
Since our intervention:
- Lucy has not gone missing again
- Lucy has enrolled at college and has regular attendance
- Lucy has a clearer understanding of potential risks
How to Refer
- SERAF
- Complete our referral form
- Contact our professionals on 01489 796 684
Thank you!
IP copyright © Barnardo's 2013
All rights reserved
No part of this material, including images, may be
used,
reproduced or stored on an authorised retrieval
system, or
transmitted in any form or by any means, without
the
express permission of the publisher.
What do Serious
Case Reviews Tell
us?
Learning Lessons
Serious Case reviews recommendations
have led to the development of multi
agency Child Exploitation Strategies being
devised by many Local Authorities.
A specialist Child Protection Manager
(Sexual Exploitation) has in many cases
been appointed as the single point of
contact on CSE matters.
Their job is to manage the Strategy and
assist the co-ordination of the multi-agency
responses to individual cases
Learning Lessons:
The learning about the complexity of the
sexual exploitation of children and young
people identified that effective multiagency working has a key role to early
identification of concerns and to taking
action to keep the children and young
people safe.
Learning Lessons:
• Missing children arrangements have been
strengthened.
• The Safeguarding Children Procedures
have been updated.
• New information sharing tools and risk
assessment tools have been developed to
enable agencies to share information
about concerns regarding sexual
exploitation.
Learning Lessons:
• A training strategy has been
implemented to take forward the
training and development of staff
in CSE across all relevant
agencies.
• CSE Champions have been
identified to provide advice and
support to staff on the
identification of signs and
symptoms of CSE and undertaking
risk assessments
Learning Lessons:
Aims:
• Child-centred prevention, identification,
support and prosecution.
• Strategies will have three core aims:
Prevention, Identification and
Support.
Good practice areas also aim to improve
action against perpetrators, through
disruption and prosecution.
Learning Lessons
Key agencies include: a
minimum of police, social care,
health, education and education
welfare; plus if possible, youth
offending, probation, housing,
youth service and voluntarysector services.
Learning Lessons:
It is critical there are multi agency meetings
where intelligence is shared, strategies
devised to identify : those at risk, possible
perpetrators and links within counties and
across boundaries.
Where clear interventions are agreed and
agencies co-ordinate a response to:
• Prevent the behaviour where possible.
• To disrupt the behaviours .
• To support the victim and protect.
• To prosecute and prevent others being
harmed.
Learning Lessons:
Exercise:
Within your groups please consider the case study
presented.
Using the plan format you have decide what are the
key risk factors for this child.
What needs to happen and who needs to do what ?
What responses could agencies give and how well
placed is your agency to respond currently?
What does your agency need to do to ensure it has
an effective CSE strategy in place?
How will you take your learning from today back
into your work places?