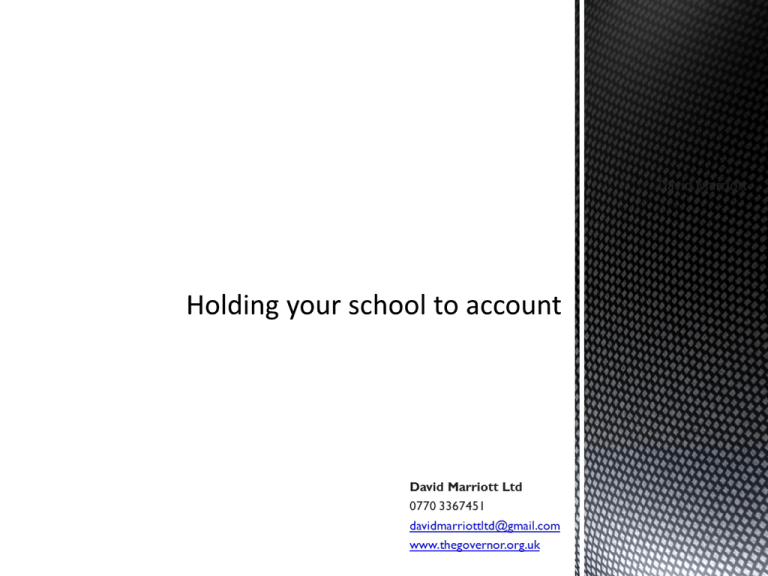 David Marriott
 "Corporate governance has been
gaining more predominance
around the world over the last
decade. However the last year or
so…has seen an unprecedented
interest in some of the areas that
are central to corporate
governance:
 executive remuneration;
 boards of directors, independent
non-executive directors;
 internal controls and risk
management;
 the role of shareholders."
 Chris Mallin
 Feb 2009
 Rights and equitable treatment
of shareholders
 Interests of other stakeholders
 Role and responsibilities of the
board
 Integrity and ethical behaviour
 Disclosure and transparency
 Source: the Sarbanes-Oxley Act,
an attempt by the federal
government in the United States
to legislate several of the
principals recommended in earlier
Cadbury and OECD reports
 Who are our shareholders/
stakeholders?
 What are our obligations to them
and how well do we fulfil those
obligations?
 Does the GB have sufficient
relevant skills and understanding
to review and challenge
management performance?
 Is it an adequate size and are
there appropriate levels of
independence and commitment
to fulfil its responsibilities and
duties?
 Is integrity a fundamental
requirement in choosing our chair,
vice chair, clerk and GB members
(where we have a choice)?
 Do we have a code of conduct for us
and our leadership team that
promotes ethical and responsible
decision making?
 Do we clarify and make publicly
known the roles and responsibilities
of the GB and school management
to provide stakeholders with a level
of accountability?
 Have we implemented procedures
to independently verify and
safeguard the integrity of the
school's financial reporting?
 Is the disclosure of material matters
concerning the school timely and
balanced to ensure that all
interested parties have access to
clear, factual information?
 "If local democracy had worked, if
local governing bodies had worked
in the most challenging schools
and for the most disadvantaged
children, we would never have
needed academies"
 "Often governing bodies are the
problem, actually"
 Sir Michael Wilshaw
 Head of Mossbourne academy,
Hackney
 "The new theology of the Coalition
government is autonomy and
choice…Governors are more
important in a more autonomous
system. Their ability to challenge
and lead is the key."
 Sue Hackman
 Chief Adviser for School Standards,
DfE
 13.10.2011
 Being
ACCOUNTable
 Taking
ACCOUNT of
 Giving an
ACCOUNT
 Being accountable for
 Effectiveness: school performance
 Efficiency: value for money





Taking account of
Performance data
Feedback from stakeholders
Self-evaluation
Policies, plans, improvement
strategies
 School environment
 GB's actions




Giving an account
To parents and the community
To Ofsted
To Diocese
 Effectiveness:
 school performance





Taking account of:
Self evaluation (inc GB)
RAISEonline
Headteacher performance management
Stakeholder feedback eg complaints and
compliments
 Policies, plans, improvement strategies
 School environment
 Efficiency:
 value for money






Taking account of
Schools Financial Value Standard (SFVS)
Financial reports to GB
Finance committee minutes
Financial benchmarking
Value for Money tools
 To parents and the community
 School profile
 Reports?




Regular communication:
Newsletter
Website
Presence at school
 To Ofsted
 Ensuring the governing body provides
effective challenge and support so that
weaknesses are tackled decisively and
statutory responsibilities are met
 Fulfil statutory responsibilities
 Shape the direction
 Challenge and support leaders
High support
Supporters Club
'We're here to support the
head'.
Partners or critical friends
'We share everything –good or
bad'.
Low challenge
Abdicators
'We leave it to the
professionals'.
High challenge
Adversaries
'We keep a very close eye on
the staff!'.
Low support
school
Governors' roles
 ensure school runs effectively, providing best
possible education
 challenge and support school to do better
 take strategic view, set up policies, plans and
targets
 monitor and evaluate results
 delegate enough power to head to run school
effectively
 accountable to parents and LA for how school is
run
 appoint head and deputy
Head's roles
 organises, manages and controls the school dayto-day
 expects GB to challenge and support school to do
better
 discusses main aspects of school life with GB
 reports to GB on how school is managed
 So…the head is the "chief executive"
 So…holding the school to account means
holding the head to account, in practice
 "Governing bodies should be the key strategic
body in schools, responsible for the overall
direction that a school takes. In that respect,
governors are also therefore the key body for
school improvement.'
 Lord Hill, 2011
 The headteacher is accountable to the governing
body – both for the functions performed as part
of the headteacher's normal role, and for powers
delegated by the governing body
 A Guide to the Law for School Governors, 201
 "Heads love mediocre
governing bodies"
 John Dunford
 Whole Education
 Ex head and chair of ASCL
Just add
information…








Doing…in what sense?
How well should it be doing?
How do we know?
What should we be looking for?
Where might we find it?
What questions should we ask?
Who can we ask?
How do we know if the answers are reliable and
honest?
 What do we do if we find they're not?








Data analysis
Validation of self-evaluation
Triangulation
Asking questions - teachers,
parents, youngsters, governors,
head…
Observation
Comparison
Work sampling
Discussion between inspectors
2009
 Overall effectiveness
 How effective and efficient are the provision and related
services in meeting the full range of learners' needs and
why?
 What steps need to be taken to improve the provision
further?
 Achievement and standards
 How well do learners achieve?
 The Quality of Provision
 How effective are teaching, training and learning?
 How well do programmes and activities meet the needs
and interests of learners?
 How well are learners guided and supported?
 Leadership and Management
 How effective are leadership and management in raising
achievement and supporting all learners?
2012
 report on 'the quality of education
provided in the school' and must give
priority to:
 the achievement of pupils at the school
 the quality of teaching in the school
 the quality of the leadership in and
management of the school
 the behaviour and safety of pupils at the
school.
 Inspectors must consider the spiritual,
moral, social and cultural development of
pupils; and the extent to which the
education provided by the school enables
all pupils to achieve, in particular disabled
pupils and pupils who have special
educational needs.
What are our values? POLICIES
What is our vision? What are we trying to
achieve? PLANS
Who do we ask
and how?
What is the
evidence?
SEF
To whom are
we
accountable?
Inc PROFILE
How do we
know it's
happening?
REPORTS
VISITS
Where do we
get the
information?
DATA
What kinds of
achievement
do we value?
How do we contribute to planning for
it?
SDP + PERF. MGT + RESOURCES









Raw data and league tables
Value Added (VA) data – RAISEonline
Pupil tracking data (anonymised)
Ofsted report
Self-Evaluation Form (SEF)
Headteacher's report
Subject leader report
Link governor report
School Improvement or Development Plan (and
related progress reports)
 School Profile
 School Awards (eg Investors In People, Healthy
Schools, Artsmark; Basic Skills)
 Curriculum Committee minutes
 New National Curriculum
 New assessment regime and
methodology
 Progress measures
 EBacc and its effects
 How well deprived groups do
 What happens when they leave?
 New floor standards
 Value for money – results vs
expenditure
 What are your internal school
performance indicators?