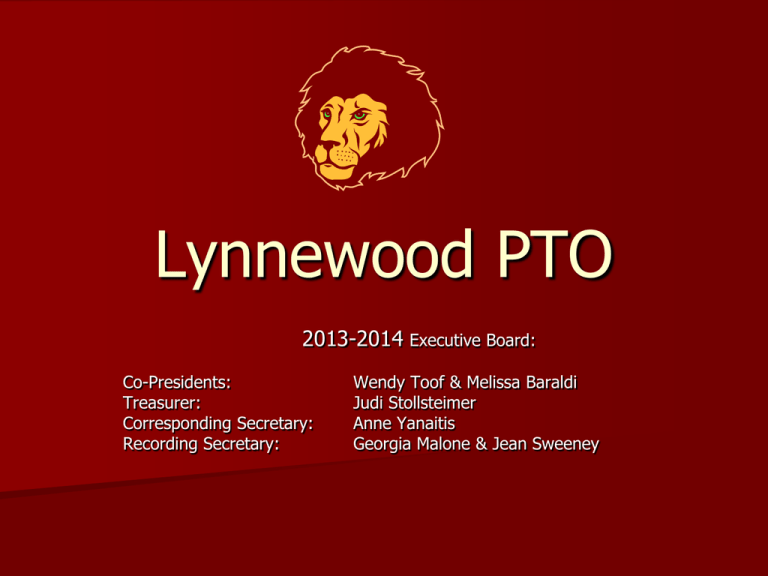 Lynnewood PTO
2013-2014 Executive Board:
Co-Presidents:
Treasurer:
Corresponding Secretary:
Recording Secretary:
Wendy Toof & Melissa Baraldi
Judi Stollsteimer
Anne Yanaitis
Georgia Malone & Jean Sweeney
PTO Primary Functions

Raise funds for programs

Organize and run those programs
What are some of the programs?





Assemblies
School Directory
Yearbook
Lynnewood Live (talent show)
Caring and Sharing
–

Community service projects include coat collection, hat and glove collection;
Make-a-Lunch program
Young Writer's Day
– All types of writing professionals hold workshops in each classroom to work on
projects with the students
Geography and Spelling Bees
Art in the Classroom
Fifth-grade activities (pool party, stepping up ceremony)
Staff and student appreciation events
 Support of Field Day events & PSSA testing Weeks
 Books, educational magazines and supplies for teachers and students




Through the donation of your time and your money to these fundraising efforts:
●Walkathon ●Market Day ●Box Tops ●Target:Take Charge of Education Program
Here's at look at what the PTO accomplished in the past school year
for the students, teachers, and families at Lynnewood…
Community Outreach
Fifth-Grade Class Activities & Homeroom Parents
Make-A-Lunch Program
Coat, hat, and glove drive
Gently-used book collection
Souper Bowl of Caring (volunteers)
Paper drive
Fifth-grade class shirt
Talent Show Acts
Pool Party
Fifth-grade DVD
Stepping Up
Classroom parties & classroom volunteers
Teacher Appreciation Posters
Enrichment
Assemblies
Young Writers Day
Yearbook
Lynnewood Live Talent Show
Lobby decorations
Art in the classroom
Art room helpers
Landscaping
Educational publications for students
Geography Bee & Spelling Bee
Student Appreciation Day assembly
Student Appreciation Day give-aways
Family Socials
Back to School Picnic
Movie Night
Springo Bingo
Square dancing
May Day
And more...
Spirit Shop
Lynnewood school phone directory
Back-to-school packet
Back-to-school night
New kid/new parent orientation
Back-to-school breakfast for teachers
Kindergarten welcome
Stepping Up reception
Teacher Appreciation Day luncheon
Recess equipment: balls, chalk, jump ropes, etc.
New table for the lobby
Track Meet: provided water to runners & balloons for school spirit
Field Day - giving out cold water to students
Pretzels & drinks to 3rd-5th-grade to celebrate the end of PSSA testing
Donations to the Haverford Education Foundation
Donation to the Haverford High School BLAST post-prom party
Book donations to the Lynnewood library
How does the PTO do all of this?

Fundraising!
– BECOME A MEMBER OF THE TEAM
 $10 annual PTO dues to pick up your Lynnewood directory in lobby
– WALKATHON – Friday October 12th
 Send in your donation forms for the raffle!
– BOX TOPS
 Keep clipping those Box Tops!
– MARKET DAY
 Monthly food ordering program with portion of proceeds coming
directly back to Lynnewood
– TARGET RED CARD
 Register your Target card in their Take Care of Education Program
as a way to raise funds for Lynnewood at no cost to you!
1% of purchases come back to Lynnewood
Who makes this happen?... YOU!

Consider volunteering
There are many opportunities to do this. Fill out a volunteer interest form if you're
not sure. Try more than once. It's good for you; it's great for your child and the rest
of the students at Lynnewood. We need you to keep these programs.

Sign up for the website tonight
Even though you may have provided your email address for the directory, YOU have
to sign up for the website to get weekly updates about Lynnewood events, PTO
opportunities, etc.

Come to a meeting
Monthly meetings are held first Wednesday of the month Oct-Jun (except Dec)
First meeting for 2012-13 school year will be on Wednesday Oct 3rd @ 7:30pm
Still have Questions?
Please see any member of the Executive Board or other PTO member,
check the website
or
send an e-mail
www.LynnewoodFamilies.org
LynnewoodPTO@aol.com
THANK YOU !
THANK YOU !
THANK YOU !