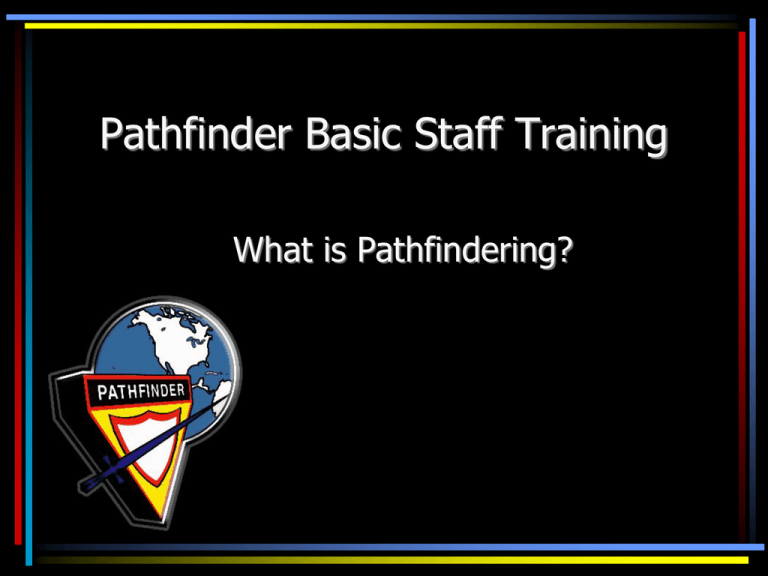 Pathfinder Basic Staff Training
What is Pathfindering?
History of Pathfindering
in North America
• 1907
– Missionary Volunteer Societies organized
• 1922
– JMV (now AJY) Progressive Classes introduced Friend and Companion (ages 10 & 11 or grades 5
& 6) also Comrade & Master Comrade
• 1929
– "Pathfinder" name first used at a summer
camp in Southeastern California
• 1931
– First Master Comrade Investiture
History of Pathfindering
in North America
• 1946
– First conference-sponsored Pathfinder Club
(Riverside, California) Pathfinder Club emblem
designed by John H. Hancock
• 1949
– Henry Bergh writes Pathfinder song
(not copyrighted until 1952)
• 1951
– First Pathfinder Fair,
September 23, Dinuba, California
– Master Comrade changed to Master Guide
– Pathfinder Staff Manual published
History of Pathfindering
in North America
• 1979
– MV changed to AY (Missionary Volunteer -->
Adventist Youth)
– JMV changed to AJY (Junior Missionary Volunteer -> Adventist Junior Youth
– Pre-JMV changed to Adventurers
(4 yrs. - 4th grade)
• 1982
– New Pathfinder World replaces MV World
– Voyager Class added (age 14 or grade 9) –
between Ranger & Guide
– NAD Pathfinder uniform revised
History of Pathfindering
in North America
• 1985
– First NAD Pathfinder Camporee, Camp Hale,
Colorado
• 1995
– Teen Leadership Training (TLT) Program
established for training High school students
(grades 9-12)
– First Pathfinder Web Site established
• 1998
– 1st NAD Master Guide Convention,
Los Angeles, CA
History of Pathfindering
in North America
• 1999
– NAD Pathfinder Web Site established
– "Discover the Power" International Camporee in
Oshkosh WI
• 2000
– Uniform changed from Forest Green skirts, slacks
& sashes to Black skirts, slacks & sashes
• 2001
– Pathfinder Honor Handbook revised,
17 new honors and international honors
added
History of Pathfindering
in Northern California Conference
• By 1950 there were active clubs in:
–
–
–
–
–
Walnut Creek
Richmond
Martinez
Deer Park
Camino
• Pacific Union Conference Prepares
1st Drill Manual in the early 1950s
– Committee members were:
• Clark Smith
• Henry Bergh
• Glenn Fillman (NCC MV Director)
Pathfinder Club
Emblem
White
Purity
Red
Sacrifice
Blue
Loyalty
Gold
Excellence
Pathfinder Club
Emblem
Three Sides – Completeness
Shield
– Protection
Sword
– Bible
Pathfindering
as a Ministry
•
•
•
•
Not
Not
Not
Not
entertainment
babysitting for parents
simply another youth group
just an outdoor activity based club
THEN WHAT IS
PATHFINDERING?
Pathfindering
as a Ministry
• Spiritual at it's core
– It is intended to lead members into a growing,
redemptive relationship with God
• Experience-based
– It is organized and led to build members into
responsible, mature individuals who contribute to
their families, their church and their world
• Others Focused
– It is programmed to help members
realize that there is something that each
one can do to help their neighbor
through active, selfless service
Mission of
Pathfindering
To provide a:
• Church-centered
• Recreational-spiritual program
• For both boys and girls
• Ages 10-15
– That offers action, adventure,
challenge and group activities that
produce team spirit and loyalty to
God and the church
Philosophy of
Pathfindering
"Train a child in the way he should go,
and when he is old
he will not turn from it."
Proverbs 22:6 NIV
Philosophy of
Pathfindering
• Proverbs 22:6
– Training them while they are young is
important because 70% of Christians make
their decision for Christ before the age of 14
(christianitytoday.com)
– Because of changes in society such as:
• divorce causing single parent homes,
• 50% of our kids not attending Christian
schools,
• Fewer families in society have any contact
with Christianity
Philosophy of
Pathfindering
"Finally, brothers, whatever is true,
whatever is noble, whatever is right,
whatever is pure, whatever is lovely,
whatever is admirable
if anything is excellent or praiseworthy
think about such things."
Philippians 4:8 NIV
Philosophy of
Pathfindering
• Phil. 4:8
– Pathfindering is fundamentally principlesand experience-based training so that
young people can more easily transfer the
learning to other areas of life.
– Everything (honors, classwork,
example) must be affected by Biblical
truth because we are painting a picture
of God for our kids
Philosophy of
Pathfindering
A Song by Ponder, Harp & Jennings goes:
You're the only Jesus some will ever see
You're the only words of life
some will ever read
So let them see in you the
One in whom is all they'll ever need
For you're the only Jesus
some will ever see
Goals of
Pathfinder Leadership
• Help Pathfinders to understand that the
church loves, cares for and appreciates
them.
• Show Pathfinders that God has a plan
for their lives.
• Train Pathfinders for Christian
service.
Goals of
Pathfinder Leadership
• Work for the salvation of each individual
Pathfinder.
• Assist in developing the Pathfinder's
appreciation for nature and a concern
for the environment.
• Teach Pathfinders specific skills
and hobbies that will make their
life meaningful and will occupy
their time profitably.
Goals of
Pathfinder Leadership
• Help keep Pathfinders physically fit.
• Give opportunities for the development
of leadership.
• Assist Pathfinders in developing a
balanced physical, mental, social,
and spiritual life.