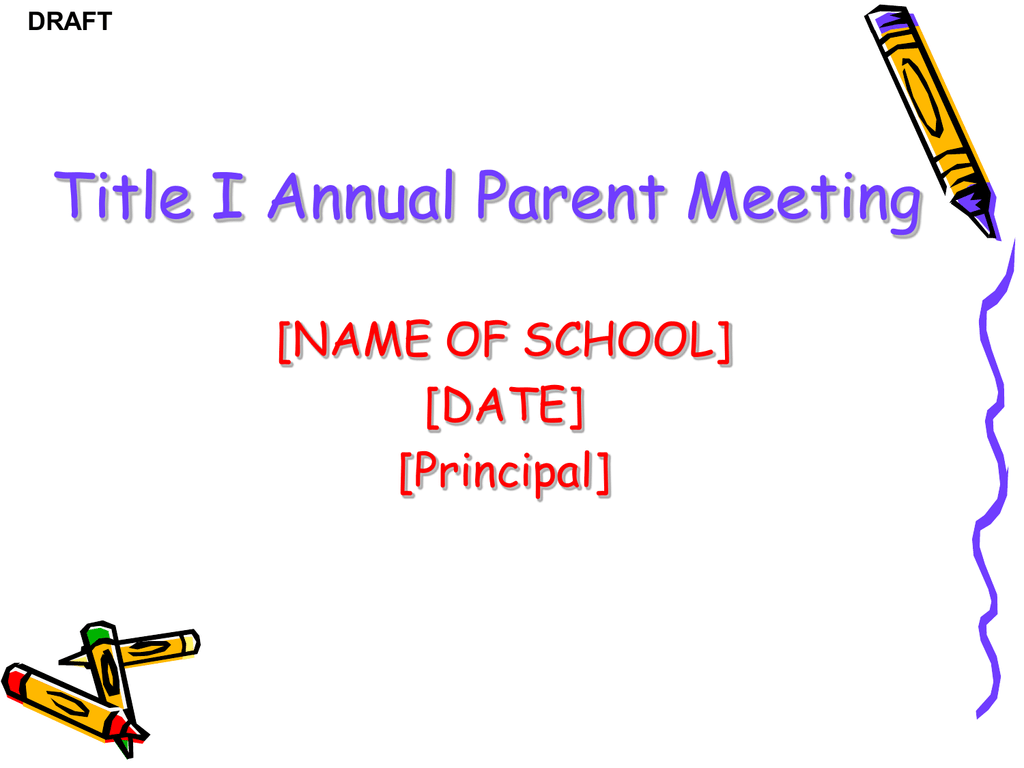 DRAFT
Title I Annual Parent Meeting
[NAME OF SCHOOL]
[DATE]
[Principal]
DRAFT
Agenda
• Welcome and Introductions
• Growing Up: What do we want for our
children?
• All About Title I
• Standards and Testing
• Parental Involvement
• Visit Classrooms
DRAFT
I want to be a . . .
[Name] wants
to be an
astronaut
when he
grows up.
DRAFT
Dreams to Reality
• What kind of person do you want
your child to be:
DRAFT
We All Want . . .
•
•
•
•
•
•
The best for our children;
A better future for them;
Success in school and life;
To be happy;
To be a good citizen;
To be respectful, honest, and hard
working; and
• To make more money then we do.
DRAFT
Education is the KEY
DRAFT
What is "No Child Left Behind"?
Education act signed into law in 2002 that
aims to:
• Ensure that every student has a highquality education;
• Challenge and motivate students;
• Provide highly qualified teachers, who
use proven teaching methods; and
• Ensure a safe, drug free learning
environment.
DRAFT
What is Title I?
• Title I is the largest federal assistance
program for our nation's schools.
• The goal of Title I is a higher quality of
education for every child.
• The program serves millions of children
in elementary and secondary schools each
year. [Name] is a Title I school
• What every parent should know about
Title I! (brochure)
DRAFT
How Title I Works
• The federal government provides funding
to states each year for Title I.
• The Florida Department of Education
sends the money to the district.
• The school district identifies eligible
schools and provides Title I funds.
• [Name] implements a [schoolwide]
program.
DRAFT
Adequate Yearly Progress (AYP)
• The goal is for all students to be proficient by
2014.
• Targets include participation rate and percent
proficient in reading, writing, mathematics and
graduation rates.
• Schools that receive Title I funds must make AYP
every year or face consequences.
• If the school fails to meet AYP targets for two
consecutive years the school is identified as in
need of improvement (SINI).
• To exit improvement a school must make AYP for
2 consecutive years
DRAFT
We are a SINI School
• For the past # years, [Name] has not
meet the AYP targets in the areas of
[add areas].
• As a SINI school, families are
granted certain rights.
DRAFT
Free Tutoring
• Free tutoring, known as Supplemental Education
Services (SES) will be provided for eligible
students;
• Students eligible to receive free or reduced
priced meals are eligible for the free tutoring;
• Information has been mailed and is also available
in the office; and
• If needed, staff are available to help you select
an SES provider that best meets the needs of
your child.
DRAFT
School Choice
• As a parent of a child enrolled in a
school identified as in need of
improvement for two or more years,
you have the choice to transfer your
child to a higher performing school.
• Transportation to the new school of
choice is provided by the district at
no cost to the family.
DRAFT
Parent's Rights
• Be involved and request regular meetings to
expression your opinions and concerns;
• Be provided information on your child's level of
achievement on assessments like FCAT in
reading/language arts, mathematics, and science;
• Request and receive information on the
qualifications of your child's teacher; and
• Be informed if your child is taught by a non-highly
qualified teacher for four or more consecutive
weeks.
DRAFT
School Accountability
Report Card
• School Public Accountability Report (SPAR) provides
parents and the community with important information
about each public school
–
–
–
–
–
–
–
–
–
Demographic data;
School safety and climate for learning information;
Academic data;
Graduation rates;
Class sizes;
Teacher and staff information;
Curriculum and instruction descriptions;
Postsecondary preparation information; and
AYP information.
• Available at the school office or online at
– http://doeweb-prd.doe.state.fl.us/eds/nclbspar/index.cfm
DRAFT
Add the School Grade Report for
your school or
http://schoolgrades.fldoe.org/defa
ult.asp
DRAFT
Educational Standards
• Florida's academic content standards
establish high expectations for all
students.
• Next Generation Sunshine State
Standards identify what your child
needs to know and be able to do in all
content areas.
• Information located at:
http://www.floridastandards.org/Standards/FLStandardSe
arch.aspx
DRAFT
Guess what grade level?
I know how to use quotation marks to
show that someone is speaking.
Example: Mary said, "Hello there."
I can count, read, and write whole
numbers to 10,000
DRAFT
School's Curriculum
• Next Generation Sunshine State Standards
form the framework of everything taught at
school.
• Curriculum
–
–
–
–
Reading
Mathematics
Writing
Science
DRAFT
Measuring Student
Success
• Florida Comprehensive Assessment Test
(FCAT)—Grades 3-11
• Stanford Achievement Test, 10th Edition
(SAT10)—Grades 1-2
• Florida Assessment for Instruction in
Reading (FAIR)
• Add the assessments given at your school
DRAFT
FCAT (Grades 3-11)
March 9-19, 2010
• Students tested on:
–
–
–
–
Reading/Language Arts
Mathematics
Science
Writing—February 9-11, 2010
• Information on FCAT may be found at:
http://fcat.fldoe.org/fcatpub3.asp
DRAFT
Title I Programs Provide
Supplemental Support
•
•
•
•
Smaller classes;
Additional teachers and paraprofessionals;
Additional training for school staff;
Extra time for instruction (Before and/or
after school programs);
• Parental Involvement Activities; and/or
• A variety of supplemental teaching methods
and materials.
DRAFT
Title I funds
• [Name] is provided to $##.## to
pay for services and programs for
our students.
• Title I funds pay for the following:
– [Add the services]
DRAFT
Who decides how funds
are used?
• Every school has a School Advisory
Council (SAC) composed of:
– Parents, Teachers, Other staff that works
at the school, Principal and Students (at
Middle and High School)
• The School Advisory Council determines
how to use Title I funds.
DRAFT
Working together!
• Title I law requires that all Title I schools
and families work together.
• How we work together is listed in our:
– School Level Parental Involvement Policy;
– Parent-School Compact; and
– [Schoolwide/Target Assistance] Title I Plan
(School Improvement Plan).
DRAFT
Parent-School Compact
List School Responsibilities/Promises
List Family Promises/Responsibilities
List Student Promises/Responsibilities
DRAFT
Parent Involvement Policy Requirements
•
Involve parents in a meaningful way
in the development, implementation,
and review of the parental
involvement program.
– List ways parents are involved with SAC
and committees
– Include times, dates, and purpose of the
groups
– Include contact information
DRAFT
Parent Involvement Policy Requirements
• Convene an annual meeting to inform
parents of Title I students of Title I
requirements and their rights to be
involved in the Title I program.
• Offer meetings at flexible times to
maximize participation
DRAFT
Parent Involvement Policy Requirements
•
Provides parents of Title I
students with timely information
about Title I programs.
– List the multiple ways to
communicate,
•
What works for you?
DRAFT
Parent Involvement Policy Requirements
•
Assists parents in understanding
academic content standards,
assessments, and how to monitor
and improve the achievement of
their children.
– List the opportunities planned to
meet this requirement
DRAFT
Parent Involvement Policy Requirements
• Provides materials and training to help
Title I parents work with their
children to improve their children's
achievement
– List how the school accomplishes this
task
DRAFT
Your involvement is Key
to your child's success!
• You are your child's first teacher.
• You have the ability to influence your child's
education more than any teacher or school.
• You know your child best:
– Share information about your child's interests and
abilities with teachers; and
– Ask to see progress reports on your child and the school.
DRAFT
Support Your Child's Education
• Share a love of
learning;
• Read to your child;
• Ask your child to read
to you;
• Limit TV time;
• Take advantage of the
public library and the
school media center;
• Show interest in your
child's school day;
• Ask questions;
• Ask to see homework;
• Praise their efforts;
and
• Encourage good study
habits.
DRAFT
Get to Know Your School &
Communicate With Teachers
• Attend school events
• Visit the classroom
• Volunteer at the
school
• Join parents'
organizations
• Keep teachers
informed
• Attend special parent
trainings
• Attend parentteacher conferences
• Be prepared for the
meetings
• Consider whether you
have met your
responsibilities as
stated in the parentschool compact
• List your questions
before the meeting
DRAFT
Classroom Visits
• Teachers will provide grade specific
information:
– Next Generation Sunshine State Standards
and Grade Level Expectations;
– Grade Specific Curriculum;
– Measuring Student Success;
– Definition of Proficiency; and
– Overview of their plans for the year;
• How parents can help their child.
DRAFT
Questions?
DRAFT
Thank you for attending.
Be sure to come back after the
classroom visits for the door
prizes.