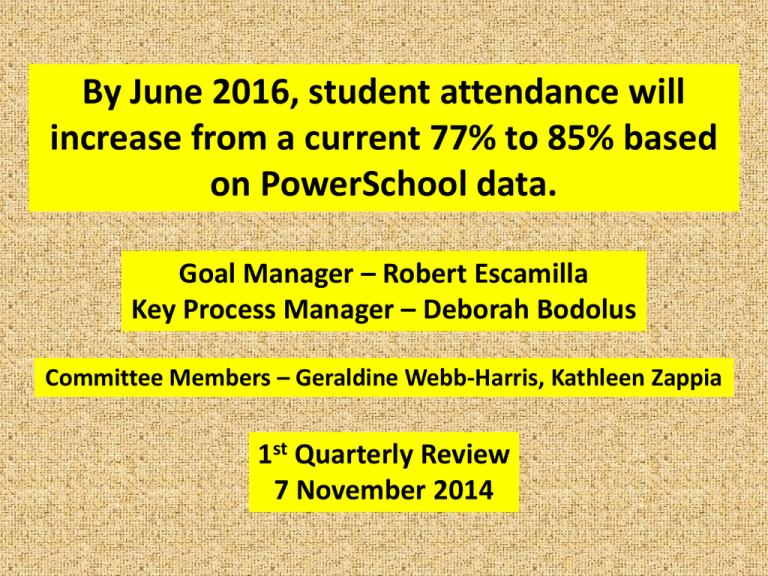 By June 2016, student attendance will
increase from a current 77% to 85% based
on PowerSchool data.
Goal Manager – Robert Escamilla
Key Process Manager – Deborah Bodolus
Committee Members – Geraldine Webb-Harris, Kathleen Zappia
1st Quarterly Review
7 November 2014
Key Process - MEPHS MTSS/I-Care Team will create and implement a
comprehensive plan to increase attendance.
Action Steps:
The MTSS/I-Care Team will meet and develop an attendance plan/policy
prior to the start of the 2014/2015 school year.
The MTSS/I-Care Team to implement the attendance plan/policy.
Attendance will be entered into PowerSchool by faculty/staff members on
a daily basis.
The MTSS/I-Care Team will review and analyze attendance data on a
weekly basis.
Administrative Staff will implement alternative measures in order to
minimize out of school suspensions as a disciplinary consequence.
Attendance Summary
90.0
85.0
83.2
82.3
80.2
82.7
81.0
80.0
79.4
ADA %
78.9
77.2
75.0
DAY
EXTENDED DAY
70.8
MEPHS
70.0
TARGET
66.7
65.0
62.5
62.7
60.0
DATES
NEXT STEPS
Determine factors responsible for extended day program
low rate of attendance.
Develop strategies to increase extended day program
attendance.
Analyze attendance data for differences between classes &
to target students with chronic absenteeism.
Faculty members continue to enter attendance on a daily
basis & to contact parents.