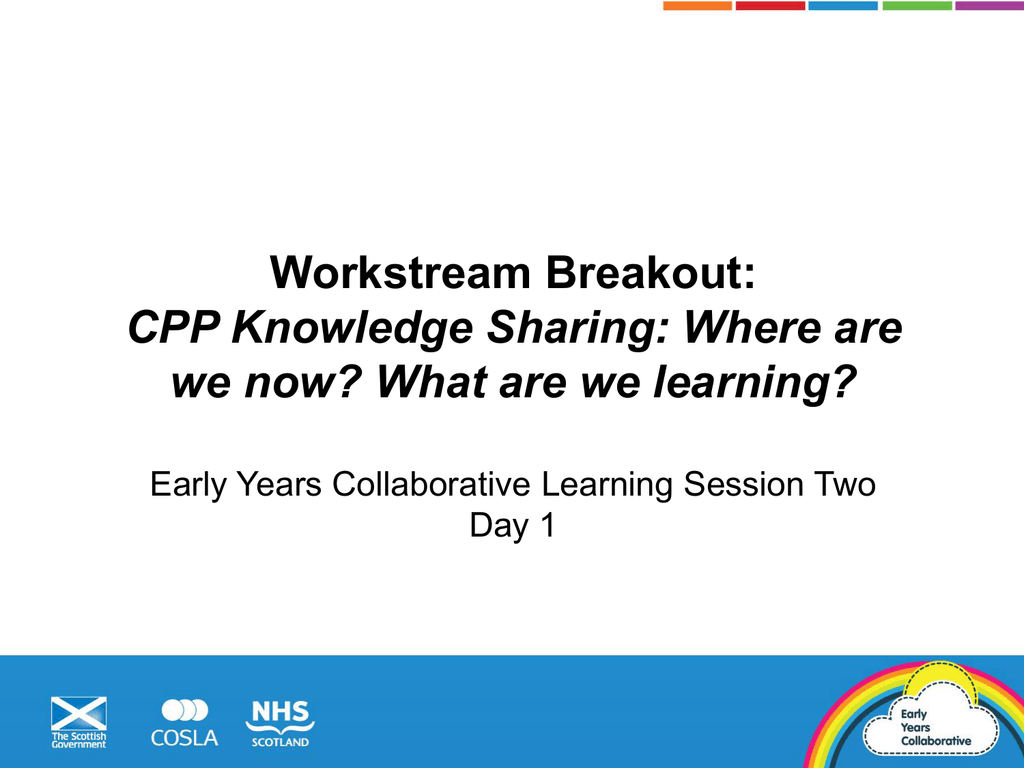 Workstream Breakout:
CPP Knowledge Sharing: Where are
we now? What are we learning?
Early Years Collaborative Learning Session Two
Day 1
East Renfrewshire
ER Activities
ER Aims
A desire to use the
Collaborative approach to
further reduce inequality in
outcomes for our parents,
their infants and children in
Early Years
Localised Partnership
focusing on the needs of
Auchenback, one of our
most deprived
communities, but one
which has a strong base of
community assets to build
on and work with
ER Context
Most East Renfrewshire
children have a great start
in life but there remains
issues arising from the link
between poverty and
health inequalities
East
Renfrewshire
Approach
ER Policies
Building on what has been
achieved, not starting over
and using the Collaborative
to compliment and extend
the work achieved already
(CYPSP, GIRFFEC and
SHANARRI)
Our Portfolio of Early Years Projects
• Focusing on building practice and shared
outcomes around Collaborative themes
• Local Events to develop shared outcomes
• Working through Customer Journeys to
identify 'What would we do differently?'
• Asset Mapping and Community Dialogue
Our Portfolio of Early Years Projects
Arthurlie Family Centre
Project 1 : To improve the attendance of 3
children whose current attendance rate is
below 60%
Project 2 : To reduce the length of time
between starting nursery and barriers to
learning being identified.
Our Learning To Date
The Big Questions…
• How could we make sure that 90% of children
reached their developmental milestones when
starting school?
• What are the risk factors and barriers that
prevent them from meeting these milestones?
• Which of these do we have an influence over,
which can we have an impact on?
Our Big Wins & Successes:
Measurement Development
• Attendance data is readily available on click & go
month
.6
.1
3
26
.5
.1
3
31
.4
.1
3
30
.3
.1
3
31
.2
.1
3
28
.1
.1
3
31
.1
2
31
.1
2
.1
2
30
.1
1
.1
2
.1
0
31
.9
.1
2
K
P
A
L
S
#REF!
30
.8
.1
3
90
80
70
60
50
40
30
20
10
0
31
percentage total
Attendance Patterns
Lessons Learned:
Measurement Development
• Measuring data is not enough – it's what we do
with it that counts
• The data is like a lens, it lets us look differently
at something then we need to figure out what to
do about it – try something new
• Measuring and analysing data is addictive, once
we see improvements, we want more!
Our Big Wins & Successes:
Iterative Testing
What we have done so far to improve attendance…
• Better systems for communication
• Strengthened relationships with parents and
families
• Worked more closely with others involved with
each family
• Made better use of the data available
Lessons Learned:
Iterative Testing
• We can't do it alone, we need to work with
others to have the biggest impact
• It's hard!!!
• But it works!!!
In the next 3 – 6 months…
What are you looking forward to in the near
term for this work?
• Improving partnership approaches to working
with hard to reach families
• Making further improvements in attendance next
session – act sooner
What are the issues to share and discuss with
colleagues?
• How do we make sure that every child benefits
fully from their nursery placement?