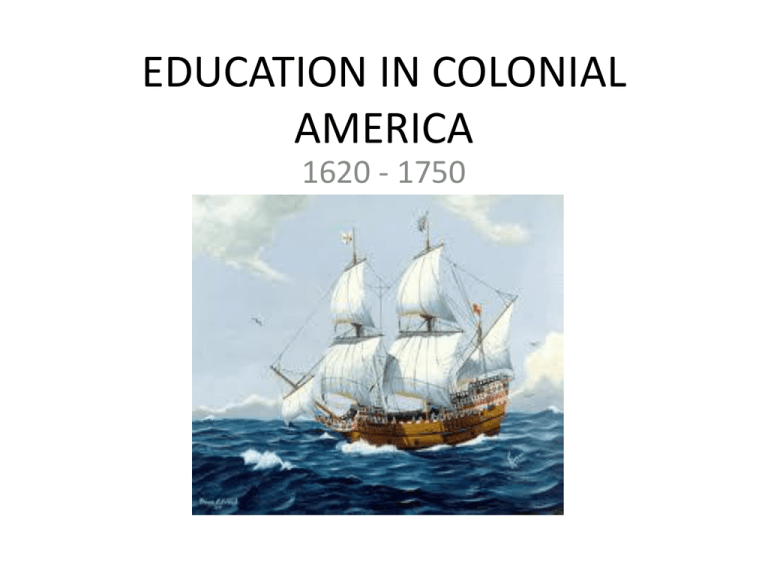 EDUCATION IN COLONIAL
AMERICA
1620 - 1750
Early colonial education
• Followed the English system of two tiers
• If students from lower classes had any
education at all, it was essentialist (just the
basics + religion)
• Students from the upper classes went to Latin
Grammar Schools (perennialist – college prepLatin, Greek in addition to reading, writing,
computation, religion
PURPOSE OF EDUCATION?
• The curricula of various schools all stressed
the importance of religion.
• One needed to be able to read in order to
read the Bible and religious lessons, thereby
receiving salvation.
NEW ENGLAND COLONIES
Massachusetts Bay Colony
New Hampshire
Connecticut
Rhode Island
These colonies created schools so that people could
learn the scriptures. Puritans believed that people
were basically born sinful and that idleness was an
opportunity for the devil to influence a child.
New England (con't.)
• Teachers were expected to punish harshly in
order to curb the natural (evil) instincts found
in children.
THE MIDDLE COLONIES
• Can you name them?
THE MIDDLE COLONIES
•
•
•
•
New York
New Jersey
Pennsylvania
Delaware
These colonies were more diverse (Irish, Scots,
Swedes, Danes, Dutch, Germans). They established
parochial schools based on their own beliefs.
The Southern Colonies
•
•
•
•
•
Maryland
Virginia
North Carolina
South Carolina
Georgia
Wealthy Southerners
• Believed the purpose of education was to
prepare their sons for a European university.
• Small farmers were largely uneducated.
• The children of African slaves received only
the training they needed to serve their
masters.
TYPES OF SCHOOLS IN COLONIAL
AMERICA
• DAME SCHOOLS – run by widows or
housewives in their homes; modest fees for
the children. This was the only type of
education for those girls who were educated.
Boys who were being prepared for further
education started at a Dame School.
• LATIN GRAMMAR SCHOOLS prepared boys for
university study – in England or Harvard.
• PAROCHIAL SCHOOLS were common in the
middle colonies, reflecting the diversity of
nationality and religion of that areas. They
taught religion as well as reading, writing,
computation, and history. Often, classes were
conducted in the language of the colonists
(German, Dutch, Swedish…)
THE ORIGINS OF MANDATED
EDUCATION
• MASSACHUSETTS ACT OF 1642: Education
was to be no longer optional. The colonists of
Massachusetts believed that organized
schools would serve to strengthen and
preserve Puritan religious beliefs.
• Each town was required to determine if the
children could read and write. Parents could
be fined and, possibly, lose custody of their
children if their children could not read/write.
THE OLD DELUDER SATAN ACT
• Massachusetts Act of 1647 – mandated the
establishment and support of schools.
• Town of fifty or more households were
required to appoint a teacher. Teachers were
to be paid by the parents or masters of the
children, or by the inhabitants in general.