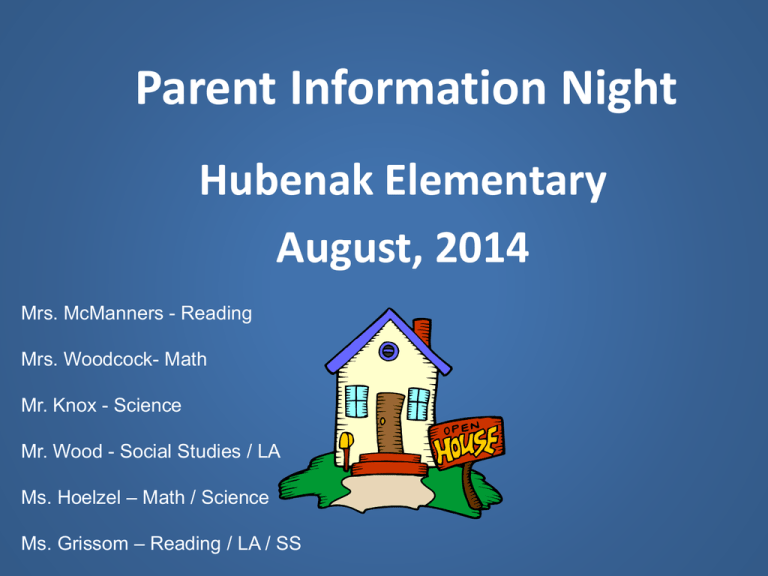 Parent Information Night
Hubenak Elementary
August, 2014
Mrs. McManners - Reading
Mrs. Woodcock- Math
Mr. Knox - Science
Mr. Wood - Social Studies / LA
Ms. Hoelzel – Math / Science
Ms. Grissom – Reading / LA / SS
Communication
• Please make sure you are receiving the fifth grade
newsletter that goes out each week.
• If you are not receiving e-mails please fill out and
return the form that will go home in your child's
Thursday folder or write a note in their agenda.
• We send lots of reminders and information by email so if there is a change please notify your
child's homeroom teacher as soon as possible.
Remind 101
• Information went home on Monday
• A free app we use as a team to send text
reminders to those who have signed up
Parent Information Handbook
• The Elementary Handbook is posted on-line
under the tab-Students/Parents-then
Handbooks and Policies.
Safety First
• In order to make sure your child is safe at
school, everyone entering Hubenak must first
sign in at the office. You will then be provided
a sticker to wear.
• We appreciate your cooperation with this
policy.
SKYWARD
• www.lcisd.org  Students & Parents  Family
Access Login (right side of page)
• Access to the online gradebook is available
here.
• If you need help with this, please write a note in
your child's agenda or email their homeroom
teacher.
Skyward
• Starting with the 2014-15 school year, LCISD guardians will be able
to make changes to items such as phone numbers, email addresses,
emergency contacts, etc., all online through the Skyward Family
Access Center. Guardians will be able to make these changes
through Friday, September 19. After September 19, many of those
areas will be dialed back, but some areas, such as email address,
will always be available for changing online.
• There is a video on the Family Access page of the district web site
that walks parents through how to make changes. This is the direct
link: https://www.youtube.com/watch?v=l53jXRi4ro8
Bus Transportation
• Currently, there are two scheduled double
routes:
– for the students going to Kids R Kids (Bella Terra)
on Route 3106.
– Route 3127 is overcrowded and makes 2 runs to
drop off all students
• If you have concerns, please contact
Transportation at 832-223-0550.
Bus Discipline
• Students are expected to observe the same
rules of conduct while riding the bus as they
do in the classroom.
• Bus safety rules are outlined on pgs. 25-26 of
the Elementary Student Handbook.
• Should rules be broken, disciplinary action will
be taken upon investigation.
• Our goal is to get students to and from school
safely.
Safety Patrol
• Information and applications went home
earlier this week.
• As a reminder, students must maintain all S's
in conduct on their report cards, as well as a
grade of C or higher in every subject.
Updated Lunch Prices
Lunch Price
Breakfast Price
Student $1.90
Adult $3.00
Visitor $3.00
Student $1.15
Adult $1.40
Visitor $1.40
Updated meal charge policy
Students are allowed to charge up to –$15.00. After
reaching –$15.00 a student will receive a cereal and milk
for breakfast and a cold cheese sandwich and milk for
lunch. Their account will be charged $0.50 for the cost
of the alternate meal.
Lunch Procedures
• We will feed all students the 1st week of
school regardless of debt.
• The student lunch number is the same as their
student ID #. The number should never
change while the student is enrolled with
LCISD.
Meal requirements for students
• A student during lunch must take ½ cup fruit or
vegetable to complete a reimbursable meal.
• There is no longer an "entrée". A student must
take 3 components to complete a meal. No
beverage is required.
• LCISD practices "offer vs. serve". Students need to
be allowed to make their own choices.
School Policies
• Please keep up with daily homework, school
projects, and test dates via their agenda.
• Follow your child's progress in the Thursday
Folder and return it each Friday. Replacement
cost of the Husky Folder is $3 in the front
office.
• Please encourage and help your child study
regularly, especially in areas of concern.
Conferences
• Conferences will take place a week or two after the end
of the 1st nine weeks on Thursday, November 6th and
Friday November 7th.
• Conference Times are filled on a first come, first serve
basis via an online signup form (SignUp Genius) that
will be sent out a few weeks prior to conferences.
• Conferences last 20 minutes.
• You must attend in order to receive your child's report
card.
• This is a district policy required for the 1st 9 weeks.
Dress Code
Students are required to wear uniform dress at Hubenak
Elementary. The uniform dress consists of the following:
• SHIRTS: White, navy blue, light blue, black, or red solid color
collared shirt or school T-shirt.
• PANTS: Khaki, navy blue, black, or blue denim jeans, pants,
capris, shorts, skirts, skorts (split skirts), or jumpers.
• SWEATER, JACKET, HOODIES: must be solid white, navy blue,
light blue, red, or an approved Hubenak item.
Hubenak Spirit Wear is okay
Shirts may have a logo
Dress Code Continued…
• No large commercial print or logo.
• Note: Rolling Backpacks are NOT allowed.
• You may purchase the uniform dress at stores
like Walmart, Target, Academy, Sports
Authority etc…since they are fairly common
items. If you have any questions about the
uniform dress, please contact us at (832) 2232900 and will be happy to assist you.
Birthday Information
• The state law recommends that birthday
treats be served after the lunch period so that
it does not spoil students' appetites for a
nutritious meal.
• Birthday treats must be store bought and in
5th grade they will be eaten at the end of
lunch (1:05pm).
• The treat must be able to be served, eaten,
and cleaned up in 5 minutes.
Birthday Information Continued
• The district discourages food prepared from
home being brought in by
parents/grandparents for the following
reasons:
• Student food allergies (peanut, gluten, eggs)
• Student medical conditions (diabetes)
• Protect instructional time
• Liability assumed by the person bringing in the
food
Class Policies
• Please have your child to school on time. The
tardy bell is at 7:45 A.M but instruction begins as
soon as students enter the building.
• We encourage students to get here early (before
7:30) so that they may begin preparing for class
and completing their half-sheet.
Class Policies Continued
• Please sign and review any work below 74%.
The work will be sent home in the Thursday
folders.
• Please remind your child to do his/her best
daily.
• If there is a change in transportation home,
please send a note to the homeroom teacher
or call the office prior to 2 pm. Transportation
changes can not be made after that time.
Tardies
• In an effort to encourage all students to arrive on
time, consequences will be implemented to
discourage late arrivals. We will note tardies in the
students agenda.
• 1st tardy- warning
• 2nd tardy-lunch bunch
• 3rd-tardy-no recess and lunch bunch
• 4th tardy- 45 minutes after school detention with the
teacher
• Additional tardies- 45 minutes after school
detention, teacher notifies the assistant principal.
The assistant principal will contact the parent.
Car Rider Traffic Flow
Agendas
• Students will use their agenda daily to
record homework and important
announcements.
• Conduct will be recorded in the students
agenda daily.
• Parents need to review the agenda, and
sign or initial it along with the Reading
Log on a nightly basis.
Social Studies, Science, Math and
Reading
• A minimum of seven (7) daily grades and/or
quizzes will be taken each nine weeks. A
minimum of three (3) major grades will be taken
each nine weeks, as well.
• The report card grade will reflect a weight of 50%
daily grades and quizzes and 50% major grades.
• If a student receives a grade below a 70 on any
assignment other than a common summative
assessment they will be retaught the information
and given the opportunity to re-do the
assignment for a grade no higher than a 70.
Social Studies, Science, Math and
Reading
• The higher of the two grades will be recorded
if the new grade is below a 70.
• Common Summative Assessments are
RETAUGHT but not REGRADED.
Reading
• Students will participate in a Reading Mini-Lesson
and then have time to practice their reading skills
while they independently read, work on computer
apps, or participate in small group instruction.
• Every 3 weeks students will be given a common
summative assessment to monitor student progress.
• One of the three common summative assessments
will be a test given by the district.
Reading continued
• Reading and Language Arts uses a variety of
rubrics where the maximum grade is a 95. This is
to highlight the idea that there is always room to
improve on our reading and writing skills.
• Vocabulary is a HUGE component of literacy.
Quizzes will be given every three weeks. Please
review vocabulary homework nightly and use
quizlet.com to study words.
Language Arts
• In the past, Language Arts has consisted of
several different areas. However, it is changing
this year to a minor/major grade classification
like the other subjects.
• Students will be required to write at least 2
major papers each 9 weeks.
• Spelling tests will be averaged into 1 grade for
the 9 weeks.
• Other skills assessed will include grammar,
research, speaking, and listening.
Math
• Students will be using problem solving
strategies and have a problem solving warmup everyday.
• Students will create an interactive notebook
throughout the year.
• Students will master fast facts and will be
tested weekly to judge progress.
Science
• Science class will consist of hands on experiments,
discussions, and reading information about the science
topic we are studying.
• The first nine weeks we will be studying about matter.
• The students will use their science spiral daily. If a
student does not have their spiral at school, it could
result in a conduct mark on the behavior card.
• The new textbook is fully available digitally, and we
hope to have logins for each student to access it.
Homework
• Math and Spelling will be given Monday-Thursday.
• Science- Interactive notebooks will be sent home to
study key vocabulary words before tests, with
occasional assignments, especially 2nd semester.
• Reading-Students will read for 30 minutes and
complete reading log. They will record their reading
in their reading log and parents will sign it. Students
will also have a short vocabulary assignment to be
completed once a week instead of reading log.
Rules
1. Be prepared and on time for school and class.
2. Follow the social contract.
3. Follow directions the first time given.
4. Give 100% to produce quality work.
**The students have developed and signed a
social contract to hold each other accountable
for their behavior.
Conduct for 5th Grade
We do not use the color codes directly like the other grades
do. However, all conduct is tracked in the students' agendas
and on classroom behavior charts.
Discipline procedure will occur as follows:
• 1. Verbal Warning/charge husky bucks.
• 2. One mark (previously, a color change to blue), note
home in the agenda, and 2 laps at recess.
• 3. Two marks (previously, a change to yellow), note in
agenda, and 2 additional laps.
• 4. Three marks (previously color change to red), note in
agenda, 2 additional laps, and parent contact made by
the student.
• 5. Office referrals will be given as necessary.
Conduct for 5th Grade cont.
• 6 marks in one nine weeks (combined),
student will receive a "N" for conduct on the
report card.
– 4-6 marks in an individual category
• 9 marks in one nine weeks (combined),
student will receive an "U" for conduct on
the report card.
– 7+ marks in an individual category
• Conduct marks in both the computer lab and
library will count towards classroom conduct.
Conduct for 5th grade cont.
• REWARDS
– Verbal praise
– Coupons
– Stamps, Tickets, Bucks, Stickers, Pony Beads
– Praise Notes, Calls home
– Nine weeks incentives for all S's in
conduct/behavior will be the Husky Hangout.
– "Junior High Lunch"
Daily Schedule – 4 Way Switch
7:30
Welcome students
7:30 - 7:40
Unpack backpack for day. Check homework, check
agendas, write day's homework, and finish 1/2 sheet.
7:40 - 7:55
Watch announcements and finish 1/2 sheet.
7:55-9:05
Block 1
9:05-10:15
Block 2
10:00-10:15
SNACK
10:15-11:25
Block 3
11:25-12:35
Block 4
12:35-12:40
Switch Back, pack, stack chairs, clean up room,
restroom, line up for lunch
12:40 – 1:10
Lunch
1:10-1:40
Recess
1:40 - 2:30
Specials
2:35
Dismissal
Daily Schedule – 2 Way Switch
7:30
Welcome students
7:30 - 7:40
Unpack backpack for day. Check homework,
check agendas, write day's homework, and
finish 1/2 sheet.
7:40 - 7:55
Watch announcements and finish 1/2 sheet.
7:55-10:15
Block 1
(10:00 – 10:15)
Snack
10:15-12:35
Block 2
12:35-12:40
Switch Back, pack, stack chairs, clean up room,
restroom, line up for lunch
12:40 – 1:10
Lunch
1:10-1:40
Recess
1:40 - 2:30
Specials
2:35
Dismissal
Snack
• Students may eat a snack from 10:00 - 10:15.
It must be nutritious, easy to clean up, and
not distracting to your child or other students
around them.
• Only water is allowed. Juice and other drinks
that are not clear are not allowed in class.
Curriculum Goals/STAAR
• Remember that your child needs to have
maintained passing grade averages in his/her
academics to enter the sixth grade.
• This is the last year for Phase I of STAAR
implementation. Next year, the state moves
to Phase II, meaning the passing requirements
will increase.
• Math is not an SSI subject this year, so it will
only be administered once. Reading is still
classified as an SSI subject.
Success Assemblies
• At the end of every nine weeks, Hubenak holds a
Success Assembly to recognize students for
attendance and academic achievement.
• Students may receive awards for the following:
All A Honor Roll
A/B Honor Roll
Perfect Attendance (allows 1 tardy)
Lead Husky (A Honor Roll + Perfect Attendance)
Citizenship
• We will notify you of dates and times via parent
emails and your child's agenda.
Communication
• The Husky Folder will come home on Thursdays
with graded work.
• The agenda will come home daily with behavior
information.
• 5th grade will be sending out weekly emails of
important information. Please make sure we
have your email so that you may receive the
most up to date information.
• Remind 101 is also a great way to stay
informed.
Opportunities to Get Involved
• Please be involved with the PTA. The PTA is a
huge source of support for teachers and
students. Information about joining is available
tonight and will also be sent home with your
child.
• Ask your child daily about his/her day at school.
• Lend support to your child as needed on
academic endeavors.
Question and Answer Time
• Are there any questions at this
time?
• THANK YOU FOR ATTENDING
PARENT INFORMATION NIGHT!!!