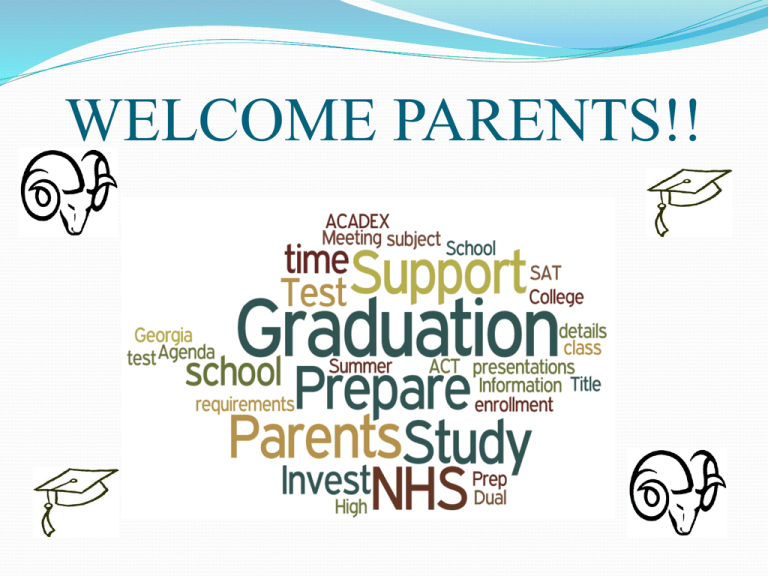 WELCOME PARENTS!!
Dual Enrollment is…
A program that allows qualified high school juniors
and seniors to take college courses and earn both
high school and college credits.
Dual Enrollment in a nutshell…
 High school juniors and seniors participate
 Earn high school graduation credits as well as transferable
college credits
 Take one or two college courses or attend college full-time
(through Move on When Ready)on-campus, at high
schools, or online
 Still participate in extra-curricular activities at their high
schools
 Tuition and fees may be covered by state funding
programs
GPC ELIGIBILITY
 CORE GPA OF 3.0 ON 4.0 SCALE (non-weighted academic
courses only)
 MINIMUM COMBINED SAT CRITICAL READING AND
MATH SCORE OF 970 OR ACT COMPOSITE OF 20
 MINIMUM SEPARATE SAT CRITICAL READING 480 AND
MATH 440 OR ACT ENGLISH 20 AND MATH 18
Application
 COMPLETE GPC ONLINE APPLICATION.
 PAY $20.00 PROCESSING FEE.
 SUBMIT OFFICIAL HIGH SCHOOL TRANSCRIPT.
 SUBMIT A CURRENT CERTIFICATE OF
IMMUNIZATION.
 SUBMIT A PARENTAL CONSENT FORM.
 SUBMIT OFFICIAL SAT OR ACT SCORES.
 SUBMIT VERIFICATION OF LAWFUL PRESENCE
Testing Requirements
For Graduation
All students must pass the GHS Writing Test and
ONE test in EACH content area:
EOCT
GHSGT
 Math 1 OR Math 2
 Math GHSGT
 Biology OR Physical Science
 Science GHSGT
 9th Grade Literature OR
 Language Arts GHSGT
American Literature
 US History OR Economics
 *Social Studies GHSGT
GHSGT DATES
 Wednesday, February, 27 – Writing Test
 Monday, March 18 – Social Studies
 Tuesday, March 19 – Language Arts
 Wednesday, March 20 – Math
 Thursday, March 21 – Science
GHSGT MATH PORTION
36% ALGEBRA
36% GEOMETRY
28% DATA/STATISTICS
GHSGT MATH PORTION
TEXAS INSTRUMENTS
TI- 30XIIs
GHSGT LANGUAGE ARTS
PORTION
Reading Comprehension—48%
Literary Analysis—38%
Conventions and Writing—14%
What does this mean?
 Reading, reading, and more reading.
GHSGT SCIENCE PORTION
The science test is comprised of five domains:
Cells & Heredity (25%)
Ecology (17%)
Structure and Properties of matter (26%)
Energy Transformations (16%)
Forces, Waves, & Electricity (16%)
GHSGT SOCIAL STUDIES
PORTION
Domain I- American Government/Civics- 18%
Domain 2: US History to 1865- 26%
Domain 3: US History since 1865- 25%
Domain 4- World Geography- 13 %
Domain 5- World History- 18%
GHSGT PREP
STUDY! STUDY ! STUDY!
In class: Daily Warm-ups, Activating Strategies and Summarizing
Activities focused on GHSGT Domains
ACADEX: Tutorials
After School: 8th pd tutorials begin in March. Schedule will be
posted on NHS website.
Morning Auditorium Review: Students are assembled the morning
of the test for a final review session with Department Chairs.
GHSGT PREP
Online Resources
Type of
resource
Subject Specific
GHSGT Prep
GA Dept of
Education Study
Guides
Vocabulary Builder
Web address
Necessary codes or notes
www.usatestprep.org
school ID: nhs
activation code: newton81
Enter: "ghsgt study guides" in the
http://www.gadoe.org search bar & select the first link in
the search results.
www.number2.com
Enroll to have student progress
emailed to parent or teacher.
RAMS RISE!!