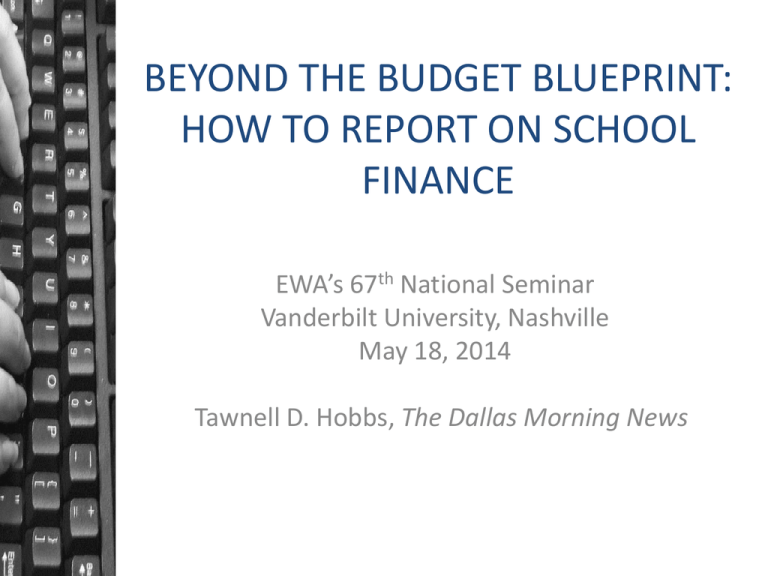 BEYOND THE BUDGET BLUEPRINT:
HOW TO REPORT ON SCHOOL
FINANCE
EWA's 67th National Seminar
Vanderbilt University, Nashville
May 18, 2014
Tawnell D. Hobbs, The Dallas Morning News
Get the data!
•
•
•
•
•
•
Purchase orders
Check logs
Credit card information
Paycheck information (salary database)
Grants
Budgets
 Make comparisons
• Find the difference (sum, subtraction,
percentage change, percentage)
Know the difference between
"approved budgets" and
"actual budgets"
• Budget amendments
• Change orders
The "budget amendment"
The "change order"
 Was the promised product delivered?
What's in that report? Is it worth the
$100,000 price tag?
-- 306-page report
-- Padded with school district
charts and maps
-- Five research studies from
other groups; available on the
web
-- Printouts of two proposed
Texas bills that never became
law
-- Contained basic knowledge:
The magnet programs are
popular
Next steps:
• Look at specs promised in request for
proposal, or RFP
• Look at contract (provides the details)
• Check registers
• Receipts (and background documentation)
Dallas ISD spent millions on extras, analysis
of check register shows
By TAWNELL D. HOBBS and MATTHEW HAAG
Staff Writers
Published: 18 June 2011 11:39 PM
Restaurant food and catered meals: $2.2 million.
Hotel stays and room rentals: $2.3 million.
Registration fees and travel costs: $3.8 million.
Consultants and other outside help: $44 million.
And there's more.
The Dallas Independent School District spent at least $57 million over four years —
or one year's average base pay for 1,086 teachers — on purchases such as pricey
meals, costly trips, lucrative consulting contracts and overnight stays at hotels in the
Dallas area and beyond.
The Dallas Morning News analyzed the check register from the district's main fund
starting with purchases from August 2006, the month after DISD ended an oft
abused employee credit card program, to December 2010.
The review of more than 775,000 lines of purchases, receipts and documents
provides a look at funds that are loosely tracked and spent with little oversight.
Four-star hotels, conventions among
Dallas ISD travel expenses
By MATTHEW HAAG
Staff Writer
Published: 18 June 2011 11:21 PM
From four-star hotel rooms high above Times Square to luxurious suites overlooking San
Diego Bay, Dallas ISD employees have racked up large bills on trips to conferences,
conventions and visits to other school districts.
And in some cases, district records show no receipts.
The Dallas school district spent at least $4.7 million on costs related to employee travel,
Including money to cover expenses, airfare and hotel rooms, from August 2006 to December
2010. The bills range from a $2,495 registration fee for a DISD principal to attend a four-day
conference at Harvard University to $500 airfares to Southern California.
(Using Microsoft ACCESS to group business purchases)
Some of the district's purchases include:
More than $300,000 spent at Atlanta Bread Co. and about
$86,000 at Chick-fil-A.
Promotional items, such as mugs, wristbands, T-shirts and
hats, that cost at least $1.7 million.
Renting meeting space and catering meals from Aramark
Events and Catering at Infomart, costing at least $488,000.
Trustees to crack down on extras
Board members vow to tackle expenses from legal services, pricey meals, room
rentals
TAWNELL D. HOBBS and MATTHEW HAAG
Publication Date: June 21, 2011 Page: A01 Section: NEWS Zone: STATE Edition: 1
Dallas school trustees, facing major budget cuts for the upcoming school year, vowed Monday to
find ways to reduce excessive spending.
Trustees, responding to a Dallas Morning News report on Sunday that detailed questionable
expenditures, said they plan to crack down on costs for legal services, pricey meals and room
rentals.
New board President Lew Blackburn said he's willing to go so far as to require staffers to raise
money for their own food purchases.
"I'm OK with not feeding the staff," he said.
Blackburn said he plans to lay out his thoughts on spending during a speech on board priorities at
Thursday's board meeting. He predicted new procedures would be in place by January.
 Credit Card purchases
Data: School district credit
card purchases
Findings: District card
holders made
questionable purchases
with their cards.
An iPod on Christmas Eve $399
Boxes from The Container Store $2,489
Gift cards from Toys "R" Us $3,100
Shopping with a DISD MasterCard Priceless
Exclusive: A Dallas Morning News investigation found thousands of suspect purchases on district credit cards - and
serious questions about whether anyone is watching how the tax dollars are spent
KENT FISCHER, TAWNELL D. HOBBS and MOLLY MOTLEY
Publication Date: July 2, 2006
First of two parts
With little oversight, Dallas Independent School District employees swipe their district-issued credit cards
hundreds of times a day, spending about $20 million a year on everything from office supplies and
textbooks to meals and giveaway trinkets.
About 1,200 cards are in circulation, and they keep the district running. With them, administrators and
teachers can buy day-to-day supplies without the hassle of waiting on a district purchase order. But rarely
does anyone check up on the card users, review their receipts or question what they've bought.
They're spending on items like this: a $200 blanket and pillow set from The Land of Nod, $1,700 in electric
scooters, $200 in moisturizer from Bath and Body Works, and a $24.95 charge to an online dating service,
Americansingles.com.
The Dallas Morning News examined school district credit card transactions over 27 months, from January
2004 through March 2006 - a $41.5 million snapshot of district spending. Those and other district records
showed that only a fraction of purchase receipts are scrutinized, and thousands of purchases run afoul of
DISD policy and state purchasing laws. Among the findings:
Banned gift cards keep on giving
Probably $35,000 spent after district prohibited their purchase
TAWNELL D. HOBBS, KENT FISCHER and MOLLY MOTLEY
Publication Date: July 3, 2006 Page: 2A Section: NEWS Zone: STATE Edition: FIRST
Gift cards - as good as cash at most retailers - were a favorite purchase of DISD employees using district-issued credit
cards.
A Dallas Morning News review of thousands of Dallas Independent School District credit card transactions from January
2004 to March 2006, found $820,000 likely spent on gift cards. The News used the district's methodology to identify the
purchases: those with even dollar amounts - $30, $250 or $1,000, for example - from stores that sell the cards.
Transaction records show that employees often purchased dozens of gift cards at one time and sometimes made two or
three similar gift card purchases within minutes of one another. An example: On March 12, 2004, an employee with DISD's
Area 5 office made four purchases totaling $15,000 for gift cards at Wal-Mart and Target, using a district charge card.
The employee no longer works for the district and could not be reached. The district provided no documentation showing
what merchandise that money ultimately bought. A $250 gift card at Wal-Mart, for example, could be redeemed for
anything the retail giant sells.
DISD banned the purchase of gift cards using district credit cards last summer after an internal review showed that the
spending was hard to trace. But even after the rule took effect, The News found $35,000 in purchases that appear to be gift
cards.
Sherri Brokaw, DISD's director of Financial Control and Card Services, said gift card purchases caused more work for
employees. They were expected to keep receipts for gift card purchases and receipts for what was bought.
"It's one more thing you had to have control of," Ms. Brokaw said.
86 disciplined for DISD credit card misuse
Termination, probation among punishments for procurement
abuses
TAWNELL D. HOBBS
Publication Date: August 23, 2007 Page: 12B Section: METRO Zone: EAST Edition: EAST
More than 80 Dallas school employees investigated for misusing their district-issued credit cards have received some sort of
discipline, ranging from termination to probation, according to an internal report obtained by The Dallas Morning News.
The Dallas Independent School District named 93 individuals in May who faced disciplinary action or termination for violations
involving their district credit cards. Eighty-six were disciplined, according to the report.
A district spokesman said Wednesday that the disciplinary actions in the report may not be final. He added that employees can
appeal recommendations for termination. He did not know the status of any appeals.
Fifteen employees received letters of termination, including three who have resigned and two who kept their jobs but were
demoted. More than half the employees received multiple punishments, such as a demotion and removal of any budgetary
authority.
The district reprimanded 55 people, put 48 on probation, demoted 10 and shortened contract lengths with possible
nonrenewal for nine.
"That action was taken as a result of the misuse," said DISD spokesman Jon Dahlander. "Some cases are obviously more severe
than others."
Woman gets year in DISD card scandal
Prison sentence lower than expected because of aid to
investigation
MICHAEL GRABELL
Publication Date: August 10, 2007 Page: 17B Section: METRO Zone: NORTH Edition: NORTH
One of the biggest spenders in the Dallas Independent School District credit card scandal was sentenced to one year in
federal prison Thursday after the government asked for a lower sentence because she had aided the FBI investigation.
Gloria Orapello, a former secretary in the district's central office, pleaded guilty to felony theft for charging $100,000 in
personal items on her district credit card. She had spent a total of about $450,000 on her card, about a quarter of it at an Air
Force base store, according to a Dallas Morning News review of DISD credit card records.
"I am truly sorry for my actions," she told Judge Jane Boyle. "I was very selfish and didn't realize what I was doing to the
children."
Before Ms. Orapello, 50, was sentenced, an FBI agent investigating the DISD credit card program testified that she had
helped the FBI identify three to eight people who may face criminal charges, saving him 500 to 600 hours of work.
Agent Steven Sepeda added that Ms. Orapello had forfeited $35,000 in electronics, jewelry, clothing and the proceeds from
a garage sale as restitution to the district. She also led the district's internal investigators to $50,000 in other people's
property that could be turned over in restitution, he said.
DISD credit cards: 2nd user sentenced
Ex-secretary who spent $64,000 on herself gets 18
months in prison
KENT FISCHER
Publication Date: September 25, 2007 Page: 1B Section: METRO Zone: STATE Edition: FIRST
A former secretary with the Dallas Independent School District was sentenced to 18 months in federal prison Monday for
using her district credit card to steal more than $64,000.
Marsha Ollison, 43, must also make full restitution to the district and will be subject to three years' probation upon her
release. Her attorney said Ms. Ollison has already repaid DISD $15,000.
Before sentencing, U.S. District Court Judge Sam Lindsay revealed that two years before joining DISD, Ms. Ollison left the
former Arthur Andersen accounting firm after officials there accused her of misusing her company credit card.
"Arthur Andersen should have served as a wake-up call," Judge Lindsay said. "Apparently it did not. Less than two years later,
we see the same conduct" at DISD.
Ms. Ollison is the second DISD employee convicted of misusing district credit cards. Last month, another secretary, Gloria
Orapello, was sentenced to one year in prison and ordered to make $100,000 in restitution.
Ms. Ollison's attorney, Larry Jarrett, said she will appeal.
So far, 86 employees have been disciplined by DISD for misusing their district credit cards. Punishments have ranged from
termination to letters of reprimand.
• Salary database (and stipends)
More Dallas ISD employees making six-figure salaries
By TAWNELL D. HOBBS
Staff Writer
Published: 25 November 2012 11:12 PM
Budget cuts in Dallas ISD have resulted in the elimination of hundreds of positions across most salary
levels. But those in the six-figure salary range have grown and are at a high this school year.
Salaries in the district have been a source of contention for some community members who believe
Superintendent Mike Miles is setting pay too high, mainly for people in his Cabinet, where salaries
range from $180,000 to $220,000. Miles' base salary is $300,000.
A Dallas Morning News analysis found that DISD has 129 employees, not including pending hires, who
make $100,000 or more. That's up from 111 last school year and 121 the year prior.
Salaries for those 129 workers add up to more than $16 million annually.
Those figures are a big jump from 2008-09, when 79 employees had six-figure salaries. The steady
increase came as the nation struggled through a stubborn recession and high unemployment.
Meanwhile, DISD was rebounding from a financial debacle that resulted in hundreds of layoffs.
Dallas ISD superintendent concedes he made mistakes
in assembling administrative staff
By MATTHEW HAAG and TAWNELL D. HOBBS
Staff Writers
Published: 20 December 2012 11:19 PM
Dallas ISD Superintendent Mike Miles conceded Thursday that he made
mistakes in assembling his administrative staff, possibly set some salaries too
high and will review the pay of high-level administrators.
In an interview with The Dallas Morning News editorial board, a contrite Miles
said that before becoming superintendent on July 1, he should have allowed
competition for some executive positions, compared top salaries with similar districts
and better explained his decisions.
"I did a poor job," Miles said, referring to salary comparisons and communication.
Stipends
Car stipends guzzling cash
Exclusive: Some in DISD getting large allowances but traveling
little
TAWNELL D. HOBBS and KENT FISCHER
Publication Date: November 13, 2005
Working on the Dallas school district's help desk typically doesn't involve travel; technicians answer the
phone and solve computer problems.
But the five help desk workers each get $1,185 a year in car allowances. The money automatically comes as
part of their pay.
All told, more than 2,300 DISD employees are getting car stipends this year, at a cost of nearly $3.7 million,
according to a Dallas Morning News review of district records. In a year when DISD cut some elementary
school counselors and gave teachers small raises while trying to close a $28 million budget deficit, the
$3,684,798 for car allowances has escaped the ax.
The allowances, mostly ranging from $694 to $4,051 a year, are meant to reimburse employees who use
their cars for official business within the district. Yet the district requires no proof of how much these
employees - including administrative assistants, accountants, supervisors and top managers - travel for their
jobs.
Who's benefiting?
(Car allowance cont'd.)
"Deputy Superintendent Ron Peace, for example, is in charge of DISD's business
services. His appointment book shows that he is out of the office three or four times a
week. Over the last 90 days, he's driven an estimated 300 miles on district business,
according to the addresses in his appointment book and a common Internet mileage
estimator.
Mr. Peace did not return phone calls, but Mr. Claxton, the district spokesman, said the
calendar accurately reflects the deputy superintendent's travel during that period.
Mr. Peace's annual allowance, $4,051, works out to almost $78 per week or $935 for 90
days. Compare that with the distance traveled to his recent appointments, and the
district paid him $3.12 per mile over the last three months. In comparison, the city of
Dallas caps taxicab rates at $1.60 per mile."
Who's on the losing end?
(Car allowance cont'd.)
"On the flip side is orchestra teacher Emery Kochie, who
is assigned to three elementary schools. Including mileage,
wear and tear on his car and the cost of gas, he estimates he
spends about $800 a year doing his job. Yet Mr. Kochie
receives no car allowance."
District curbs travel allowances
Employees had received millions in annual stipends
TAWNELL D. HOBBS
Publication Date: December 16, 2005
Dallas Superintendent Michael Hinojosa's proposal to cut car allowances for hundreds of employees, including his
own, was approved by school trustees Thursday.
The proposal came after The Dallas Morning News reported last month that the district spent nearly $3.7 million
annually on car stipends for more than 2,300 employees, many of whom rarely travel on district business.
Trustees approved reducing the number of employees receiving the stipends to 52 top executives at an annual
cost of about $212,000.
They also approved eliminating Dr. Hinojosa's $1,000 monthly car allowance, at the superintendent's
recommendation.
The change in Dr. Hinojosa's contract takes effect Jan. 1; the other changes begin Sept. 1.
Employees who don't receive a car stipend, including Dr. Hinojosa, will receive the state comptroller's
reimbursement rate for miles driven, now 48.5 cents a mile.
Red flags…
 Credit card purchases for even amounts
 Understaffing in office overseeing purchases;
unanswered questions
 Frequent change orders and/or budget
amendments
 Big budget swings
 A decreasing reserve, or emergency, fund
 Back-to-back purchases to stay under the radar
Tips…
 Don't overload stories with numbers – think
graphics!
Tip…
• Make useful comparisons
The Dallas Independent School District spent
at least $57 million over four years - or one
year's average base pay for 1,086 teachers on purchases such as pricey meals, costly
trips, lucrative consulting contracts and
overnight stays at hotels in the Dallas area and
beyond.
Remember, behind every paper
report…is a database
Questions?