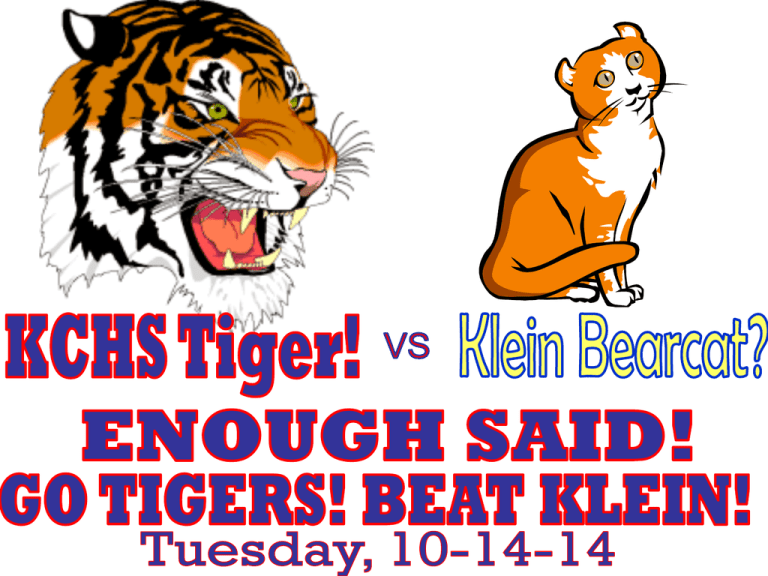 School Picture Make Ups
This Thursday, October 16
7:30am-1:00pm
School Library
Come by 601 for a information packet.
If you missed school pictures earlier this year,
please have your picture taken so that it will
appear in the yearbook.
Please check with your teachers for a
convenient time to go have your picture taken
or you may have it taken during lunch.
A NOTE FROM THE
LIBRARIANS
Start the new
six weeks with
a clear library
record.
We accept
canned food
items for
fines!
Testing Schedule:
Wednesday, Oct. 15
SCHEDULE FOR 9TH GRADE STUDENTS - ACT-ASPIRE
7:25AM – 12:10PM
ACT ASPIRE TEST
12:25PM – 12:50 PM
C Lunch
12:56PM – 2:25PM
TIGER DEN
SCHEDULE FOR 10TH AND 11TH GRADE STUDENTS - PSAT
7:25AM – 10:40AM
11:06AM – 11:31AM
PSAT TEST
A-Lunch
11:37AM – 12:02PM
After testing/lunch
B-Lunch
Study hall-return to testing room
12:56PM – 2:25PM
TIGER DEN
Testing Schedule:
Wednesday, Oct. 15
SCHEDULE FOR 12th GRADE STUDENTS –
CLASSES VIA BLACKBOARD
7:25AM – 9:25AM
LATE ARRIVAL
9:30AM – 11:37AM
Classes via Bb in Assigned Rooms
11:37AM – 12:02PM
B-Lunch
After testing/lunch
Return to Assigned Room
12:56PM – 2:25PM
TIGER DEN
• NO EARLY RELEASE ON THIS DAY!
Important Information for
Wednesday, Oct. 15
• Late arrival for Seniors – report to assigned
classrooms by 9:25AM
• Closed campus from 9:30AM – 2:25PM
• All students report to assigned classrooms instead of
regular schedule
• Report to assigned classroom instead of early
release, late arrival, co-op, etc.
• All students should check their room assignments in
BlackBoard.
• All students will end the day in their Tiger Den
classroom.
• NO EARLY RELEASE ON THIS DAY!
ACT ASPIRE & PSAT Info
Wednesday, October 15
No late arrivals – be on campus by 7:25 AM!
Find your classroom on BlackBoard!
Bring your own calculator.
One will not be provided for you.
No cell phones, iPods, study guides, magazines…
The PSAT is this week!
Why take it seriously?
1.
2.
3.
4.
It helps you practice for the SAT.
Juniors can win scholarships and recognition.
You'll get access to SAT, college, & career info.
You can ask colleges to contact you.
• Use your PSAT Study Guide to prepare.
• Check BlackBoard for you class assignment.
NOW AVAILIBLE IN THE COUNSELING
OFFICE OR ON THE KCHS WEBSITE!!!!!!!
S.T.A.N.D.
Volunteer For Your Community
~Next Meeting~
•When:
•Tuesday, October 14 After School
•Where:
•Mr. Lum's Room, Room # 198 Downstairs,
•Freshman Hallway
•Why:
•Help the community
•Get Service Hours
•Looks Good on a College Resume
KC Student Athletic Trainers are accepting
applications for tryout- See a AT for more info!
WHAT IS THE ASVAB TEST?
A career exploration and aptitude test
WHEN SHOULD I TAKE IT?
10th, 11th or 12th grade
WHAT DOES IT HAVE TO DO WITH THE MILITARY?
The Department of Defense sponsors it and scores are used to determine acceptance and
military jobs for new military recruits but that is not it's only purpose!
DO I HAVE TO BE INTERESTED IN THE MILITARY TO TAKE IT?
Absolutely not!
It is a tool for any student to assist in career planning, whether you are
interested in the military or not!
WHAT BENEFITS DOES IT HAVE FOR ME?
A personalized career planning system and free access to career planning software.
ASVAB IS FREE AND DURING THE SCHOOL DAY
SIGN UP TO TAKE IT IN THE COUNSELING OFFICE….see Mrs. Grimm
Dear Seniors, time
flies by… make this
year count with a
SENIOR AD!
What's a Senior Ad…?
…A page that is ALL ABOUT
YOU! Including a message
and photo congratulating
you on your success!
BUY ONE NOW!
PRICES1/8 Page= $60
1/4 Page= $110
1/2 Page= $200
Full Page= $380
DUE DATEPictures and money are
due by October 23
NO LATER, NO
EXCEPTIONS.
Memories are FOREVER!
#TimelessAsInfinity
Mrs. Harper
Mr. Berta
Mrs. Clarke
SAT/ACT Test Prep Sessions Offered by Klein ISD
See Mrs. Ayers in the front office to register.
Student Registration
Deadline
Seminar Date
Test
Location
Time
October 22nd
November 1st
SAT
Klein Oak
8:30-2:30*
February 18th
February 28th
SAT
Klein Forest
8:30-2:30*
April 15th
April 25th
SAT
Klein High
8:30-2:30*
Sign up today!
**BRING PENCILS AND A CALCULATOR**
*There will be a 45 minute lunch
COLLEGE PREVIEW DAYS
REGISTER ON COLLEGE WEBSITE
College Preview Days – Register on college website













Baylor – Fall Premiere – Sept 27
ITT technical Institute – Open House – Oct 11
Mississippi State – Fall Preview Day – Oct 13 and 27
Texas A & M/Corpus Christi – Island Day – Oct 18
Texas A & M/ Prairie View – Campus Preview Day - October 25
Texas Christian University – Monday at TCU- Oct 6, 27,
Texas Tech University – Weekend of Red and Black- Oct. 12-13
Texas State – Bobcat Day – October 18
University of Houston/Clearlake – Hawk Premiere – Oct 4
University of Houston/Downtown – Open House – Coming Soon
University of Texas – Longhorn Monday's - Oct 13
University of Texas/Dallas – Discover UT Dallas in Houston –Oct 23
University of Texas/ San Antonio – October 30
This is not a complete listing. Seniors should contact their
prospective college/websites for more information.