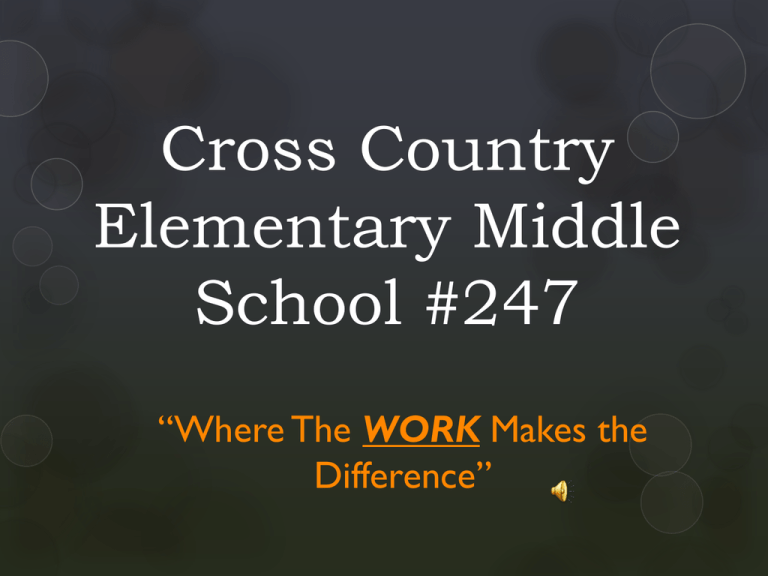 Cross Country
Elementary Middle
School #247
"Where The WORK Makes the
Difference"
Dr. Carter G. Woodson
African American History
Month Programming
Black History Month Art Projects
Black History Month Art Projects
& Students Rehearsing
Black History Door Decorating
Contest
Black History Door Decorating
Contest
Mr. and Mrs. John Billy, grand parents of
scholars Davaughn and Chantelle Billy, speak
with our students about Civil Rights and
marriage in Maryland in the 1950s.
21st Century Sweetheart Dance
Academic Achievement
S.T.E.M Excellence
National Academic League
CCEM NAL Team 7-3 season and
won the first round on the
tournament against Empowerment
Academy
Students hard at work in Science!
Cross Country's Award Winning
Robotics Team "Robofire"
 Coached by Cross Country
Teacher Adriana Olds
 Team members include ten 5th
grade students: Maya Pulliam,
Sheree Clarke, Jawan Taylor,
Aliyah Abid, Monica Greene,
Isaiah Roberts, Alexis Trinidad,
Devon Truesdale, Kaylah
Clemons, Taniya White
 Students competed in three
major areas: Innovative Solution,
Robot Programming, and Core
Values
Robotics 1st Place Core Values
Victory
Middle School Robotics coached
by Mrs. Gay Tipgos
A championship alliance of
teams from Poly, Western, and
Cross-Country won the
Baltimore City Invitational this
Saturday. Congratulations!
Trophies for Tournament
Champion and Build Award
at Baltimore City
Invitational VEX Robotics
Tournament
Cross Country Eagles Robotics
Team
Qualifying for upcoming
US National Robotics
Tournament!!!!!!!
Students making a Marine
Robot.
8th Grade Gateway To
Technology Class
Art's Everyday
The Band Winslow Dynasty
Performs for Students
Cross Country Eagle's
Credits
These were just a few of the activities held
in honor of Black History Month. And a
sampling of the academic achievements of
our tremendous students at Cross
Country Elementary Middle School.
Thank you from the staff, faculty, students,
families, Black History Month Committee,
and administration.