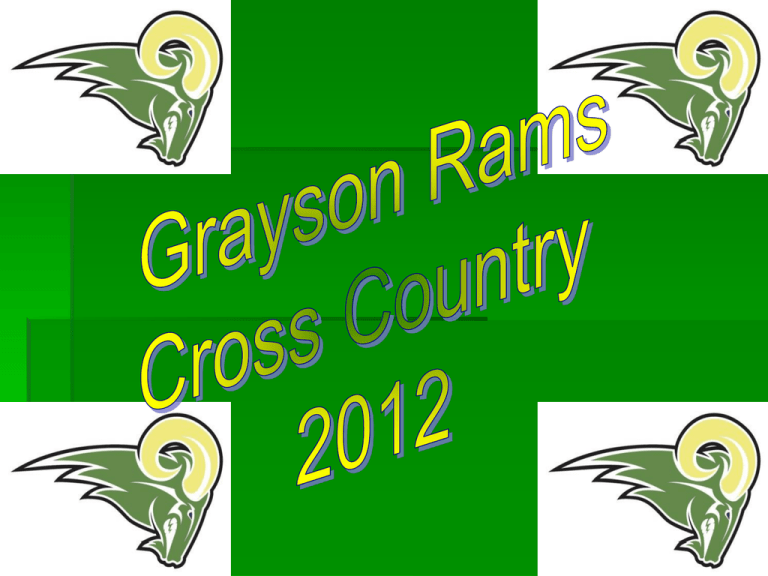 Contact Information
 Mac_Bradbury@gwinnett.k12.ga.us
 Dana_Weimann@gwinnett.k12.ga.us
Introduction of Coaches
Mac Bradbury – Head Coach
Dana Weimann-Assistant Coach
Others ????
What you can expect from
us?
 A positive influence
 Our goal is to provide a positive overall
experience
 Quality and constant coaching
 Professional behavior around the kids,
other teams, and parents
 Commitment to your sons and daughters,
Grayson HS, and our program
What we expect from our
runners?
 Commitment to our program
 A desire to be a part of something more
important than a single runner
 Be proud of Grayson Cross Country
 Always "wearing" and representing Grayson
Cross Country
 Be on time and ready to work every day
 Represent the attitude and behavior that
reflects well on the program and school
Expectations for Parents
 We must have 1 of 3 things from the
parents
 1 – Your effort and energies
 2 – Your financial contributions
 3 – Your contacts within the communities
 If you cannot provide all 3, specializing in
one is perfectly fine
Goals:
This year and Beyond
This Year
Beyond
1)Make summer a top priority.
1) Change the culture:
2) Compete well in all the
parents, community,
meets and consistently get
everyone has to be
better.
involved to make this
3) REGION 8AAAAA: Qualify
program like a
for state, but compete for
Brookwood program.
the highest possible
spot(Guys team has never 2) Develop this program into
an elite program in the
finished higher than 3rd)
state (1st or 2nd at region,
4) Top 10 at STATE!!!
top 5 or better at state)
3) All of this starts now!!!
Summer Conditioning
 1) Summer conditioning is VERY IMPORTANT
 Why? Builds the base necessary to reach their potential
during the season and their cross country career.
 Strength (with more strength they develop more foot
speed and better form)
 Mileage (Safe and Smart)
 We will not only run, but also have modified insanity
workouts 3 nights a week(extremely important)
 Core Training
 2) Monday-Thursday 6:30 pm @ Tribble Mill Park in the parking lot
near the playground
 3) MUST HAVE A PHYSICAL BEFORE THEY CAN START.
 4) What do they need to bring? Water, yoga mat, maybe a snack
for afterwards, good trail shoes (their preference, completely up to
them)
 5) This is the most important part of our season!
Nutrition
 Most importantly, they need Energy
 Whole Grains (extremely important brown rice, quinoa, whole wheat
pasta, quinoa noodles, oatmeal)
 Vegetables (focus on Greens; kale, collard greens, bak choy, etc…
wide variety is always best)
 Proteins (lean proteins-beans, high quality chicken or fish)
 Plenty of water
 Stay away from fast food
 Eat throughout the day (do not just eat 3 times a day-if you are
hungry eat)
 Energy bars, fruit, cereal, pb/jelly sandwiches on whole wheat bread.
 Often times this aspect is ignored when you are this young, I know I
did, but it is extremely important to develop these healthy habits now.
Season Information
 Important Dates for the Summer
 May 28th Monday 1st Day of conditioning
 July 1st through the 8th (Dead Week) Extremely important for
the kids to still meet-I cannot be there.
 July 14th-21st-My Summer Vacation at the beach. (To get
better, the work you do when the coach is not there is the most
important!)
 Important Dates for the Fall
 July 30th(1st official day of practice-remember practice is mandatory
 Other important dates are in the packet (including picture day, team dinners,
etc…)
 Meet Information (FUN)
MEET Schedule
2012 Cross Country Meet Schedule
Date
Meet
Location
Participants
8/25
NE GA Championships
Athens Christian
ALL
8/30
Loganville Dual Meet
Loganville HS
ALL
9/8
Clara Bowl Invite
Berry College
Varsity Top 10 (Overnight)
9/15
Carrollton Orthopedic
State Meet Course
Top 10
9/22
Gwinnett Co. Championship River Green Soccer Complex
10/4
Mountain Invite
Unicoi State Park
Top 10 (Leave school early)
10/20
Coach Wood Invite
Gainesville College
ALL
10/27
Last Chance Invite
State Meet Course
Top 10 JV
11/3
Region 8-AAAAA Champ. River Green Complex Duluth
11/10
State Meet
Carrollton
ALL
ALL
Top 7 Compete 10 will go (Overnight
The Season "officially" starts
July 30th-what to expect
 Time commitment
 Monday through Saturday
 Saturday Meets (If we do not have a Sat meet, the Varsity
will have practice)
 Generally 2:30 to 4:30 5:00-Most days will be at Tribble Mill
Park-weekly schedule will be posted. What does this mean?
We will need help getting the kids over to the
park!.(IMPORTANT:I DO NOT LIKE RUNNING AT THE
SCHOOL, SO IT IS VITAL WE HAVE ENOUGH RIDES)
 10 meets throughout the year
 Most importantly, if the kids cannot get it done in the
classroom, they cannot participate. (Regardless of how good
someone is, there number 1 priority is the classroom)
Between now and July 30th
 Mileage and overall strength
 Be at as many conditioning days as
possible(ALL of them if you can be) I will be
at all of them except for one week…
 We will be working on the core
 300 to 600 or miles this summer!
 300-450 Girls
 400-600 plus for the guys
 Younger first year runners will be closely
monitored to see what they can handle (getting
out there everyday is the most important thing for
those kids)
Financial Commitments
 Mrs. Davis will discuss booster club dues
and responsibilities
 Thank you!