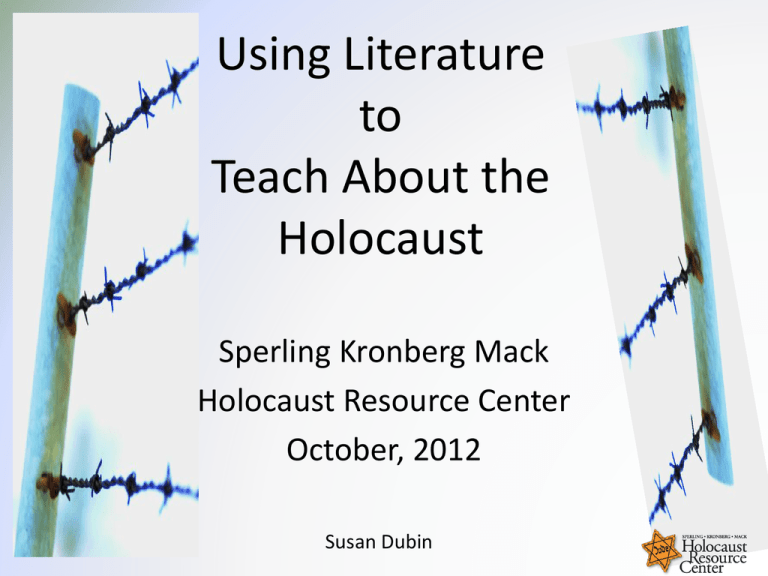 Using Literature
to
Teach About the
Holocaust
Sperling Kronberg Mack
Holocaust Resource Center
October, 2012
Susan Dubin
8 Principles for Selecting Books
• Good books and stories are developmentally appropriate
• Accompanying illustrations, art, photos are appropriate in content and tone
• Good books are rooted in historical context and reflect historical reality
• Good materials personalize the statistics, fostering empathy, compassion,
involvement, and identification with victims and survivors
• Good books feature rather than marginalize the Jewish experience and
particular Jewish responses during the Shoah
• Good books bring students from the Holocaust era in the reassuring present,
giving hope to young readers
• Good stories have the potential to motivate students to examine their own
lives and behaviors and effect change where possible
• Good books offer flexibility in the classroom
Terrible Things: An Allegory of the Holocaust
By Eve Bunting
This unique introduction to the Holocaust encourages young children to stand
up for what they think is right, without waiting for others to join them. In this
allegory, the author's reaction to the Holocaust, the animals of the forest are
carried away, one type after another, by the Terrible Things, not realizing that
if perhaps they would all stick together and not look the other way, such
terrible things might not happen.
REFERENCE MATERIALS
Gilbert, Martin. Atlas of the Holocaust. London: Michael Joseph, 1982.
316 black-and-white maps show "in chronological sequence, the
destruction of each of the main Jewish communities of Europe, as well as
acts of resistance and revolt, avenues of escape and rescue, and the fate
of individuals."
Gutman, The Encyclopedia of the Holocaust, 4 Volumes. Macmillan, 1990.
An alphabetically arranged encyclopedia that deals in depth with "the
sources and motivations" for the Holocaust.
Spector, Shmuel, Editor. The Encyclopedia of Jewish Life Before and During
the Holocaust, 3 Volumes. New York University Press, 2001.
An abridgement of a work published originally in Hebrew by Yad Vashem.
It explores the lives and customs of more than 6,500 Jewish communities
that thrived before the Holocaust.
PRIMARY SOURCES
Arad, Yitzhak, et al. Documents on the Holocaust. University of
Nebraska Press and Yad Vashem, 1999.
Selected sources on the destruction of the Jews of Germany and
Austria, Poland, and the Soviet Union.
"Echoes and Reflections" Multimedia Curriculum (ADL, Yad Vashem,
USC Shoah Foundation)
Student/Teacher Resource Center:
http://www1.yadvashem.org/education/adl/index.htm
Click on each lesson for links to photos, documents, artifacts
Museum of Tolerance – Multimedia Learning Center:
http://motlc.wiesenthal.com/site/pp.asp?c=gvKVLcMVIuG&b=35820
1
Primary source documents, memoirs and photographs
The Nizkor Project:
http://nizkor.org
Nuremberg Trial records; Eichmann Trial records; extensive archive of
documents and interviews regarding
camps and perpetrators; Holocaust denial
Never to Forget
By Milton Meltzer
Six million— a number impossible to visualize. Six million Jews were killed in
Europe between the years 1933 and 1945. What can that number mean to us
today? We are told never to forget the Holocaust, but how can we remember
something so incomprehensible?
We can think, not of the numbers, the statistics, but of the people. For the
families torn apart, watching mothers, fathers, children disappear or be
slaughtered, the numbers were agonizingly comprehensible. One. Two. Three.
Often more. Here are the stories of thode people, recorded in letters and
diaries, and in the memories of those who survived. Seen through their eyes,
the horror becomes real. We cannot deny it—and we can never forget.
'Based on diaries, letters, songs, and history books, a moving account of Jewish
suffering in Nazi Germany before and during World War II.'
EMIGRATION
AND
CHILDREN IN HIDING
Tropical Secrets: Holocaust Refugees in Cuba
by Margarita Engle
A coming-of-age story and an unusual piece of Holocaust history, told
in free verse. 13-year-old Daniel, a German refugee meets and then
befriends a 12-year-old Cuban girl after his ship is allowed to dock in
Havana. Their story is effectively told in alternating narratives. Winner
of the 2010 Sydney Taylor Book Award for Teens.
The Other Half of Life Based on the True Story of the MS St. Louis
by Kim Ablon Whitney
Based upon the true story of the MS St. Louis, the story takes place
after Kristallnacht and closely follows the fateful voyage of over 900
passengers who are bound for Cuba. The main character is fifteenyear-old, Thomas, whose father has been sent to Dachau, and whose
non-Jewish mother places him on the ship for safety. The ship is
eventually turned away at several countries' ports, and forced to
return to European cities that will soon fall under Nazi domination.
Winner of a 2009 National Jewish Book Award.
A Faraway Island
by Annika Thor, translated by Linda Schenck
The story of two Viennese-Jewish sisters who are sent to safety during the
Holocaust to an island off the coast of Sweden. The girls' treatments by their
two foster families vary but both try to convert them to Christianity. Hoping
to be reunited with their parents soon, the girls' stay lasts indefinitely, and
the story explores the emotions of children who endure uncertainty far from
home. Translated from the Swedish, this is the first in a series of books about
the sisters' life on the island.
Guardian Angel House
by Kathy Clark
Guardian Angel House is the nickname given to a convent run by the Sisters
of Charity in Budapest that sheltered over 120 Jewish children during World
War Two. Told from the point of view of twelve-year-old Susan, this is a
story of survival, of growing up without family during childhood and
adolescence, of Jewish children living in a protective and loving Catholic
environment which is foreign to them, of mutual respect between people of
different religions, of a young woman forced to learn courage at an early
age. Based on the true story of the author's mother and aunt, it is historical
fiction at its best.
In My Hands: Memories of a Holocaust Rescuer
By Irene Gut Opdyke, with Jennifer Armstrong
Recounts the experiences of the author who, as a young Polish girl, hid
and saved Jews during the Holocaust.
Number the Stars
By Lois Lowry
As the German troops begin their campaign to "relocate" all the Jews of
Denmark, Annemarie Johansen's family takes in Annemarie's best friend,
Ellen Rosen, and conceals her as part of the family.
Through the eyes of ten-year-old Annemarie, we watch as the Danish
Resistance smuggles almost the entire Jewish population of Denmark,
nearly seven thousand people, across the sea to Sweden. The heroism of
an entire nation reminds us that there was pride and human decency in
the world even during a time of terror and war.
Annexed
By Sharon Dogar
In this powerful and gripping novel, Sharon Dogar explores what this might
have been like from Peter's point of view. What was it like to be forced
into hiding with Anne Frank, first to hate her and then to find yourself
falling in love with her? Especially with your parents and her parents all
watching almost everything you do together. To know you're being written
about in Anne's diary, day after day? What's it like to start questioning
your religion, wondering why simply being Jewish inspires such hatred and
persecution? Or to just sit and wait and watch while others die, and wish
you were fighting.
As Peter and Anne become closer and closer in their confined quarters,
how can they make sense of what they see happening around them?
Then
By Morris Gleitzman
Felix and Zelda have escaped the train to the death camp, but where do they go
now? They're two runaway kids in Nazi-occupied Poland. Danger lies at every turn of
the road.
With the help of a woman named Genia and their active imaginations, Felix and
Zelda find a new home and begin to heal, forming a new family together. But can it
last?
Morris Gleitzman's winning characters will tug at readers' hearts as they struggle to
survive in the harsh political climate of Poland in 1942. Their lives are difficult, but
they always remember what matters: family, love, and hope.
A 2012 Sydney Taylor Honor Book for Teen Readers
Anne Frank and Me
By Cherie Bennett and Jeff Gottesfeld
In one moment Nicole Burns's life changes forever. The sound of gunfire at an
Anne Frank exhibit, the panic, the crowd, and Nicole is no longer Nicole.
Whiplashed through time and space, she wakes to find herself a privileged Jewish
girl living in Nazi-occupied Paris during World War II. No more Internet diaries
and boy troubles for Nicole-now she's a carefree Jewish girl, with wonderful
friends and a charming boyfriend. But when the Nazi death grip tightens over
France, Nicole is forced into hiding, and begins a struggle for survival that brings
her face to face with Anne Frank.
Alicia : My Story
By Alicia Appelbaum
A young girl's experience of the Nazi pogrom in her Polish hometown is related
with an immediacy undimmed by time in her autobiography. In 1942, the author
and her family undergo a brutal separation. Thirteen-year-old Alicia escapes her
captors, fleeing through fields and woods, encountering fellow refugees and
occasionally finding safe harbors. Although she sees her mother's wanton
murder and endures physical and mental deprivation, the teenager is supported
by faith in family and in the goodness of people. Capable of rallying others, she
eventually heads a group who settle in Palestine. In 1949, she marries an
American in Haifa and moves to the United States.
The Journey Back
By Johanna Reiss
The Second World War is over. Annie and her sister Sini, who have been
hiding from the Germans for almost three years, are free again. They
leave the hamlet of Usselo and the Oosterveld family that had sheltered
them and return to their hometown. Their father also survived as did
their sister, Rachel. The Journey Back tells of what can happen to
members of a family, Jews in this case, when reunion demonstrates they
no longer know each other. The book speaks for all people at all times
and is as moving as its predecessor, The Upstairs Room.
GHETTOS
Sacred Shadows
By Maxine Rose Schur, Paul Sann
After the death of her father in World War I, Lena finds herself a German
and a Jew in an unforgiving country. Her mother says conditions will
improve but Lena suspects this belief is not only wrong...it's dangerous.
When her German hometown becomes part of Poland after World War I,
Lena, a young German Jew, struggles to come to terms with the antiSemitism and anti-German hatred that seems to be growing around her.
Friedrich
By Hans Richter
A young German boy recounts the fate of his best friend, a Jew, during the
Nazi regime. This book explores the world before the Shoah and seeks to
show the disintegration of normal life for the Jews.
The Stars Will Guide You
by Miriam Walfish
Rica Levi, 15, and her brother Lelio, 8, are instructed by their widowed
father to flee their home in the Rome ghetto in 1943. In the ensuing
months and years, they don't know what has happened to him and fear
the worst. In four sections, the book describes the children's hiding by
Catholics in Narola, Italy; the liberation of Rome by the Allies and their
return to find their ransacked and defaced apartment; the search for
family after the war; and, finally, their reunion with their father.
Between Shades of Gray
By Ruta Sepetys
Fifteen-year-old Lina is a Lithuanian girl living an ordinary life--until Soviet
officers invade her home and tear her family apart. Separated from her father
and forced onto a crowded train, Lina, her mother, and her young brother
make their way to a Siberian work camp, where they are forced to fight for
their lives. Lina finds solace in her art, documenting these events by drawing.
Risking everything, she imbeds clues in her drawings of their location and
secretly passes them along, hoping her drawings will make their way to her
father's prison camp. But will strength, love, and hope be enough for Lina and
her family to survive?
The Island on Bird Street
By Uri Orlev
During World War II a Jewish boy is left on his own for months in a ruined
house in the Warsaw Ghetto, where he must learn all the tricks of survival
under constantly life-threatening conditions.
Milkweed
By Jerry Spinelli
He's a boy called Jew. Gypsy. Stopthief. Runt. Happy. Fast. Filthy son of Abraham.
He's a boy who lives in the streets of Warsaw. He's a boy who steals food for
himself and the other orphans. He's a boy who believes in bread, and mothers,
and angels. He's a boy who wants to be a Nazi some day, with tall shiny
jackboots and a gleaming Eagle hat of his own. Until the day that suddenly
makes him change his mind. And when the trains come to empty the Jews from
the ghetto of the damned, he's a boy who realizes it's safest of all to be nobody.
Newbery Medalist Jerry Spinelli takes us to one of the most devastating settings
imaginable -- Nazi-occupied Warsaw of World War II -- and tells a tale of
heartbreak, hope, and survival through the bright eyes of a young orphan.
Daniel Half Human and the Good Nazi
By David Chotjewitz, translated by Doris Orgel
All his life, Daniel has been hiding. He just doesn't know it.
Until the spring of 1933, he's enjoyed a comfortable German boyhood with
his well-to-do family, in school, at soccer. Daniel's even enjoyed jail — for
one exciting night — with his best friend, Armin, after they've been caught
painting a swastika on a wall in the hated Communist section of Hamburg.
In their cell, the boys cut their wrists, mingle blood, and swear lasting
brotherhood. Then, a thunderclap: Daniel learns to his horror that his
mother is Jewish, that he is therefore half-Jewish and, in Aryan eyes, halfhuman.
The Berlin Boxing Club
By Robert Sharenow
Karl Stern has never thought of himself as a Jew; after all, he's never even
been in a synagogue. But the bullies at his school in Nazi-era Berlin don't care
that Karl's family doesn't practice religion. Demoralized by their attacks against
a heritage he doesn't accept as his own, Karl longs to prove his worth.
Then Max Schmeling, champion boxer and German hero, makes a deal with
Karl's father to give Karl boxing lessons. A skilled cartoonist, Karl never had an
interest in boxing, but now it seems like the perfect chance to reinvent
himself. But when Nazi violence against Jews escalates, Karl must take on a
new role: family protector. And as Max's fame forces him to associate with
Nazi elites, Karl begins to wonder where his hero's sympathies truly lie. Can
Karl balance his boxing dreams with his obligation to keep his family out of
harm's way?
The Upstairs Room
By Johanna Reis
When the German army occupied Holland, Annie de Leeuw was eight years
old. Because she was Jewish, the occupation put her in grave danger-she knew
that to stay alive she would have to hide. Fortunately, a Gentile family, the
Oostervelds, offered to help. For two years they hid Annie and her sister, Sini,
in the cramped upstairs room of their farmhouse.
Most people thought the war wouldn't last long. But for Annie and Sini —
separated from their family and confined to one tiny room — the war seemed
to go on forever.
The Endless Steppe
By Esther Hautzig
In the bitter desolation of Siberia, Esther and her family fight to stay alive. It is
June 1941. The Rudomin family has been arrested by the Russians. They are
capitalists—enemies of the people. Forced from their home and friends in
Vilna, Poland, they are herded into crowded cattle cars. Their destination: the
endless steppe of Siberia.
For five years, Esther and her family live in exile, weeding potato fields and
working in the mines, struggling for enough food and clothing to stay alive.
Only the strength of family sustains them and gives them hope for the future.
To Live and Fight Another Day: The Story of a Jewish Partisan Boy
by Bracha Weisbarth
An exciting novel based on the experiences of the author's family
during the Holocaust. The main character is her brother, Benny,
who led the family out of the ghetto before a Nazi "Final Aktion"
and then into the forests, where they eventually joined partisans
fighting the Nazis.
Uncle Misha's Partisans
By Yuri Suhl
Twelve year old Mitek comes home after his violin lesson to find that
his family has been killed by Hitler's death squads. Mitek runs away
and finds a group of armed Jewish partisans led by a man named
Uncle Misha. He is met by Yoshke and Berek, two partisans who at
first refuse to believe he is Jewish. However Mitek tells them that his
family hid under the guise of Christians until they were outed, he goes
back to camp under his birth name -- Motele.
Once at the partisan camp, Yoshke takes Motele under his wing. Soon
Motele is allowed to go on a mission against the Nazis.
CONCENTRATION
CAMPS
The Entertainer and the Dybbuk
by Sid Fleischman
In post-World War II Europe, a struggling American ventriloquist
called The Great Freddie gets an offer of help with his act from a
dybbuk, the ghost of a boy who was killed in the Holocaust. The
dybbuk speaks for Freddy so that his ineptitude as a ventriloquist
isn't visible and in gaining a voice, the dybbuk is able to speak out
against the murder of himself and millions of others by the Nazis.
Winner of a Sydney Taylor Book Award.
Mara's Stories: Glimmers in the Darkness
by Gary Schmidt
In the night and fog of a concentration camp, women and
children gather at night to listen to stories told by a prisoner
named Mara, the daughter of a rabbi. The haunting stories
are adapted from Jewish lore and modern Jewish literature.
The Book Thief
by Markus Zusak
Death himself is the omnipresent commentator in this compelling novel set
in Germany during World War II. Genial as he muses on human existence,
Death is sometimes frightened at the extent of human cruelty. Germany
under Hitler was the epicenter of cruelty, as shown through several years in
the life of a German child, the titular "book thief," her foster family, friends,
and the town near Munich where she lives. These "good German" characters
are earthy, flawed, and unforgettable. And while Death (always) has the final
word, it is to say "I am haunted by humans." For high school students and
up, this book is not to be missed. Winner of a Sydney Taylor Book Award.
I Have Lived a Thousand Years
By Livia Bitton-Jackson
A graphic narrative describes what happens to a 13-year-old Jewish girl
when the Nazis invade Hungary in 1944. Includes a brief chronology of
the Holocaust. The author describes her experiences during World War
II when she and her family were sent to the Nazi death camp at
Auschwitz.
We Are Witnesses: the Diaries of
Five Teenagers Who Died in the Holocaust
By Jacob Boas (editor)
Jewish teenagers David, Yitzhak, Moshe, Eva, and Anne all kept diaries and were
all killed in Hitler's death camps. These are their stories, in their own words.
Author Jacob Boas, who was born in the same camp to which Anne Frank was
sent, ends by discussing her famous diary. Looking back at the other four through
Anne, and at Anne with fresh eyes after the others, we see the largest truth they
all left for us: Hitler could kill millions, but he could not destroy the human spirit.
These stark accounts of how five young people faced the worst of human evil are
a testament, and an inspiration, to the best in the human soul.
The Devil's Arithmetic
By Jane Yolen
Hannah thinks tonight's Passover Seder will be the same as always. Little
does she know that this year she will be mysteriously transported into
the past where only she knows the horrors that await. Hannah resents
the traditions of her Jewish heritage until time travel places her in the
middle of a small Jewish village in Nazi-occupied Poland.
I Will Plant You a Lilac Tree
By Laura Hillman
In the spring of 1942 Hannelore received a letter from Mama at her school in Berlin,
Germany—Papa had been arrested and taken to a concentration camp. Six weeks later
he was sent home; ashes in an urn.
She made a decision: She would go home and be deported with her family. Despite the
horrors she faced in eight labor and concentration camps, Hannelore met and fell in love
with a Polish POW named Dick Hillman.
Oskar Schindler was their one hope to survive. Schindler had a plan to take eleven
hundred Jews to the safety of his new factory in Czechoslovakia. Weeks later Hannelore
found herself, alone, outside the gates of Auschwitz, pushed toward the smoking
crematoria.
I Will Plant You a Lilac Tree is the remarkable true story of one young woman's
nightmarish coming-of-age. But it is also a story about the surprising possibilities for
hope and love in one of history's most brutal times.
The Search
By Eric Heuvel
Esther remembers her own experience of the Holocaust as a Jewish girl
living in Amsterdam, and recounts to her grandson Daniel and his friend
Jeroen how she escaped from the Nazis and survived by going into
hiding in the countryside. Her parents were not so lucky. Esther knows
they were sent to a concentration camp and died there, and with
Daniel's help she embarks on a search to discover what happened to
them during the last months of their lives. After tracking down an old
friend who now lives in Israel, Esther finally learns the shocking story of
how her parents met their fates at Auschwitz.
Sequel to A Family Secret
If I Should Die Before I Wake
By Han Nolan
Hilary hates Jews. As part of a neo-Nazi gang in her town, she's finally found a
sense of belonging. But when she's critically injured in an accident, everything
changes.
Somehow, in her mind, she has become Chana, a Jewish girl fighting for her
own life in the ghettos and concentration camps of World War II.
Han Nolan offers powerful insight into one young woman's survival through the
Holocaust and another's journey out of hatred and self-loathing.
After the War
By Carol Matas
After being released from Buchenwald at the end of World War II, 15-yearold Ruth risks her life to lead a group of children across Europe to Palestine.
Surviving Hitler
By Andrea Warren
"Think of it as a game, Jack. Play the game right and you might outlast the
Nazis."
Caught up in Hitler's Final Solution to annihilate Europe's Jews, fifteen-year-old
Jack Mandelbaum is torn from his family and thrown into the nightmarish world
of the concentration camps. Here, simple existence is a constant struggle, and
Jack must learn to live hour to hour, day to day. Despite intolerable conditions,
he resolves not to hate his captors and vows to see his family again. But even
with his strong will to survive, how long can Jack continue to play this life-anddeath game?
The Cage
By Ruth Sender
From the German invasion of Poland in 1939 to the liberation of her
concentration camp in 1945, the author chronicles an adolescence shaped by
the horrors of the Holocaust but strengthened by the force of her own will. A
teenage girl recounts the suffering and persecution of her family under the
Nazis, in a Polish ghetto, during deportation, and in a concentration camp.
Tunes For Bears To Dance To
By Robert Cormier
A masterful portrayal of hatred, prejudice and manipulation that challenges
readers to examine how they would behave in the face of evil. Henry meets
and befriends Mr. Levine, an elderly Holocaust survivor, who is carving a
replica of the village where he lived and which was destroyed in the war.
Henry's friendship with Mr. Levine is put to the test when his prejudiced boss,
Mr. Hairston, asks Henry to destroy Mr. Levine's village. Eleven-year-old Henry
escapes his family's problems by watching the woodcarving of Mr. Levine, an
elderly Holocaust survivor, but when Henry is manipulated into betraying his
friend he comes to know true evil.
Survivors: True Stories of Children in the Holocaust
By Allan Zullo and Mara Bovsun
Gripping and inspiring, these true stories of bravery, terror, and hope chronicle
nine different children's experiences during the Holocaust.
These are the true-life accounts of nine Jewish boys and girls whose lives spiraled
into danger and fear as the Holocaust overtook Europe. In a time of great horror,
these children each found a way to make it through the nightmare of war. Some
made daring escapes into the unknown, others disguised their true identities, and
many witnessed unimaginable horrors. But what they all shared was the
unshakable belief in-- and hope for-- survival.
Fireflies in the Dark
By Susan Goldman Rubin
Rubin briefly profiles Freidl Dicker-Brandeis, a Bauhaus-trained art therapist who
brought art supplies with her when she was deported from Prague to the Terezin
concentration camp and then gave art lessons to the children there. "The
children's paintings, crisply reproduced in color and briefly analyzed, and their
poems are poignant testimony of a tragic history," noted PW.
I Never Saw Another Butterfly
By Hana Volavkova
A total of 15,000 children under the age of fifteen passed through the Terezin
Concentration Camp between the years 1942-1944; less than 100 survived. In
these poems and pictures drawn by the young inmates of Terezin, we see the
daily misery of these uprooted children, as well as their courage and
optimism, their hopes and fears.