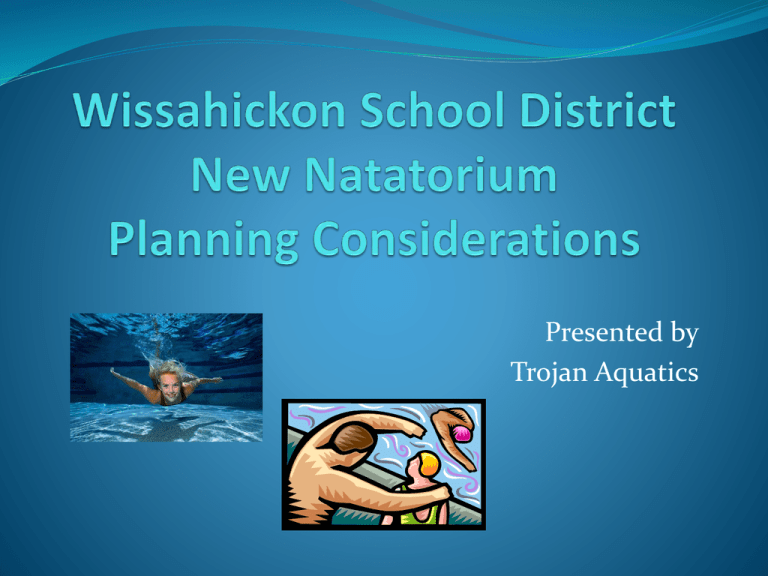 Presented by
Trojan Aquatics
Who is Trojan Aquatics?
Parents and coaches of WHS Swim and Water Polo teams
Purpose:
 Booster Club to support the above teams
 Organize and manage off-season water polo and swimming
programs
 Support above through activity fees, contributions and
donations (e.g., procure training equip)
 Sponsor scholarships for graduating seniors who have
participated in these WHS aquatic programs
Current Program
 WHS swimming, diving, and water polo are growing in
participation, and success:
 56 student-athletes participated on the swim/diving




team this year; 50 participated on water polo team
8 swimmers went to Districts this year; 2 to States
Water polo team has gone to State tournament 5 of last 7
years; placed 5th this year
9 graduates of the WHS aquatic programs the last 3 yrs
went on to participate at the NCAA level
88 people in spring water polo
Current Problems
 Not serving our District residents
 Over a dozen swimmers choose to train elsewhere, or are
leaving the programs entirely
 Many of the best swimmers (USA caliber)
 Swimming is unlike other HS sports
 Requires a special use facility
 Practice time is different – 2 times a day
OVERVIEW
 Guiding Principles
 Origin of Design Concepts
 Overall Pool Design
 Specific Needs
 Swimming
 Diving
 Water Polo
 Physical Education
 Community Aquatic Activities
Guiding Principles
 Have a multi-use facility – versatile
 Develop natatorium complex that promotes a
progressive, 21st Century school district, committed to
physical fitness and competitive sports
 Ensure the facility is fully integrated with the
curriculum of the High School
 Have the ability to successfully hold swimming, diving,
or water polo competitions at "Suburban One League"
Championship level/size
Guiding Principles
 Consider all possible constituencies:
 students
 facility & staff
 high school swim/dive and water polo teams
 community swim/dive and water polo teams
 district residents
 Have WSD recognized regionally as "best in class"
regarding their aquatics center
 Support the District community at large, via increased
aquatic programs targeting unmet needs
Origin of Design Concepts
 Input from Trojan Aquatics parents, swimmers, and alumni
via email solicitation
 In-person and telephonic interviews with 11 "poolknowledgeable" sources from multiple school districts &
programs:
 8 high school swimming coaches
 4 high school water polo coaches
 all were collegiate swimmers, some with national rankings
 Head of American Water Polo; Commissioner of Collegiate
Water Polo
 2 aquatic program administrators
Overall Pool Design
 "Stretch" design pool, with bulkhead to create 25 yd
short course pool(s) and a diving area
 25 yds wide 'across' pool – more needed practice space
 At least 40 yds long, plus width of 5 ft bulkhead
 State-of-the-art ventilation and air filtration systems,
with appropriate temperature and humidity controls
for full time, year-round consistency, capable of
sufficiently handling the heavy usage surrounding
swim meets, water polo matches, and practices
Overall Pool Design
(Con't)
 Increased deck space to improve safety for participants
and officials – on a non-slip surface
 Large storage space(s) – store water polo goals,
swimming touch pads, timing system, lane lines &
equipment, training equipment, canoes & PE equip
 Sufficient seating area to accommodate League
Championship / similar size meets (500 ppl range)
 Separate Home and Visitors locker rooms for both
Boys and Girls
Overall Pool Design
(Con't)
 Natural lighting, properly positioned, w/ ability to
invoke shades if outside sun is problematic
 Scoreboard that is easily seen from anywhere, capable
of scoring for both swimming and water polo
 Locker room access that does not require walking onto
pool deck – health & safety issue
 All seating & equipment on deck to be "removable", for
flexibility, cleaning, and maintenance
Overall Pool Design
(Con't)
 Main pool entrance should be to the "outside", so that




evening/weekend use of pool doesn't require entering
the school – security issue
Sufficient lobby area for children waiting for rides;
protection from the weather
Good acoustic system, quality speakers, acoustical tiles
or sound damping devices
ADA entry – chair & gradual steps
Offices: Coaches, P.E. office, First Aid – location
Overall Pool Design
(Con't)
 Entrance to spectator seating should be "behind", so as
to not interfere with viewing
 Main entryway to have vestibule area (one set of doors
closes before the others are opened) – helps maintain
indoor temperature and maintain air quality
 Protective glass 'walls' (rather than railing/bars) for
unobstructed viewing
 Ancillary room for instruction – PE dept, teaching by
coaches, program instructors, American Red Cross
Overall Pool Design
(Con't)
 Snack bar area in pool lobby
 Wall outlets raised higher than usual – get power cords
off the deck / kept drier
 Underwater speakers – used for coaching instruction &
music (for swim practice and recreational swimming)
 Capability for live streaming events; video training
 Underwater window/observation area – for coaches to
film and observe/critique
Specific Needs
 Swimming
 Diving
 Water Polo
 Physical Education
 Community Aquatic Programs
Swimming
 8-10 swim lanes – minimum
 Warm-up/-down partitioned area for use before,
during, after meet
 Design concepts for "fast" pool
 Appropriate depth (mostly 6'6" or deeper)
 Water 'buffer" between outside lanes and pool edges
 Advanced drainage system
 Modern wave overflow mgmt
 Lane-line design
 Starting blocks – larger with racing insert option
Swimming
(Con't)
 Sufficient deck space and seating for participants – on
both sides and ends of pool
 Wall mounted "hook up" for timing system, in
multiple locations – ensures flexibility
 Install timing system wiring within the deck –
eliminates potential safety hazard
Diving
 "Preferred" depth as per USA Swimming (13'6")
 (2) 1-meter and (1) 3-meter diving boards (need for




competitions; AP option to prepare athletes for next level;
opens revenue opportunity)
Warming system for divers (warm water spray showers in
wall; other warm water access)
Sprays/water agitators for divers to observe water level
Avoid windows behind diving boards – sunlight is
impediment for judges
Ability for judges to view divers from more than one
angle/vantage point
Water Polo
 Room for 2 regulation water polo play fields (to host




tournaments) – appropriate depth throughout
Scoreboard must accommodate water polo needs
Officials must be able to walk both sides of the field of
play (lengthwise) without obstruction
No 'breakables' behind goals (glass windows or doors;
scoreboard; clocks)
Safety nets to control errant balls
Physical Education
 Larger facility can accommodate multiple classes




simultaneously of varying skill levels
Expand aquatic offerings for PE classes
Cross-training by other HS/MS sports teams
Exercise option for "academic period"
Lifeguard certification
Community Aquatic Programs
 Shallow end for children's lessons; water aerobics; other





activities
"Master's" swim program
Adult lessons
Water safety training
Consider at least one (1) "family changing room", even if
public restrooms are nearby
Have a separate community entrance, with control desk
and set of small changing rooms. Could facilitate use by
community during school day with no intrusion on school
locker rooms.