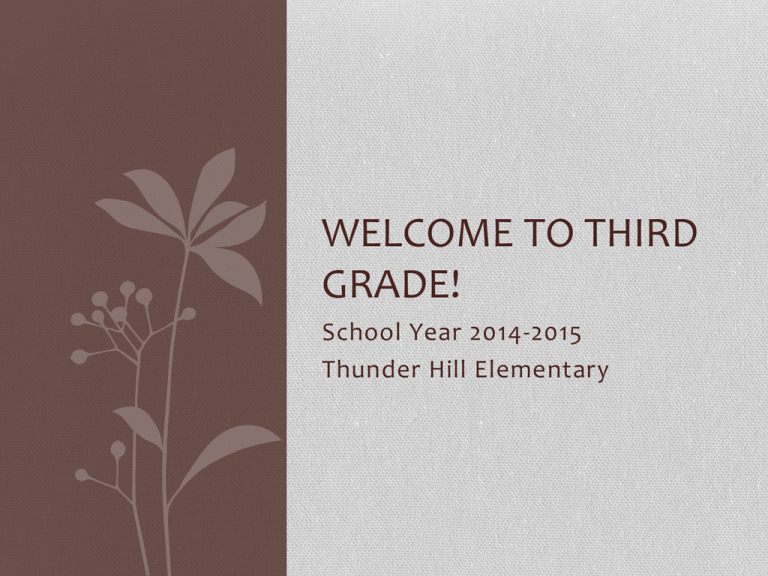 WELCOME TO THIRD
GRADE!
School Year 2014-2015
Thunder Hill Elementary
• 9:15-9:25 M o r n i n g R o u t i n e a n d
Warm-Up
• 9:30-10:35 M a t h
• 10:40-11:40 R e l a t e d A r t s
• 11:40-12:00 L A / D E A R
• 12:00- 1:00 R e c e s s / L u n c h
• 1:00-2:55 R e a d i n g
• 2:55-3:35 C o n t e n t
• 3:40 P a c k U p
• 3:45 D i s m i s s a l
PE- Wear sneakers on days
students have PE
Music- Bring recorders and books
REMINDERS FROM
OUR RELATED ARTS
TEACHERS
MANDATORY
CLASSROOM SUPPLIES
-ACCORDIAN FILE FOLDERS
-SOFT ZIPPER PENCIL CASES
Social, Emotional, and Mental Health
Tobacco, Alcohol, and Other Drugs
Child Abuse Awareness/Prevention
Safety, First Aid, and Injury Prevention
Disease Prevention and Control
Social Studies
Science (New Generation Science
Standards)
• Choi and Wallace (Szarko)
• Ferrara and Supreme
• Unit 1: Communities
• Unit 1: Weather and Climate
• Unit 2: Cultures
• Unit 2: Forces and Interactions
• Unit 3: Economics
• Unit 3: Plant and Animal Survival
• Unit 4: Citizenship
• Unit 4: Life Cycles and Traits
Parent Previews are sent home at the beginning of each unit.
Letter Grades: A, B, C, D, E
Grades
A, B, and C are considered satisfactory grades.
Parents will be contacted if students are approaching
D.
Parents will be contacted if students are receiving D or E.
Note: Teachers will communicate concerns through Friday Folder.
Please be sure to check the behavior checklist for updates on
student's progress.
Third Grade
Assessments
• MAP (monitoring student potential)
• 3 times
Assessments in all Subject
Areas:
-
Math
Writing
Vocabulary
Science
Soc. St.
Health
• PARCC (replaces MSA)
• 2 times
• CoGAT (possible G/T placement)
• 1 time
Writing/Vocabulary
Monday-Thursday
Math
Monday-Thursday
Content
Occasionally
Spend no more than
30 -45 minutes
per subject.
• Vocabulary-Based Program
• Greek and Latin Roots
• Daily Homework Assignments
• Vocabulary Assessments
Accountability
Choices=
Consequence
s
U.O.Me Slip
Parents'/guardians'
signature
• Daily Points – every student starts the day
with 5 points
SOAR-
Safe
Organized
Always Respectful
Responsible
• Please check your student's agenda book
daily and initial at the bottom of the page.
• Activity Clubs every 2 weeks. To attend the
Clubs, students will need 80% of the total
possible points.
• SOAR ticket trade-in days every alternate
week.
Parents need to notify the teacher
24 hours before visiting the
classroom.
SCHEDULING A
CONFERENCE
Additional Info:
LUNCH
FIELD TRIP
QUESTIONS?
COMMENTS?
CONCERNS?