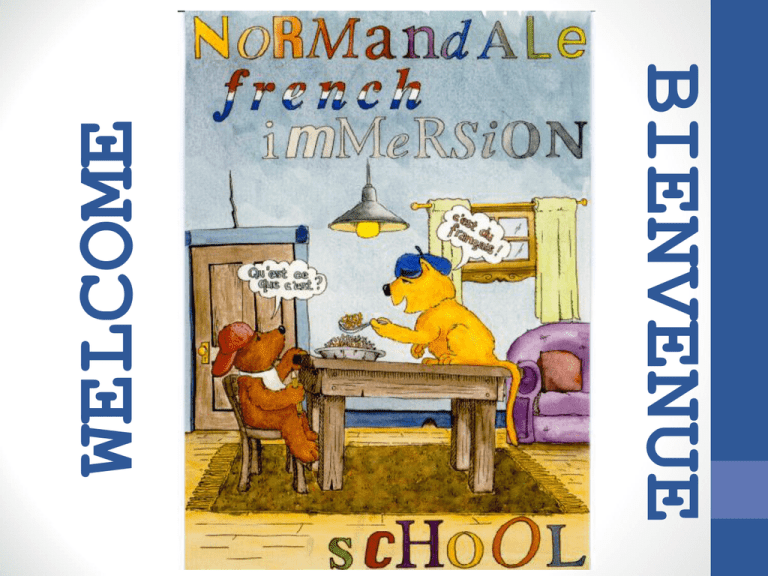 WELCOME
BIENVENUE
Welcome Class of 2028
PURPOSE OF TONIGHT'S MEETING
 LEARN about Normandale Elementary
French Immersion School
 MEET Kindergarten staff and Learning
Specialist /Parent Jennifer Johnson
 RECEIVE registration materials if you did
not pick them up at your neighborhood
school - Edina School District residents
only
 ANSWER questions
Superintendant's Message
Who would ever send
their kids to an
immersion school?
Nationwide, hundreds of schools offer total,
partial or two-way immersion programs in
many different languages and the number
continues to grow.
 Worldwide, the number of
students learning in two
languages is in the
tens of millions.
 French is the second most frequently
taught language in the world after
English.
 French is the official language in 33
countries.
 French is the only language other
than English spoken on five
continents.
Language Immersion
 Language immersion is an approach to
second language learning in which the
usual curriculum activities are
conducted in a second language.
 The new language is the medium as
well as the object of instruction.
 We teach the same content &
standards as the other Edina schools.
Language & The Brain
 Language development windows open
and close during childhood.
The ability to learn a second language is
highest between birth and the age of six,
then undergoes a steady decline.
The adult brain can still learn new skills,
including languages, but it's much more
difficult.
Kindergarten Schedule
 8:30 AM – 3:05 PM
 Art, Music & Physical Education taught by
specialists in English.
Morning snack time
 Lunch and recess mid-day
 Quiet / rest time
Media Experience
Computer Lab
What Does Kindergarten
Look Like?
(Classroom videos were shown at this
point in the presentation, but are not
included in the web version due to
privacy of the children)
English Instruction
 Formal English instruction
begins in grade 3.
 Starting in K: introduction to
English literacy skills through
media experiences
 Parents play a crucial role in
the development of literacy
skills
 Our expert: Mme Johnson
Questions for our teachers?
 Licensed teachers and paraprofessionals with high level
French proficiency from:
 Canada
 Congo
 France
 Lebanon
 Senegal
 United States
 French classroom interns are
hosted by families for the school
year.
 The intern program is
completely supported by our
parent community:
 volunteer donations
 host families
 fun activities
http://www.edinainterns.org/
Where Do Our Students Go
After Normandale?
 Extended French Program:
Grades 6-9 at Valley View Middle School
 Advanced French Classes:
Grades 10-12 at Edina High School
Same Services Available
 Special Education
 Speech and Language
 School Psychologist, Social Worker
 English Learner (EL) Services (gr 3 & up)
 Health Services
 Gifted Education Services
 Family Resource Center
 Community Education Services (including
before and after school care)
Early Childhood Developmental
Screening
 State law: your child must complete the
screening before starting school
 Screenings are scheduled by
appointment and take approximately one
hour
 http://edinaschools.org/Page/1873
The LOTTERY…
All Kindergarten Choice Program Preference Forms
are due Jan. 12 by 11:59pm by mail, fax or online
for French Immersion and Continuous Progress.
Order of preference for first 108 students:
1. Siblings – Sibling preference policy
2. Random lottery of Edina school district
residents
Once 108 students are accepted, a waiting
list is created (Edina district residents only)
3. Open Enrollment students are accepted if
there are fewer than 108 Edina district
students (must submit OE form by Jan 15)
www.edinaschools.org/Page/119
TIMELINE
 Jan. 12 - 6:00 PM - Program preference
deadline for all Edina school district residents
 Jan. 16 - Letters sent to parents noting
acceptance or placement on waiting list
 Jan. 29, 3:30 -5:00 PM
 Registration for accepted students in person at
Normandale
August: Teacher assignment notifications
delivered via SchoolView
Open Enrollment Applications Due January 15
(for out of district residents)
Kindergarten Registration Day
Thursday, January 30, 2013
3:30 - 5:00pm
Same place!
Bring:
Birth Certificate
Shots Records
Registration Form
Other items in packet
SEE FOR YOURSELF!
 Visit a Kindergarten classroom
 Contact school office 952-848-4100 to
schedule a time
Share The Journey With Us!
Questions?