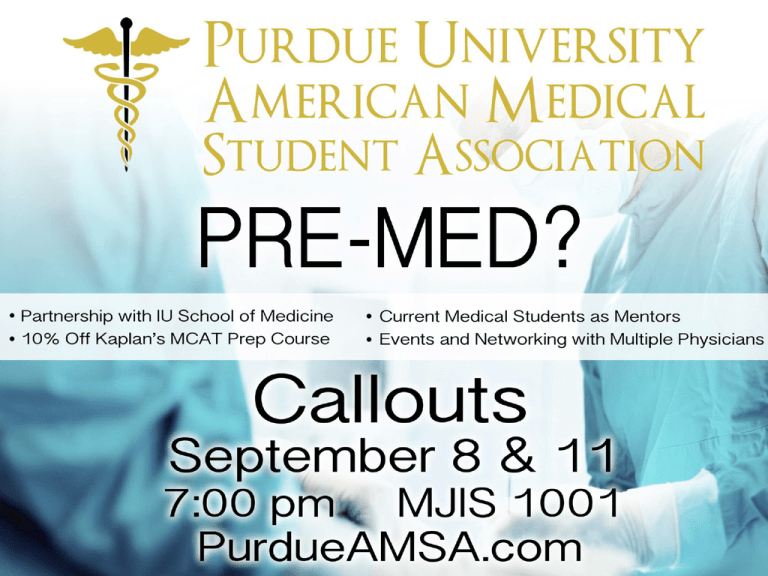 What is AMSA?
• http://www.youtube.com/watch?v=T8OcCQj
yIhI
What does AMSA offer YOU?
• Our goal is to turn YOU into a competitive
medical school applicant
• How?
– MCAT Resources
– Mentorship Program (with current Med students)
– Volunteering Opportunities
– Networking Opportunities
– Class Resources
MCAT Resouces
• Discounted Kaplan MCAT prep program for
AMSA members
• Free practice tests
• Kaplan Course auctions (AMSA only)
• Seminars on tips and strategies
• Connections with upper-classmen who have
already taken the MCAT
Mentorship Program
• Junior and Senior AMSA members receive a
student mentor from IU School of Medicine
West Lafayette
– The Med student is there to help you
• Under-classmen have access to older
members for help in classes
Volunteer Opportunities
• Purdue AMSA is working closely with several
local organizations to provide members with
volunteer opportunities
– Food Finders Food Bank
– Mobile Pantry
– Local Soup Kitchen
– Free clinic (in the works)
• Upper-classmen can also be a resource for
other volunteer opportunities
Why Volunteer?
• 8% of med school applicants with 3.8-4.0 GPA
and MCAT of 39-45 were TURNED DOWN
because of a lack of volunteer work*
• 18% of applicants with a 3.2-3.4 GPA and MCAT
of 24-26 were accepted because of extracurricular work*
• Medical Schools want volunteer experience
*recent study by Association of American Medical Colleges
We can help your GPA
• Older members of AMSA have taken the same
classes you are taking
• We have notes, tests and quizzes and are
willing to help guide younger members
through pre-med classes
Networking Opportunities
• Through our events and meetings, AMSA
members have the opportunity to meet and
network with current physicians, as well as
Directors from a handful of Medical Colleges
– Mark Bauman, MD IU School of Medicine
– Josh Mugele, MD Ebola Expert
– Directors from IU School of Medicine and Marian
College of Medicine
Upcoming Events
Other Events this Year
•
•
•
•
Affordable Care Act seminar
Talk from Ebola Expert, Dr. Josh Mugele
Indianapolis Colts team physician, Dr. Tom Klootwyk
All Member Meetings with Guest Physicians from all
different practices
• Associate Director of Admissions, IU School of
Medicine, Renee Akins
• MCAT 2015 speakers
• Meet and greet with current medical students
What makes AMSA different?
• We are a NATIONAL organization
–
–
–
–
–
National conferences
Recognized by all medical schools
Networking opportunities
Annual AMSA convention
Scholarship Potential
• We focus on making your medical school
application more competitive
• We know what it takes to get into medical school,
and we can help you get there
Fees
• One time $75 fee to AMSA National to be a
member for 5 years
– This carries over into Medical School
• Only $20 per semester for our chapter
– Most likely will decrease as our fundraising efforts
continue
How to join
• Pay your local dues before Sept 25th and
provide proof of national membership
– AMSA.org
• Join our boilerlink page
• You will be enrolled in our point system to
make sure you stay an active member
Social Media
• Follow us on social media
– Facebook Purdue AMSA
– Twitter @PurdueAMSA
• Visit our website PurdueAMSA.com
Questions?