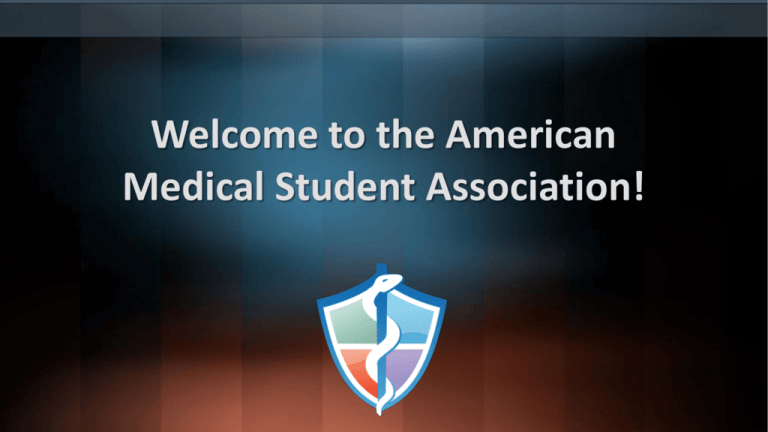 Welcome to the American
Medical Student Association!
AMSA Club Advisor
Alice Sima, M.S.
Program Director
Pre-Professional Health Programs
Liaison for Faculty Advising, Center
for Teaching and Learning Excellence
Meet The Board
PRESIDENT: Raabiah Ali
•
•
•
•
Major: Health Sciences
Year: Senior
Hobby: Scrapbooking
Interesting fact: I played soccer for
10 years and I am the youngest of 4
brothers
Meet The Board
VICE PRESIDENT: Sandya George
•
•
•
•
Major: Biology
Year: Senior
Hobby: Random projects and
coloring
Interesting Fact: I love Marvel
movies, especially Iron Man
Meet The Board
SECRETARY: Baroosh Durrani
•
•
•
•
Major: Health Sciences
Year: Junior
Hobby: Binge-watching TV shows
Interesting Fact: Love traveling!
Been to 10 countries around the
world
Meet The Board
TREASURER: Shahab "Shabeeb" Kazi
• Major: Health Sciences
• Year: Junior
• Hobby: Sports and car enthusiast
• Interesting Fact: Dr. King and I share
a birthday so my birthday is a
national holiday
Meet The Board
Volunteer Coordinator: Veronica
Adamiak
•
•
•
•
Major: Biology
Year: Junior
Hobby: Running
Interesting Fact: I would like to be a
neonatologist, and I have never met
anyone that wants to be the same
doctor as me!
Meet The Board
Volunteer Coordinator: Brett Kosowski
•
•
•
•
Major: Biology
Year: Senior
Hobby: Playing Guitar
Interesting Fact: I'm an avid LSU
football fan
Meet The Board
Public Relations Officer: Nasiha Asad
•
•
•
•
•
Major: Biology
Minor: Spanish
Year: Senior
Hobby: Baking and Running
Interesting Fact: I can play 3
instruments
Meet The Board
STUDENT GOVERNMENT LIASON:
Jermeen El-Zabet
• Major: Biology
• Minor: Psychology
• Year: Senior
• Hobby: Poetry
• Interesting Fact: Visited China for a
month
Meet The Board
Public Relations Officer: Azfar Ali
•
•
•
•
Major: Biology
Year: Senior
Hobby: Reading, working out,
gaming
Interesting Fact: Raabiah Ali is my
cousin!
Attendance
This year, we are using QR Codes to track your attendance!
• No more paper sign-ins unless absolutely necessary!
• If you don't have a cellphone or can't get the app, there will still be
paper sign-ins
• Easier to track sign-ins and points
• Download a QR Scanner application on your Smartphone or Tablet
How this will work:
•
Please download a "QR Code Reader" app
Every week, we will give you a new code
•
Scan this with your app
•
Today's Code:
•
You should see this:
Fill it out, submit and you're done!
Local Membership
Local dues:
• Pay in-person: $20/year or $10/sem
•
•
•
cash or check made payable to Benedictine University
AMSA
Attach with membership form
Pay online: $21/year or $11/sem
•
Credit/debit card
Benefits of Local Membership
• BenU AMSA T-shirt
• Graduation cords (for active senior members only)
• 20% discount on Princeton Review MCAT prep &
tutoring
• Food at select meetings & events
• Certificate of completion (for active members only)
Active Members are those who:
• Attend 4 of the 8 general body meetings (bare minimum)
• 2 Volunteer Events/sem.
• 1 off-campus
• 1 on-campus
• 4 AMSA-related events/sem.
• vitals workshop, A.S.A.P., blood drive, evening
events, AMSA-advertised events (on or off campus)
• Accumulate a total of 20 points following our point
system:
_
Event
Point Value
General Body Meeting
1
Volunteer Event
2
Event
3
National Membership
•
Dues: $75 for the length of your premedical career
Shows commitment to medical field during HSRC interviews and Medical school
admissions process
•
Benefits:
•
•
•
•
•
•
•
Stackable 10% discount on Kaplan MCAT Program
Stackable $500 discount on Kaplan Summer Intensive Programs
Kaplan printed out and digital MCAT in a box flashcard set ($49.99 value)
Enrolled in Foundations of Biochemistry Self-Paced Online Course ($499 value)
Steadman's Online Dictionary ($49.50 Value)
Many more benefits! Find them all at www.amsa.org/members/benefits
Mentorship Program
•
•
•
Juniors and Seniors choose a 1st or 2nd year medical student mentor from Midwestern University
Freshmen and Sophomores choose a Junior or Senior mentor from Benedictine
Sign-ups to become a mentor or mentee are open to everyone
•
•
•
•
•
•
•
We are looking for freshmen, sophomore, junior and senior mentees a well as junior and senior mentors
Sign-up online at our website
Deadline: 9/23
Great resume builder for junior and senior mentors
Great resource for freshmen and sophomores regarding class schedules, grades, pre-med timeline, etc.
Great resource for juniors and seniors regarding the application and admissions process
Apply online at our website
Informational Meeting Next Tuesday, September 15th at 5pm in Birck 218
Adolescent Substance Abuse Prevention
Program (ASAP)
•
•
•
•
Mission: To educate and inform middle school students about the
physiological effects of harmful substances
Presentations and Organ Demonstrations
Coordinators: Jonathan Bell, Nasiha Asadullah, Kelsie Winger
Interested in presenting? Email buasap@gmail.com
Informational Meeting on September 18 at 11am in Kindlon 164
Sign-up Sheets are in the front
Vitals Workshop
•
•
Monthly events
You will learn:
•
•
•
•
•
How to take vitals
Emergency care
Case studies and how to assess the situation
Events are proctored by certified EMT's
Contact Ajay Pius for more information
Full-Length Practice MCAT at Benedictine
AMSA & The Princeton Review is hosting a full-length paper & pencil MCAT exam
Saturday, September 12th in Birck 007
9am – 4:30pm
Register online through the BenU AMSA website
Volunteer Events for September
•
Young Hearts for Life at Benedictine University
•
Friday, September 11th
•
•
•
Friday, September 18th
•
•
•
3 volunteers needed from 11:30 - 1:30pm
1 volunteer needed 1:30pm-3:45pm
3 volunteers needed from 11:30 - 1:30pm
1 volunteer needed 1:30pm-3:45pm
BenU AMSA and ROTARACT at Feed My Starving Children on Friday,
September 25th 2:30 – 4:30pm in Aurora (see website for more information)
Sign-up sheets are in the front
Calendar of Events
•
•
•
•
•
•
•
•
•
•
•
•
•
•
•
9/12: Full-Length Practice MCAT by The Princeton Review 9am – 4:30pm in Birck 007. Register online.
9/15: Midwestern Medical Student panel at 5:00 pm in Birck 218
9/18: A.S.A.P Informational meeting and mock presentation at 11am in Kindlon 164
9/19: Pre-SOMA conference at Marian University from 8:30 a.m.—5 p.m. Registration ends tomorrow. Register online.
9/22: Naturopathic Medical Student Presentation GBM
9/25: FMSC Volunteer Event in Aurora from 2:30-4:30pm
10/6: Rosalind Franklin Admissions Presentation GBM
10/13: Marian Admission Presentation GBM
10/27: Dr. Tischler, HSRC committee chair Presentation GBM
11/3: MWU professor Dr. Malaiyandi GBM
11/10: Ross University Presentation by Richard Hague GBM
11/14: Fall Conference in NY
11/18: St. Baldrick's at BenU
11/21: Fall conference in Chicago
12/1: Kaplan Presentation on MCAT, GRE, DAT, OAT, LSAT, etc.
Introducing Our New & Improved Website
www.benuamsa.weebly.com
Follow-up From the 2015 5K Color Run
Congratulations BenU AMSA!
We Raised $4,651.30
HomeCare Physicians has made over 86,000 house calls and
recently saw its 6,400th homebound patient.
In many cases, this wonderful program is the only way
some patients are able to receive the critical medical care
they need.
Thank you for your support!
Raffle Time!
•
Medical School Essays That Made a
Difference by The Princeton Review
Thank You for Attending
Questions or Comments?