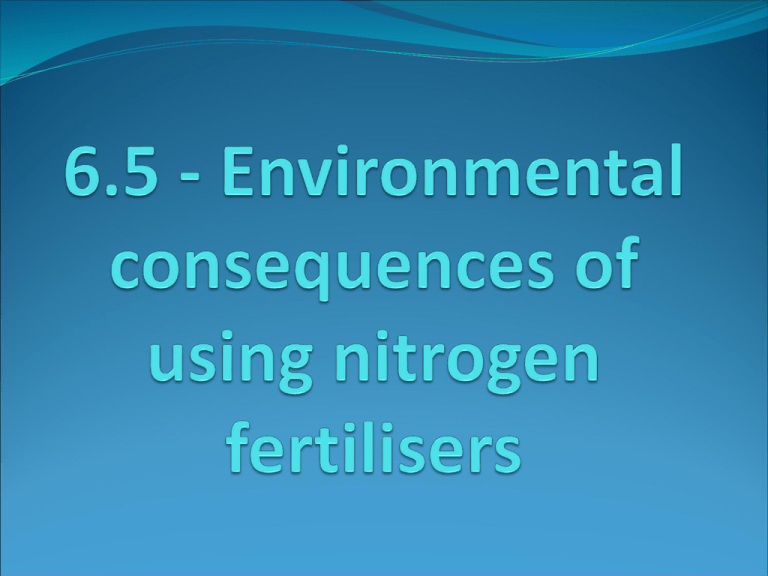 Learning outcomes
Students should understand the following
 The environmental issues arising from the use of
fertilisers.
 Leaching and eutrophication.
Candidates should be able to analyse, interpret and
evaluate data relating to eutrophication.
Fertilisers
Fertilisers are very effective but also have undesirable
effects on the environment:
• Reduced species diversity – nitrogen
rich soils favour fast growing species
(e.g. grasses and nettles)
•Since nitrate and ammonium ions are
very soluble, they do not remain in the
soil for long and are quickly leached
out, ending up in local rivers and lakes
and causing eutrophication.
Leaching
 Rain will dissolve soluble
nutrients removing them from
the reach of plant roots and
eventually releasing them into
watercourses.
 Very high levels of nitrates in
drinking water can prevent
efficient oxygen transport in
babies and may be linked to
stomach cancer.
 Leaching of nitrates can also
harm the environment, leading
to eutrophication.
Eutrophication
Oligotrophic - a lake that has a low level of nutrients.
 It has clear water and can support a small population
of organisms.
Eutrophic – a lake enriched with nutrients.
 The water is cloudy because of the presence of large
numbers of algae and cyanobacteria.
Eutrophication is a natural process that takes place over
a long period of time.
Eutrophication
 In the context of pollution "eutrophication" has come to
mean a sudden and dramatic increase in nutrients due to
human activity, which disturbs and eventually destroys
the food chain.
 The main causes are fertilisers leaching off farm fields into
the surrounding water course, and sewage (liquid waste
from houses and factories).
 These both contain dissolved
minerals, such as nitrates
and phosphates, which
enrich the water.
Eutrophication
fertilisers
sewage
(liquid domestic
and industrial waste)
minerals
esp. nitrates
minerals
esp. phosphates
eutrophication
algal bloom
competition
for light
consumers can't
consume fast enough
Limiting factor light
dead plants
dead algae
detritus
organic material
The process of
Eutrophication
Limiting factor - minerals
for light
consume fast enough
The process of Eutrophication cont.
dead plants
dead algae
detritus
more decomposers
Limiting factor oxygen
use up oxygen
by aerobic respiration
(increased BOD)
aerobes die
(invertebrates,
fish, etc)
anaerobic bacteria
thrive. Release
NH4, CH4, H2S
Biochemical oxygen demand (BOD)
 This measures the rate of oxygen consumption by a
sample of water, and therefore gives a good indication
of eutrophication.
 A high BOD means lots of organic material and
aerobic microbes, i.e. eutrophication.
 Aquatic ecosystems can slowly recover from a high
BOD as oxygen dissolves from the air, but long-term
solutions depend on reducing the amount of minerals
leaching into the water.
 Reducing leaching can be achieved
by applying inorganic fertilisers
more carefully, by using organic
fertilisers, by using low-phosphate
detergents, and by removing soluble
minerals by precipitation in modern
sewage plants.
 As a last resort eutrophic lakes can
be dredged to remove mineral-rich
sediment, but this is expensive and it
takes a long time for the ecosystem
to recover. This has been done in the
Norfolk Broads.
Exam question
(a)
Why do plants need ions which contain nitrogen?
(1)
(b)
(i)Explain why it is necessary for farmers to apply fertilisers to
land that is used annually to grow a cereal crop.
(2)
(ii)
Explain what is meant by the law of diminishing returns with
respect to the application of artificial fertilisers.
(2)
 (a)
 (b)
 (ii)
(i)
(i)
protein / amino acid production 1
increased yields;
replace ions taken in by crop;
2
increased application of fertiliser does not increase yields;
therefore uneconomic 2
25
Nitrate
concentration
in reservoir 20
/mg per litre
15
125
Nitrate
application to
100 farmland
/kg per hectare
75 per year
10
50
5
25
0
1960
0
1965
1970
1975
Year
1980
1985
1990
Nitrate application
to farmland
Nitrate concentration
in reservoir
(c)The graph shows the relationship between nitrate application to
farmland and the concentration of nitrate in a nearby reservoir.
(i) Explain why there was an overall increase in the concentration of nitrate of nitrate in
the reservoir between 1960 and 1990.
(1)
(ii)Suggest one explanation for the large fall in nitrate concentration in the reservoir
between 1982 and 1984.
(2)
(d) Explain why there is concern at the amount of nitrates being leached into rivers, lakes
and reservoirs. (4)
(Total 12 marks)
(c)(i)
increased leaching as result of increased application
(ii)
Either
increased rainfall (leading to increased volume of water flowing
into reservoirs);
increased volume leads to increased dilution of nitrate
Or
less rain;
therefore more uptake by crop / less leaching
(d)
increased growth of plants / algae;
(leading to) eutrophication;
increase in microorganisms feeding on dead plants / algae;
leading to deoxygenation;
increased nitrate in drinking water;
causing human illness
1
2
4
[12]
Task
 Read the application – Troubled waters- on p101 and
answer the questions 1-4
Learning outcomes
Students should understand the following
 The environmental issues arising from the use of
fertilisers.
 Leaching and eutrophication.
Candidates should be able to analyse, interpret and
evaluate data relating to eutrophication.