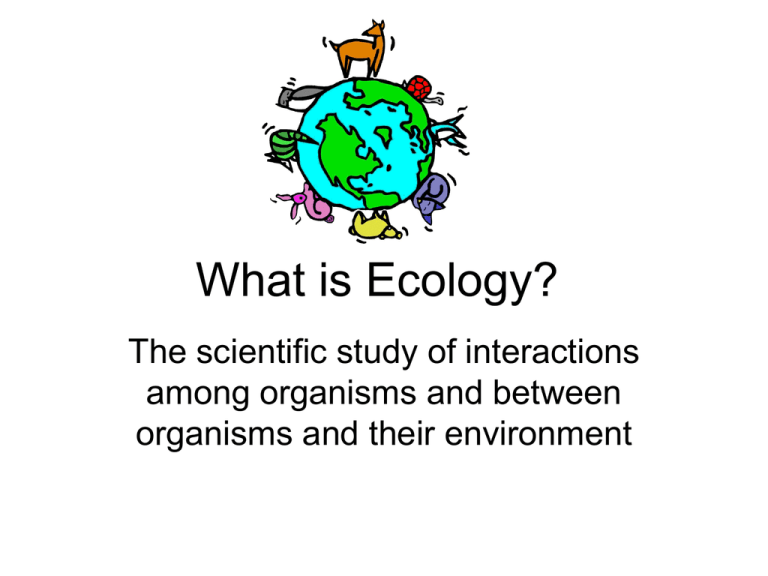 What is Ecology?
The scientific study of interactions
among organisms and between
organisms and their environment
Biosphere
air
• The combined
portions of the planet
in which all life exists
• Includes land, water
and air or atmosphere
• Extends from about 8
water
km above Earth's
land
surface to as far as
In which part of the biosphere
11 km below the
do you live (air, water, land)?
surface of the ocean
Levels of
organization
•
•
•
•
•
•
•
Individual
Species
Population
Community
Ecosystem
Biome
Biosphere
Are the members of this class a
population or a community?
Energy
flow
• Sunlight is the
main source of
energy for life
on Earth
• Autotrophs or
producers use
energy from the
environment to
make their own
food
Photosynthesis
• Autotrophs (producers) that capture
energy from the sun use photosynthesis
Chemosynthesis
• Autotrophs
(producers)
that capture
chemical
energy use
chemosynthesis
Consumers are heterotrophs
• Herbivores
• Carnivores
Carnivore
• Omnivores
• Detritivores
Decomposers
What type of consumer
are you?
Feeding relationships
Energy flows in direction of arrows
The grasshopper eats the grass
The snake eats the grasshopper
Food chain
• One way flow of
energy from sun (or
chemicals) to
producer(s) to
consumer(s)
• List the source of
energy, the producer,
the primary consumer
(herbivore) and the
secondary consumer
(carnivore)
Food
web
• Complex series
of interconnected
food chains
• List the
producers,
primary
consumer(s),
and secondary
consumer(s)
Marine food web
• Energy – sun
• Producers – phytoplankton, seaweed
• Primary consumers – zooplankton,
mussels, limpets
• Secondary consumers – prawn, crab,
whelk, gull, lobster, mussels
• Tertiary consumers – gull, lobster, fish,
whelk, crab
• Quaternary consumers – gull, lobster
Trophic levels
• Each step in a food chain or food web
• Each consumer depends on the trophic
level below it for energy
• Only about 10% of the energy available
within one trophic level is transferred to
the organisms in the next trophic level
• Three types of pyramids illustrate the
ecological relationship between trophic
levels (see pages 77 -78)
Ecological Pyramids
Section 3-2
Energy Pyramid
Shows the relative amount of
energy available at each trophic
level. Organisms use about 10
percent of this
energy for
life processes.
The rest is lost
as heat.
Biomass Pyramid
Represents the amount of
living organic matter at each
trophic level. Typically, the
greatest biomass is at the
base of the pyramid.
Go to
Section:
Pyramid of Numbers
Shows the relative
number of individual
organisms at each
trophic level.