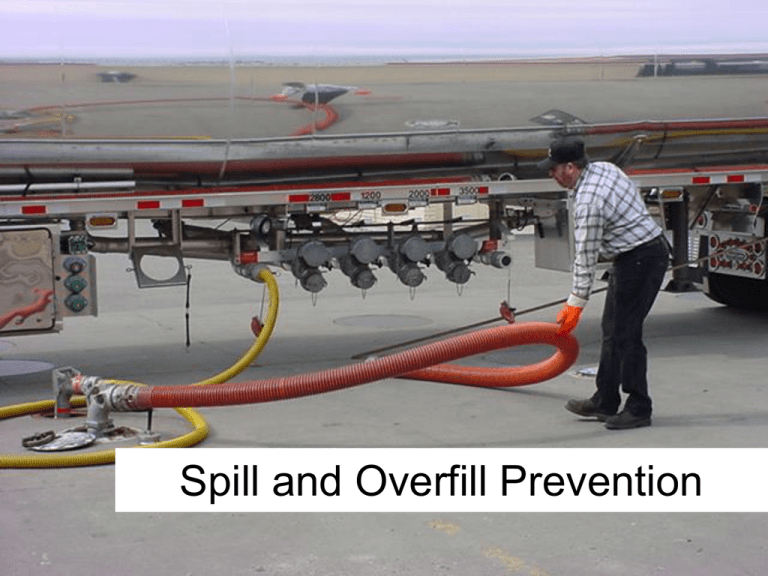 Spill and Overfill Prevention
General Requirements
• Must have a spill
bucket to prevent small
spills during delivery,
• Must have an overfill
prevention device to
prevent a large overfill,
• Must prepare for and
monitor deliveries to
prevent overfilling in the
first place, and
• Must cleanup overfills
and report large ones.
The equipment alone will not
prevent an overfill. Someone
must be paying attention before,
during and after the delivery.
Overfill Exemption
Not required on UST
systems like waste oil
tanks that receive less
than 25 gallons at a
time.
Spill Buckets Should Be
• Compatible with
petroleum.
• Able to keep out water.
• Designed to catch small
amounts of fuel.
• Properly ID'ed.
• Routinely cleaned out.
• Secure.
• Liquid tight.
(Graphic courtesy of PEI)
Which one is the spill bucket?
Check the Drain Plug
Product ID
RED
BLUE
WHITE
Make sure the
colors match
the actual
product type.
RED
BLUE
WHITE
ORANGE
Used
Oil
U
Product ID
Make sure the ID tags
match the actual
product type.
Spill Buckets: What's Wrong
Here?
Spill Bucket Problems
•
•
•
•
•
•
•
Cracked lids, bad seals.
Compatibility with petroleum.
Integrity of bucket not tested.
Holes, cracks, wear.
Drain plug sticks.
Full of debris, water, sorbents.
Surface damage.
Overfill Prevention
Overfill Prevention Options
• Automatic
shut-off device
(at 95% full)
• Ball float valve
(at 95% full)
• High-level
alarm (at 90%
full)
(Graphic courtesy of PEI)
Automatic Shut-Off Device
Automatic Shut-Off Device
• Don't ever store your
stick in the drop tube.
• Can cause an overfill.
• Can damage overfill
device.
Ball Float Valve
• Located in vent pipe or
vapor recovery pipe.
• Cage can rusting out, ball
floats away.
• Incompatible with
– Pressurized deliveries,
– Suction piping with air
eliminators,
– Remote fills,
– Coaxial Stage I VR.
Ball Float Valve
Open the extractor fitting
Find the ball
Ball Float Considerations
• In 2005, Petroleum
Equipment Institute
began advising against
using ball float valves
for new installations.
(RP-100).
• Consider replacing
them.
Overfill Alarm
• Set to alarm when 90% full.
• Requires driver, not the
operator, be alerted.
• Tied into tank gauge or
stand-alone alarm.
• Common settings:
– 90% High
– 95% High-High
– 100% Max
Overfill Alarm
Is it where the driver can see or hear it?
Overfill Alarm Problems
• Alarm not where driver can see
or hear it.
• Driver desensitized to meaning
of alarm.
• Fuel flowing over 300
gallons/minute. Alarm doesn't
stop anything.
• Operator doesn't hear it or
know what it means.
• Operator doesn't know how to
respond.
• Operators tend to ignore or
silence them.
Monitoring
Owner or Operator:
• Measure the fuel level
immediately before each
delivery to make sure there is
enough room in the tank.
• Monitor the entire fuel transfer.
• Report and cleanup all
overfills.
Careful Preparation
Overfill in Biloxi, MS, 1998
UST Employee Training
Training Employees
• New Federal law will
eventually require training
for UST facility
employees. Owner's
responsibility to train.
• Training expectations not
decided yet.
It's OK Sir. I 'm
a TRAINED
PROFESSIONAL!
What attendants and clerks
should know
• Basic parts of the
system.
• Emergency shut-down
procedures.
• Preventing overfills
during deliveries.
• Who to call if there is a
problem.
Corrosion Protection
Overview
• General
requirements
• Equipment
• Operation and
maintenance
• Testing
• Problems
• Record keeping
General Requirements
• Tank and piping must be protected from corrosion.
• Includes portions of UST system routinely containing
product.
– Yes: tank, product piping.
– No: vent and fill piping.
• Three ways to meet this requirement:
– Non-metal materials,
– Galvanic cathodic protection,
– Impressed current cathodic protection and/or
internal epoxy liner.
General Requirements
1.
Non-metal tank/pipe material
– Tank: Fiberglass, Fiberglass-clad steel
– Pipe: Fiberglass, flexible plastic
2. Galvanic cathodic protection
– STI-p3
3. Impressed current cathodic protection
– Older systems used in retrofits
– Impressed current, internal epoxy lining or
both
Equipment: Non-Metal
Equipment: Galvanic Steel
Equipment: Impressed Current
Equipment: Internal Lining
Corrosion Operation and
Maintenance
• Non-Metal: None.
• Galvanic: None.
• Impressed current: Check
rectifier every 60 days and
log results.
– Looks for trends over
time.
– Zero value is not good,
no power, no protection.
Corrosion Testing
• Galvanic and impressed current system must
have cathodic protection test done:
– Every 3 years,
– By a certified tester (NACE),
– As close to original test conditions as possible.
• Also, impressed current systems must have
current levels checked every 60 days. (Most
operators check every 30 days.)
Corrosion Testing
• Tester has certain test
standards to follow.
• All test failures should be
promptly investigated.
• Tank or piping must
demonstrate it has
sufficient current to
overcome corrosion in
soils.
• Most common target is 850 mV.
• 100 mV shift acceptable.
Corrosion Testing
• Test contact at test
station or inside tank.
• If no test station, should
have written procedure.
Corrosion Testing: Steel Pipe
• Make sure steel pipe is
protected from corrosion.
• Pipe may or may not be
electronically connected
to cathodically protected
tank.
• Unprotected steel pipe
should be removed.
Corrosion Testing: Liner Only
• Internal liner must be
inspected after 10 years.
• Also must be inspected
every 5 years thereafter.
• A few different testing
options available.
Corrosion Problems
Current
STIp3 Tank
• Cracking
isolation
bushing.
• Coating
damaged at
installation.
Current
Corrosion Problems
Impressed Current
• Anode wires
damaged.
• Stray current.
• Rectifier damaged.
• Large decrease in
current.
Corrosion Record Keeping
• For non-metal materials: keep installation
documents.
• For galvanic systems, keep last two cathodic
protection test results.
• For impressed current, keep last three cathodic
protection test results plus 60-day monitoring
log. (Most operators do it every 30 days.)
Corrosion Considerations
• Check metal flex
connectors even
if not required.
• Check rectifier
every 30 days
and know who to
call to
troubleshoot.
Suspected Releases
Suspected Releases
• About Leaks and
Spills
• Investigate and
Confirm
• Reporting
• System tests
• Site Assessment
• Off-site impact
• Actual releases
• Notify
Can you find the leak?
About Leaks and Spills: Sources
Other
16%
Tank
5%
Delivery
32%
Dispenser
12%
Piping
35%
Other Sources Include: Fuel Filters, Outlet Valve, and Human Spilling
About Leaks and Spills: Causes
Unknown
8%
Other
16%
Phys/Mech
Damage
19%
Loose
Component
12%
Corrosion
9%
Spill/Overfill
36%
Other Causes Include: Vandalism, Valve Failure, Contractor
Accident, Other Human Error
About Spills and Leaks: Detection
Closure/
Removal
8%
Other
2%
Leak
Detection
22%
Visual/
Olfactory
68%
Suspected Releases
Investigate and confirm
• Upon discovery, owner/operator must take
immediate action to investigate.
• If cannot verify the event was false alarm, must
report to regulatory agency.
• If false alarm: No evidence of release
• If release: Contact regulatory agency, hire
contractor, develop investigation cleanup plan,
• Investigation complete in 7 days.
Suspected Releases
Reporting
• Notify regulatory
agency within 24 hours
of discovery of potential
problem, including:
– Obvious signs of
leakage,
– Unusual operating
conditions, or
– Monitoring alarm.
Suspected Releases
Unusual operating conditions
can include:
• Erratic dispenser,
• Sudden loss of product,
• Widely fluctuating water
levels,
• Unexplained water in tank.
Suspected Releases
Other scenarios of
concern are:
• Fuel in secondary
containment area.
– Double wall tank
– Piping sumps
• Monitoring results that
show alarm situation.
Leaking flex connector with
loss less than detectable limit
Suspected Releases
System Tests
• Owner/operator may have
to conduct tightness test to
confirm if release occurred.
• Owner/operator may have
test any double-wall
systems.
• Repair or replace damaged
pieces of equipment
• Shut down use of UST
system until corrected.
Suspected Releases
Site Assessment
• May be required if:
– Obvious sign of
problem,
– Tank or pipe tests
tight but obvious
problem anyway (like
sheen in creek), or
– Directed by regulatory
agency.
• Site-specific soil and
ground water sampling.
Suspected Releases
Off-Site Impacts
• Regulatory agency may require owner to
determine whether or not any off-site impact
exists observed by agency or another person.
Clean it up…Immediately!
Contain and cleanup all spills.
Report spill or overfill of 25 gallons
within 24 hours (Federal Requirement).
Report any amount that causes a sheen
on nearby water surface.
Even if not reportable, keep a record.
Summary
•
•
•
•
UST systems can and do leak today.
Federal facilities must comply with all UST laws.
Leak detection is a critical part of fueling operations.
Overfill prevention equipment and activities are vital
in stopping large releases.
• Corrosion protection can reduce rust-related
problems.
• Suspected releases must be promptly addressed.
• Trained staff should be able to intercept many
problems.