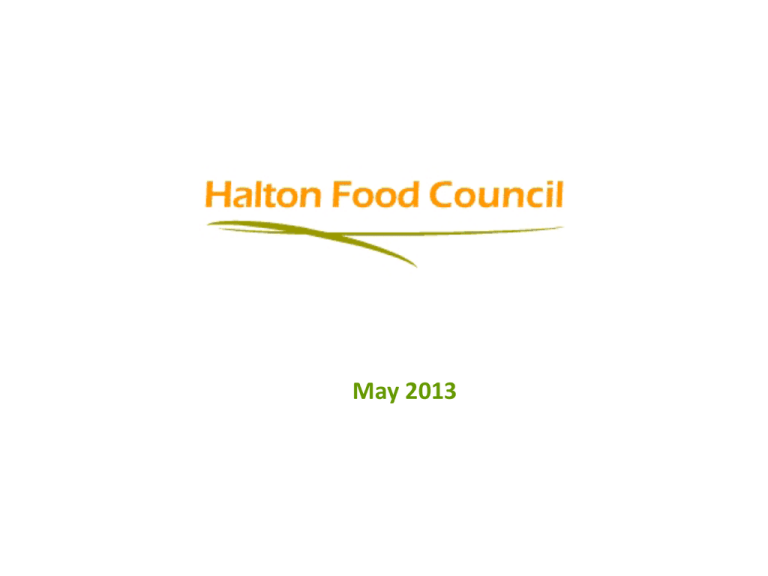 May 2013
Halton Food Council
Mission
To encourage and facilitate dialogue and collaboration among food related
organizations, agencies, services, food producers and distributors, consumers,
business and government to develop strategies for the promotion and facilitation of
the vision and bring it to action.
Activities
• networking/education – build new partnerships and enhance networking
between existing food system stakeholders in Halton
• coordinate/analyze – identify and prioritize food system needs in Halton and
support creation and implementation of initiatives
• evaluation – establish benchmarks and targets for achievement of mission/goals
• funding – lever community resources to support mission/goals
• policy – identify policy changes which support goals and advocate for their
implementation
Halton Food Council Members
•
•
•
•
•
•
•
•
•
•
•
•
•
Community Development Halton – Rishia Burke
Community Member/Halton Healthy Eating Network – Lynn Roblin
Community Member – Moira Matsubuchi-Shaw
Gordon Food Service – Bob Moulson
Halton Agricultural Advisory Committee – Sandy Grant
Halton Food for Thought – Gayle Cruikshank
Halton Fresh Food Box – Brenda Moher
Halton Region Federation of Agriculture – Nick DiGirolamo
Halton Region Health Department – Mary O'Brien (advisor)
Halton Region Planning Services Division – Gena Ali (advisor)
Oakville Sustainable Food Partnership – Susan Curran
Ontario Agri-Food Education – Jan Robertson
ReFresh Foods/Food for Life – Charlotte Redekop-Young
Halton Food Charter
Vision
The Halton Food Charter envisions a Halton where:
• all residents have access to adequate, affordable, safe, nutritious and
culturally acceptable food;
• there is a fair and sustainable food system (e.g. local foods are available and
promoted, local agricultural lands and farmers are protected and supported,
urban agriculture is encouraged, and food has been produced and distributed
in an environmentally acceptable way);
• food is an important part of our heritage and culture.
Goal
•
To increase awareness of food systems issues and opportunities in Halton
Region and communicate with a common voice to promote action.
Halton Food Charter
Expected Outcomes
•
•
•
•
•
•
•
•
Awareness of the community's food needs (e.g. completed Community Food
Assessment).
Access to nutritious food, with a focus on locally grown fresh produce for
Halton residents.
Increased use of locally grown food in restaurants, schools, Regional and
community facilities.
Awareness of food grown and produced in Halton.
Sustainable and strong local agricultural economy.
Retention of valuable farm lands in Halton and increased use of such for
sustainable agriculture and food production.
Support for urban agriculture (e.g. community gardens, rooftop gardens).
Establishment of a broad network of people interested in working together to
advocate for a fair and sustainable food system.
* A food system includes food production, food processing, food distribution, food access, food
consumption, food education and waste management.
Key Concerns
• Halton population is growing, diversifying and aging
• The cost of housing and food is increasing
• About 4% of Halton residents are food insecure (19,200 residents or
6300 households)
• Food insecurity associated with poor nutrition, poor birth outcomes,
reduced learning and productivity, diabetes, heart disease,
hypertension, mental health problems, etc.
• Fruit and vegetable consumption well below recommended levels
• Halton's agricultural economy is changing
Halton Food Council Progress
• Key areas of concern from the April 2009 forum
– Food for low income families
• Quality of food, cost of food/inadequate income, lack of
awareness of low income in Halton, food bank issues
– Support for local agriculture
• Support for local farmers, economic viability, new farmers,
bylaws, preservation/sustainability of local farms and
farmland, availability and promotion of local foods i.e.
farmers markets, farm gate, food in schools, etc.
Halton Food Council Progress
• Halton Food Council formed in November 2009
• Halton Food Charter affirmed in November 2010
–
–
–
–
–
Endorsed by Halton Region – Dec 14, 2011
Endorsed by City of Burlington Council – Sept 24, 2012
Endorsed by Milton Town Council – Nov 26, 2012
Endorsed by Oakville Town Council – Jan 21, 2013
Endorsed by Council for Town of Halton Hills – April 8, 2013
• Community Food Assessment completed May 2011
– Provide information of Halton community
– Review food systems and farm issues in Halton
– Identify programs and services regarding food and farming in
Halton
• Website: www.haltonfoodcouncil.ca
Halton Food Council
Priorities from May 2011 Forum
Community Gardens
•
•
Members include individuals with interest and experience with community gardens;
Halton Food for Thought, Burlington Green, Oakville Sustainable Food Partnership
Developed a work plan and applied for funding from Healthy Communities to secure a
funds for a consultant to conduct research and policy development
Community Food Centres/community kitchens
•
•
•
•
Members include representatives from Community Development Halton, Food for Life,
Fareshare Food Bank, Kerr Street Ministries, Poverty Roundtable,
Hosted a food forum with Nick Saul from the STOP in March 2012
Determining a common vision for a "Halton Community Food Centre "
Serve as a clearing house for resources on food centre information/food distribution to
community agencies, clients, businesses, funders and government
Low income and food insecurity
leads to health issues
• Food insecure households are more likely to have lower
intakes of fruits, vegetables and milk products and
inadequate intakes of some vitamins and minerals
• Canadians who are food insecure are more likely to report
poor or fair health and more likely to have multiple
chronic conditions
Agriculture in Halton
• A hundred years ago, Halton was largely rural and agricultural.
• Although the average size of farms in Halton increased between
1996 and 2006 (from 151 to 157 acres), over that ten-year period
the number of farms decreased 21%.
• More agricultural land is being rented in Halton (52%) vs. Ontario
(32%)
• Farm operators are aging. In 2006, the average age of a farmer in
Halton was 56.9 years; only 5% were under 35 years of age and 56%
were 55 and older
Food Security and Local Food Production
• Agriculture has historically been an integral part of the
social, economic and physical fabric of Halton Region.
• Agriculture remains a vital part of the economy of
Halton: in 2006 the Region ranked fifth in the province
for average gross farm receipts ($1,485 per acre
compared to $776 for Ontario and $998 for the GTA).
Farms, Farmer's Markets, Community
Gardens
•
Farms that sell vegetables, fruit
and other food products – over 20
including
– 15 pick your own farms within
Halton
– 5 farms that provide tours
•
Farmers Markets - over 8 in
Burlington, Georgetown, Oakville,
Milton, Campbellville
• Community gardens in over 10 neighbourhoods, including rented garden
plots, that help increase availability of fresh fruit and vegetables, improve food
production skills and the availability of local foods.