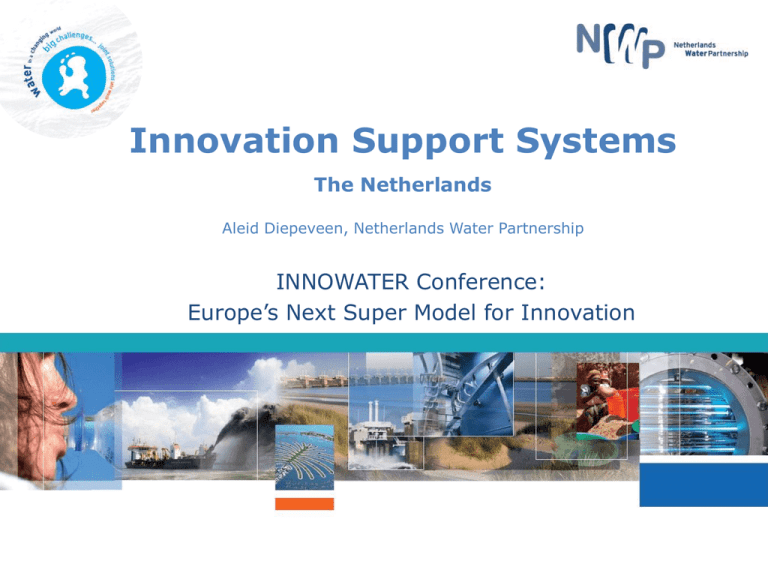 Innovation Support Systems
The Netherlands
Aleid Diepeveen, Netherlands Water Partnership
INNOWATER Conference:
Europe's Next Super Model for Innovation
Take Away Message
•
•
•
•
There is No Super Model
Innovation: creative and dynamic ecosystems
Open Innovation in Networks
Share Lessons Learned
Innovation support NL until 2012
Innovation drivers:
 More stringent discharge standards; compliance with regulation;
 Importance of CSR & reputation management; reducing the water footprint;
 Resource recovery from waste water streams; ''resource water'';
 Cost reduction and efficiency enhancement; increase competitiveness.
Examples Innovation
Killing algae with sonic vibrations: LG Sonic
Examples Innovation
Waste water treatment with aerobic granular sludge: Nereda
Innovation support NL from 2012 until …
Dutch economic policy: Innovation is needed
Ambitions
• Top 5 position knowledge economy by 2020 (GCI/WEF)
• Public Private Partnerships for innovation by establishing Top
Consortia for Knowledge and Innovation (TKIs, €500 million in
2015).
• Increase Dutch R&D efforts to 2.5% of GDP by 2020
Top Sector Water Netherlands
Two pillars of Dutch industry policy
1. Generic policies: stimulating an excellent business environment
2. Top sector approach




Sectoral
Demand driven
Integrated approach
Cross-sectoral
Three subsectors join forces
Maritime industry
Delta technology
Water technology
From technology push only,
towards High Tech Businesses
Combining technological development
and market approach (export)
Interesting business cases
Blue energy
Electricity production from
advanced mixing of salt and
fresh water
Cinerelta
Cost-effective Nitrogen removal
from wastewater by low
temperature Anammox
IJkdijk
Development, testing and
validation of sensor systems on
dikes
Examples Innovation
Metropolitan Food Cluster Drakenstein/PE, West-Cape
(South-Africa)
Examples Innovation
Sustainable production Textile Industry Dhaka
(Bangladesh)
Cross-boundary Innovation
Lessons Learned
• Combine societal challenges with economic
opportunities (NL, EU/EIP)
• Early involvement of end user
• Innovation cooperation:
– Knowledge Institute, End user, Technology Firm
• Visioning / agenda setting at different levels
(region/sectoral/national/EU)
to create new dynamics.