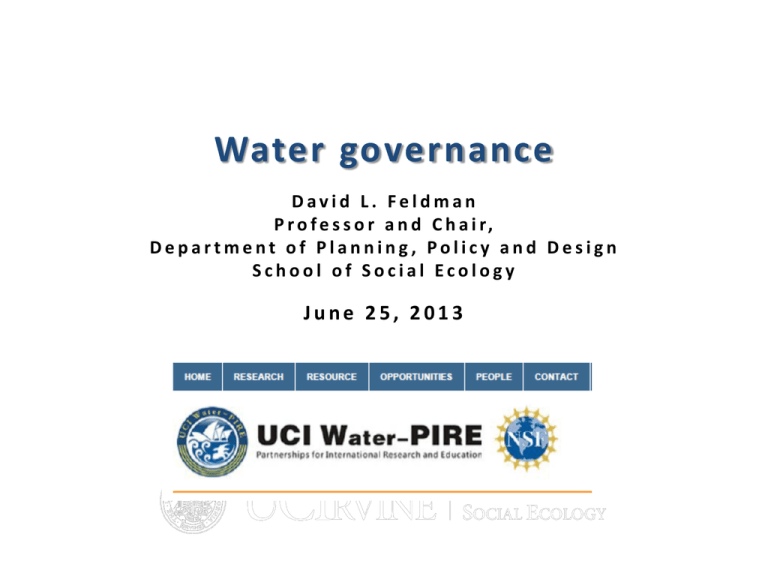 Water governance
David L. Feldman
P r o f e s s o r a n d C h a i r,
Department of Planning, Policy and Design
School of Social Ecology
June 25, 2013
What is water governance?
• In democracies, decisions regarding how water is managed, by whom,
and through what methods, is supposed to be based on popular consent.
• Achieving consent depends on five criteria:
– Long term aspirations for community growth and development
– Power and control over water sources
– Perceived and actual risks from various water management options
– Public trust and confidence in how water is managed
– Inclusiveness of decisions – who weighs and decides upon options
Long term community aspirations – Los Angeles
• In early 20th century, LA's population doubled every 10 years
– Los Angeles River was no longer an adequate water source.
• Civic leaders sought reliable sources whose rights they could
easily obtain – Owens Valley was surveyed, land and water
rights secretly acquired. Problems?
• Whose economic development aspirations should prevail?
• How should decisions over allocation be made – openly, or
in secret?
• How much water was needed for LA vs. Owens Valley, the
environment?
JP Lippincott, Fred Eaton,
William Mulholland – c. 1910
Los Angeles Aqueduct dynamited - 1927
Brian Vander Brug / Los Angeles Times May 16, 2009
In the Owens Valley, resentment again flows with the water
LA's Department of Water and Power is prospecting again for land and water rights in the valley. Unlike past
battles, the focus is on real estate locals say is needed for commerce along Highway 395. This is sparking tense
disputes among residents over the agency's influence on their economic stability. Unlike previous battles … which
focused on the environmental and economic damage caused by L.A.'s pumping of local water supplies, the current
campaign seeks to break the agency's grip on land the locals say is needed for commerce, hospitals, parking and
affordable housing along a 112-mile stretch of Highway 395 east of the Sierra Nevada.
"I understand their sentiments" and "I'm open to having conversations" about releasing property, DWP General
Manger David Nahai said in an interview. But he also pointed out that three years of drought, cutbacks instate
water allocations and rationing and its $500-million dust-mitigation project at Owens Lake have left the agency
trying to cope with "a seriously overburdened water supply."
Urban design, water, community expectations – another case
The Water Conservation in Landscaping
Act of 2006 (AB 1881) requires CA Energy
commission to adopt regulations that
impose performance standards and
labeling requirements for landscape
irrigation equipment (e.g., irrigation
controllers, moisture sensors, emission
devices, valves) to reduce the wasteful
water consumption.
•
What if someone exceeds the
requirements?
•
This family – in Orange, CA – had a water bill of $160/every 2 months; used 300,000
gal/year; after removing lawn, 58,000 gal/year.
•
City officials appreciated the conservation, but had rules regarding ground cover – "don't
want just dirt for a front yard," one official said.
•
City council has revised ordinance requiring 40% live ground cover – must be attractive and
within community standards – this is an urban planning challenge.
Power and control of water
• Historic approach – hard power:
– Began with "hydraulic societies" of antiquity
– Employed large public works to promote economic growth
– Responded to drought, flooding through large structural measures
• More recent approach – soft power:
– Seeks sustainability – balancing environment and development
– Emphasizes participation, negotiation, local knowledge, stewardship
– Resilience against climate change, growth through adaptive management
Power and control in antiquity (Egypt c. 2000 B.C.)
• Centralized control and allocation
• Regimentation and orderly management
• Preoccupation with food production, river
management
Rome – water, power, and control in pre-modern Europe
• Diverting water great distances enabled cities and
colonies to grow; connected territory
• Enabled development of agriculture and trade
• Who got water, how they used it, a contested issue
El Acueducto del Aguila – moved water
from Nerja to Maro
"It is plain . . . how much
more our forefathers
cared for the general
good rather than private
luxury, inasmuch as even
the water which private
parties used was made to
serve the public interest."
- Sextus Julius Frontinus,
Water Supply supervisor,
City of Rome (AD 97).
Segovia Acueducto – built 1st Century A.D, in use today
Water and national security – where power and control can fail
• 2012 State Department report predicted conflict in Mideast, Africa, Asia over water.
• By 2040, flooding, drought, pollution will create instability, regional tension; hinder
food and energy production.
• Absence of credible, trans-national means to settle disputes a continuing challenge.
Soft power and collaboration – Nigeria
• Drought, flooding recurrent problems in Hadejia-Jama'are basin – residents rely
on subsistence farming, fishing.
• In 1970s two major dams built for irrigation, flood control – caused "cascading"
impacts; siltation, flooding, clogging of streams, erosion – a mess!
• 2002 – World Conservation Union, UK, Nigeria established Joint Wetlands
Livelihood to:
Preserve existing floodplains for farming, grazing, fishing.
Provide local level forums to allow residents to participate in decisions.
Empowerment via soft power – a model for governance?
Watershed management
"game" – farmers serve as
students, role-play solutions
to local problems –
Break-out
discussions –
comparing solutions
and reaching accord
– JWL Hadejia office,
Dauchi, Nigeria.
Session 1 – brainstorm methods to maintain income and production with less water.
Session 2 – prioritize methods by voting – results become basis for by-laws to be
followed by farmers.
Session 3 – discuss how institutions should assist in conflict resolution, provide
additional information, support agreements.
Session 4 – review, reflect, conduct evaluation and specify actions.
Perceived & actual risks – water supply options
Likely future
Source: California Water Plan Update, (CA DWR)
Risk, water governance, and environmental justice
Burden of impact
Characterization
of hazard
Nature of conflict
Examples of disputes
Traditional
notion of
environmental
justice &
water
Risk of water
quality/quantity
that are potentially
high-consequence;
fall on poor,
women, minorities
Threaten human
health/well-being
- environmental
pollutants/toxic
wastes, reduce
in-stream flow;
remediation
Acute, short term
impacts; highintensity social
protest; violent
demonstrations
Dam-building, inter-basin diversion;
massive pollution spills (e.g., Owens
Valley; Hinkley)
Newer idiom
of
environmental
justice &
water
Risk of water
problems
potentially high
consequence/high
uncertainty; e.g.,
climate change
Broader welfare
issues at stake cost, affordability,
access, actions to
address/repair
legacy important
Lower-intensity;
social protest may
occur, but problems
viewed as long-term
& chronic
Waste-water re-use; desalination;
involuntary conservation measures;
privatizing supply
Feldman, David. 2011. "Integrated Water Management and Environmental Justice - Public Acceptability
and Fairness in Adopting Water Innovations," Water Science and Technology 11 (2): 135- 141.
Desalination In California – an example of risk management
•
Prop. 50 (2005) provides funding for
feasibility studies; pilot projects; support for
building full-scale facilities – goal? Provide 510% of state's freshwater via desalination by
2030.
•
Protagonists must assess ecological, public
health, population growth, energy use, land
use, other impacts.
Source: California Desalination Planning Handbook, CA DWR, 2008
Desalination as governance challenge
•
Poseidon Resources is building a $950 million
desalination plant near Carlsbad.
•
Goal: by 2016 produce 50 million gallons/ day;
serve 300,000 people.
•
Specific issues:
– Public bonds will pay for a private investment
– Project uses 33 MW, enough for 80,000
homes
– Where/how brine will be disposed unclear, as
are marine life impacts
– Cost of product water is $2000/acre-foot
– Statewide application unclear
Globally, desalination seems most popular in regions with high water demand,
available energy supplies, few supply alternatives
Public trust & confidence – Australia
•
World's driest inhabited continent.
•
90% of 23 million inhabitants live in cities.
•
Millennium Drought gravely affected SE region:
– Reservoirs fell to 26% capacity, bush fires
erupted.
– Affected public attitudes toward climate
change, drought, water conservation.
Southeast Australia – drought impacts
Optimizing choices, fostering trust
What the public and local officials came up with!
• Public outreach to encourage household
conservation – using water bills to show savings.
• Substitute low-quality treated water for nonpotable needs.
• Capture storm-water runoff before
contaminated by landscape.
• Reclaim wastewater.
• Create and sustain a culture of community
engagement & innovation.
• Assessment? Public engagement and consensus
energized officials to adopt a wide range of
approaches to augment water supplies/improve
drinking water productivity.
Achieving consensus – priorities emerging from public meetings
Public trust and confidence – some California examples
GW recharge – Coachella Valley:
• Land use reforms
Irvine Ranch Service Area Residential Water Rates (Potable)
• Recharge easements
Monthly water service
charge
Commodity
charge
Reclaim wastewater + GW
recharge – Orange County:
• Education & outreach
• Water harvesting
$8.75 (up to a 1" meter)
Tier
Percent of
Allocation
Cost per ccf
(i.e., 100
cubic feet)
Low Volume
0 - 40%
$0.91
Base Rate
41 - 100%
$1.22
Inefficient
101 - 150%
$2.50
Excessive
151 - 200%
$4.32
Wasteful
201+%
$9.48
Conservation pricing – Irvine:
• Public outreach
• High-efficiency landscaping
LA's tap is running dry – why not reclaim water?
•
Most of Los Angeles' water supply is imported:
•
•
•
Three major sources have limited future capacity
The fourth – recycled water use – could increase – but public opposition remains high
Why? In parts of LA with environmental legacy issues (e.g., abandoned waste sites,
contaminated groundwater) recycling arouses mistrust – is also viewed by some as
subsidizing additional residential growth
Inclusiveness of decisions – Bolivia and privatization
• Conflicts over privatization of municipal
supplies lasted a decade – 1995-2005.
• Issues?
• Foreign control – French-U.S consortium
controlled all supplies
• Cost to consumers – rose nearly fivefold
• Local ratepayers excluded from
decisions
Cochabamba
China – inclusiveness and development
Displaced family waiting for housing
•
2 million displaced; 1,500 cities, towns, villages
inundated
•
Numerous adverse environmental impacts
•
Decisions made without consulting affected groups
Colorado River Compact (1922) –
can inclusive decisions be made
among states?
•
Allocates water among upper and lower
basins, and between 7 states & Mexico
based on priority uses
•
States were told that, given wide
fluctuation in flow, US government
would build dams to ensure priorities
were met
•
Colorado River now over-allocated;
climate change will curtail supplies;
without behavior change – brought
about by including many voices – future
needs will be inadequately met
Conclusions – future governance challenges?
• Acknowledging that decisions over water management made in one
location may adversely affect users in another – inclusion.
• Admitting that no group has a monopoly of knowledge about water;
groups define their needs differently – participation & trust.
• Emphasizing adaptive management: solutions that are small-scale,
incremental, reversible if they fail – innovative risk management.
• Understanding that control over water must be tempered by fairness
and accountability – sharing power.
An example of a future governance direction – Dublin principles
• Dublin Statement on Water and Sustainable Development : (1992) 150 +
countries met to discuss need for an ethically just global water policy.
• Major recommendations?
– Freshwater is a finite, vulnerable resource, essential to life, development,
environment – risks to its protection must be better assessed.
– Water development & management should be based on a participatory
approach, involving water users, planners, and policy-makers at all levels.
– Women play a central role in provision, management, safeguarding of water
and must have rights.
– Water has an economic value in all its competing uses & should be
recognized as an valuable good.