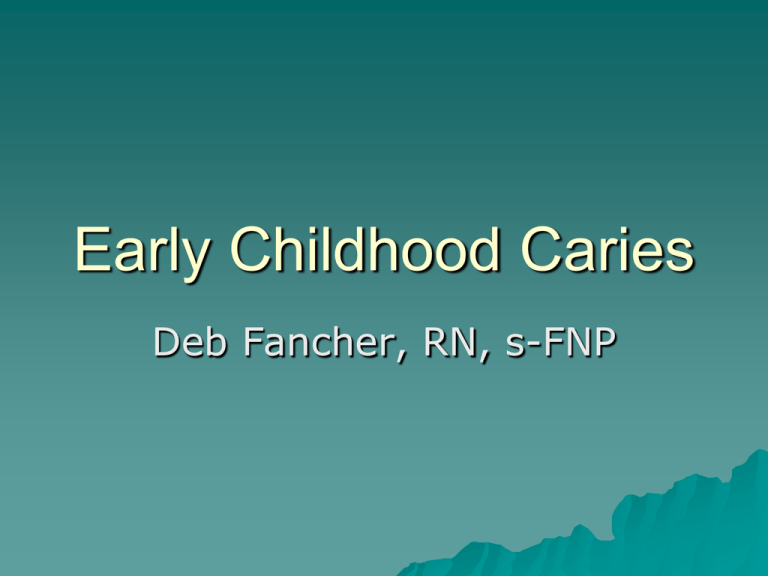 Early Childhood Caries
Deb Fancher, RN, s-FNP
WHO?
American Indians (AI)
Alaska Natives (AN)
Children in these populations < 6 years old
What?

Early Childhood Caries (ECC)

Severe Early Childhood Caries (S-ECC)
Some require general anesthesia to
rehabilitate: restorations or extractions
(Schroth, r. et al, 2009)
Where?
Rural and remote indigenous citizens
Alaskan native populations
American Indian populations
When?
1999 Indian Health Services Survey
2663 AI-AN preschool children
examined
79% ECC (Schroth,R. et al, 2009)
WWII: sucrose largely unavailable,
caries decreased in all populations
(YoungDentist, date unavail.)
Why?
 Multifactorial
– Access to dental care (geographical
isol.)
– Socioeconomic status
– Increased intake sucrose
Incidence of caries has increased at about
same rate as rising sucrose
consumption
(YoungDentist, date unavail.)
Why? (cont)
 Oral
health literacy
 Oral hygeine
 Environmental factors
– Fluoride exposure
– Water fluoridation
– Community support
Social determinants—critical role in
susceptibility
(Schroth, R. et al, 2009)
How Much?

2-4 y.o. 5 x general population

Untreated caries 3 x general population
Minor percentage access dental care offered
by Indian Health Services (HIS)
(Schroth, R. et al., 2009)
How does this relate to us?
 Holistic
 Possible
correlation: dental caries
and failure to thrive
 ECC children with otitis media (OM)
Higher incidence of OM
 Chewing/eating behaviors
 Quality of life: Sleep? Pain?
Behavior?
(Schroth, R. et al., 2009)
How does this relate to us? (cont.)
Anticipatory Guidance: change behaviour:
no baby bottles after age 12 months
 Adopt new behavior: regular tooth
brushing
 Encourage remineralization of tooth
enamel—fluoride
 Encourage expectant moms in healthy diet
and oral hygeine
 Voice of leaders within communities will
more likely lead to change

(Schroth, R.et al., 2009)
Primary Care Providers
 Screen
 Refer
 Encourage
dental home by 12
months
 Counsel: fluoride interventions,
varnish (Crane, M, 2011)
 Lobby for greater dental care access
in remote regions (Schroth, R. et al, 2009)
References
Crane, M. (2011). Improving kids' teeth their goal. Columbus Dispatch
newspaper, May 22, 2011.
Schroth, R., Dahl, P., Haque, M., Kliewer, E. (2009). Early childhood caries
among Hutterite preschool children in Manitoba, Canada. Rural & Remote
Health. 10(4), 1-11.
YoungDentist (n.d.). The most common disease that causes loss of teethDental caries part 5. Retrieved June 10, 2011 from
http://www.sanedentist.com/the-most-common-disease-that-causes-lossof-teeth-dental-caries.html.