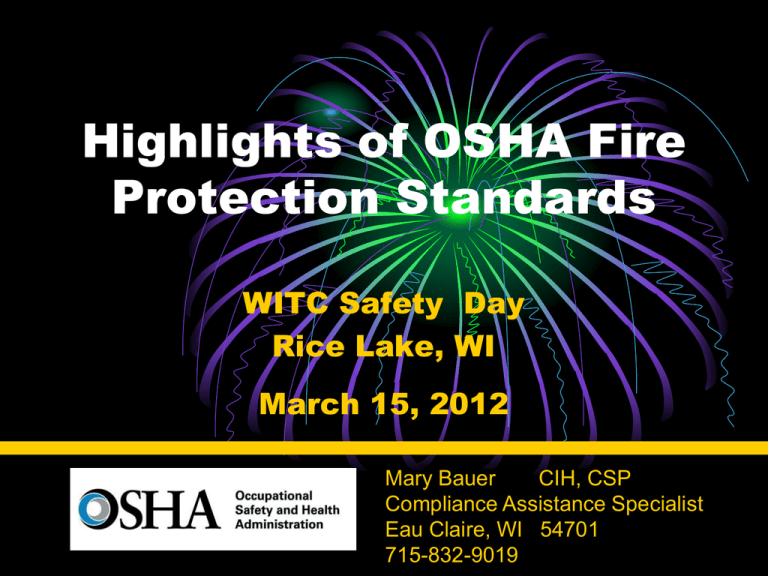 Highlights of OSHA Fire
Protection Standards
WITC Safety Day
Rice Lake, WI
March 15, 2012
Mary Bauer
CIH, CSP
Compliance Assistance Specialist
Eau Claire, WI 54701
715-832-9019
Bios & Contacts
• Mary Bauer – Eau Claire Area OSHA
Office
Compliance Assistance Specialist (CAS)
1310 West Clairemont Ave
Eau Claire, WI 54701
715-832-9019
bauer.mary@dol.gov
•
•
•
•
•
Compliance Officer for 20 Years
CAS for 6 Years
All in Eau Claire Area Office
CIH: Certified Industrial Hygienist
CSP: Certified Safety Professional
Agenda: Highlights
•
•
•
•
•
•
•
Emergency Action Plan
Fire Extinguishers
Compressed Gases
Flammable Storage
Spray Booths
Dip Tanks
Welding – Hot Work Permits
Agenda: Highlights
• Intrinsically Safe
•
•
•
•
Forklifts
Electrical
Confined Spaces
Meters
• Combustible Dust
Do We Need
a Plan
or
Ignore What's
Happening?
"Doors
were
locked
from the
outside so
they
wouldn't
steal any
chickens."
Hydraulic Fire
Sawmills Burn Frequently
1910.38: (EAP)
Emergency Action Plans
• Must have an emergency action plan
whenever an OSHA standard in this part
requires one.
• Must be in writing, in the workplace and
available to employees for review
• With 10 or fewer employees, may
communicate the plan orally to
employees
• Same requirements for a Fire Prevention
Plan as listed under 1910.39
1910.38 Employee emergency
plans
(a)(2) elements(I) emergency escape
procedures and route
assignments
(ii) critical plant
operations before
evacuation
(iii)procedures to
account for all
employees after
emergency evacuation
1910.38 Employee emergency
plans
(a) (2)elements
(iv) rescue and medical duties
(v) preferred means of reporting
fires/other emergencies
(vi) names or regular job titles of
persons or departments who can
be contacted for information
under the plan
1910.38 Employee emergency
plans
(a) (3) alarm systememployer must
establish an alarm
system which complies
with .165
(4) establish the types of
evacuation procedures
(5) designate and train of
sufficient number of
persons to assist in
Fire Extinguisher Policy
The employer evacuates all
employees except those designated
to use portable fire extinguishers
[1910.157(b)(2)]: Employers who
select this option need not comply
with the distribution requirements of
1910.157(d). This option allows for
the employer to distribute
extinguishers in a manner such that
they are available to the employees
designated to fight incipient stage
fires. If the employer selects this
option, compliance with 1910.38(a)
is required through 1910.157(b)(2).
Inspected
Monthly &
Annually
Training for
Designated
Employees
(i.e. fire
watch)
Hazards Associated w/
Compressed Gases
• Fire
• Oxygen Enriched
• Mixed Gases
• Explosion: Flying Projectile
• Damage to Cylinder
• Cylinders High & Low Pressure
• Release of Gas
• Displacement of Oxygen ( CSE )
• Toxic Gases
• Cryogenic
Acetylene cylinders
Fusible
Plug
..
Porous
Mass
Acetone
Solvent
42%
Fusible
Plug
The decomposition characteristics
of acetylene gas are avoided:
• By providing a porous mass
packing material with minute
cellular spaces
• No pockets of appreciable size
remain where "free" acetylene in
gaseous form can collect
• This porous mass is saturated
with acetone, or other suitable
solvent, in which the gaseous
acetylene actually dissolves
Volume
. .
• CANNOT store on side- Leak
around valve stem
3.5
Flammable Gases
Indoor cylinder storage
•
•
•
•
Fuel
Gas
Well protected
Well ventilated
Dry
Twenty feet
from
flammable or
combustible
materials
20 Feet
O
x
y
g
e
n
• Ready to go?
• Storage?
Flammable and Combustible
Liquids
1910.106 & 1926.152
Flash Point (oF)
Classes of Flammable
and Combustible Liquids
200
IIIA
Combustible
(FP > 100oF)
140
II
100
IC
73
IA
Flammable
(FP < 100oF)
IB
100
Boiling Point (oF)
Classes of Some Flammable
Liquids
Common Name
Flash Point (oF)
CLASS IA
Ethyl Ether
-49
CLASS IB
Gasoline
-45
Methyl Ethyl Ketone
21
Toluene
40
Xylene
81-115
Turpentine
95
CLASS IC
Storage Cabinets
• Not more than 60 gal of Class I
and/or Class II liquids, or not
more than 120 gal of Class III
liquids permitted in a cabinet
• Must be conspicuously labeled,
"Flammable - Keep Fire Away"
• Doors on metal cabinets must
have a three-point lock (top,
side, and bottom), and the door
sill must be raised at least 2
inches above the bottom of the
cabinet
Sources of Ignition
Must take adequate precautions to prevent ignition of
flammable vapors. Some sources of ignition include:
•
•
•
•
•
•
•
Open flames
Smoking
Static electricity
Cutting and welding
Hot surfaces
Electrical and mechanical sparks
Lightning
Static Electricity
• Generated when a fluid flows
through a pipe or from an
opening into a tank
• Main hazards are fire and
explosion from sparks containing
enough energy to ignite
flammable vapors
• Bonding or grounding of
flammable liquid containers is
necessary to prevent static
electricity from causing a spark
Storage Rooms
4" Sill or ramp at Door
Self Closing Fire Rated Door
Always provide adequate ventilation to
reduce the potential for ignition of
flammable vapors.
• Gravity
• Mechanical
• 6 Air Changes Per Hour
Safety Cans for Storage and
Transfer
• Approved container of
not more than 5
gallons capacity
• Spring-closing lid and
spout cover
• Safely relieves internal
pressure when
exposed to fire
Flame Arrester Screen
• Prevents fire flashback
into can contents
• Double wire-mesh
construction
• Large surface area
provides rapid
dissipation of heat from
fire so that vapor
temperature inside can
remains below ignition
point
Waste and Residue
Combustible waste and residue must be kept to a minimum,
stored in covered metal receptacles and disposed of daily.
Waste drum with
disposal funnel
Safety disposal can
Oily-waste can
(self-closing lid)
Spray
Booths
1910.107
Conventional
Downdraft
Powder Coating
Electrostatic
Drying Ovens
NFPA 33
Spray "Area" or "Room"
Organic Peroxides
(g) "Operations and
Maintenance"
(5) "Cleaning solvents."
The use of solvents for cleaning operations shall
be restricted to those having flashpoints not less
than 100 deg. F.; however, for cleaning spray
nozzles and auxiliary equipment, solvents having
flashpoints not less than those normally used in
spray operations may be used. Such cleaning
shall be conducted inside spray booths and
ventilating equipment operated during cleaning.
Dip Tanks
1910.122-126
Fusible Links
• UL Listed for 135°, 165°, 212°, 286°,
370°, 386° F.
• Used by leading manufacturers of
fire protection devices, including fire
doors, fire dampers, part washers,
gas & compressed air tanks, safes,
gas pumps and chimneys.
LPG: Liquefied Petroleum Gas
1910.110
• Hazards Similar to Compressed Gas
• NFPA 58
• Delivery Vehicles
• Transportation: DOT except
• Maintenance: OSHA
• At Delivery Point/Off Road: OSHA
LPG: Liquefied Petroleum Gas
1910.110: Widely Used
• Heating & Drying (Crops)
• Permanent
• Temporary (Construction)
• Appliances
• Stoves – Restaurant
• Laundry
• Industrial Furnaces
• Vehicles Internal Engine ( Motor Fuel )
• Forklifts
• Over The Road Vehicles
LP Heater – LP Truck
• "Bobtail" LP
Truck repaired
but not emptied
• Gas Water
Heater in room
Rated Forklifts
Process Safety Management
(PSM): 1910. 119
An Integrated
Approach to
WRR – Eau Claire
June, 2007
Hazardous Locations
1910.307 Electrical
•
•
•
•
Explosion Proof
Dust Tight
Temperature Classification
Gas Classification
Imaging using solvents in
A PRCS with a regular
Trouble light ???
Hot Work Permits
Cutting / Welding
Permit
Location:
Job No.
Date:
Job No.
Location & Building:
Permits are issued for the
specific job being done, and
for a specific time period. The
time period is usually for the
working shift, but may never
exceed twenty-four hours.
Floor
Nature of Job:
Welder's Name:
The above location has been examined. The precautions checked
on the reverse of this card have been taken to prevent fire.
Permission is granted for this work.
Permit
Expires
Date:
Time:
AM
PM
Hot Work Permits
Necessary Precautions
O Sprinklers are in service.
O Cutting and welding equipment in good repair.
Precautions within 35 ft. (10 m.) of work.
O Floors swept clean of combustibles.
O Combustible floors wet down, covered with damp sand or
fire-resistive sheets.
O Flammable liquids removed; other combustibles, if not
removed protected with fire-resistive tarpaulins or metal shields.
O Explosive atmosphere in area eliminated.
O All wall and floor openings covered.
O Fire-resistive tarpaulins suspended beneath work.
Work on Walls or Ceilings
O Construction is noncombustible and without combustible
covering or isolation.
O Combustibles moved away from other side of wall.
Work on Enclosed Equipment
O Enclosed equipment cleaned of all combustibles.
O Containers purged of flammable liquids.
Fire Watch
O Fire watch will be provided during and for at least 30 minutes
after work, and during any coffee or lunch breaks.
O Fire watch is supplied with suitable extinguishers, or charged
small hose.
O Fire watch is trained in use of this equipment and in
sounding alarm.
The Fire Marshal, Safety
Engineer, or Maintenance
Manager has the responsibility
to verify that all necessary
precautions have been taken at
the worksite.
Empty Drum Containing Old
Xylene Vapors Exploded When
Torch Cut. 1910.252(a)(3)(i)
Flammable Atmospheres
Non-flammable
(Too "Rich")
Flammable
V
A
P
O
R
Non-flammable
(Too "Lean")
Temperature
Flammable
Region
Dust Explosion Requirements
Fuel
Ignition
Dispersion
Confinement
Adapted from CSB
Oxygen
Dust Control
Design of facility &
process equipment
Contain combustible
dust
Clean fugitive dust
Regular program
Access to hidden
areas
Safe cleaning methods
Maintenance
Solid Shelving Hides &
Spreads Fire
Flames grow undetected and
are obscured from water.
Wire Decking Reduces
Fire Hazard
Open mesh provides quicker
detection and extinguishing
Fire Safety S&H Topic
Means of Egress: Exit Route
Exit Discharge
EXIT!
EXIT ACCESS
Disclaimer
•
This information has been developed by an OSHA Compliance
Assistance Specialist and is intended to assist employers,
workers, and others as they strive to improve workplace health
and safety. While we attempt to thoroughly address specific
topics or hazards, it is not possible to include discussion of
everything necessary to ensure a healthy and safe working
environment in a presentation of this nature. Thus, this
information must be understood as a tool for addressing
workplace hazards, rather than an exhaustive statement of an
employer's legal obligations, which are defined by statute,
regulations, and standards. Likewise, to the extent that this
information references practices or procedures that may
enhance health or safety, but which are not required by a
statute, regulation, or standard, it cannot, and does not, create
additional legal obligations. Finally, over time, OSHA may modify
rules and interpretations in light of new technology, information,
or circumstances; to keep apprised of such developments, or to
review information on a wide range of occupational safety and
health topics, you can visit OSHA's website at www.osha.gov.