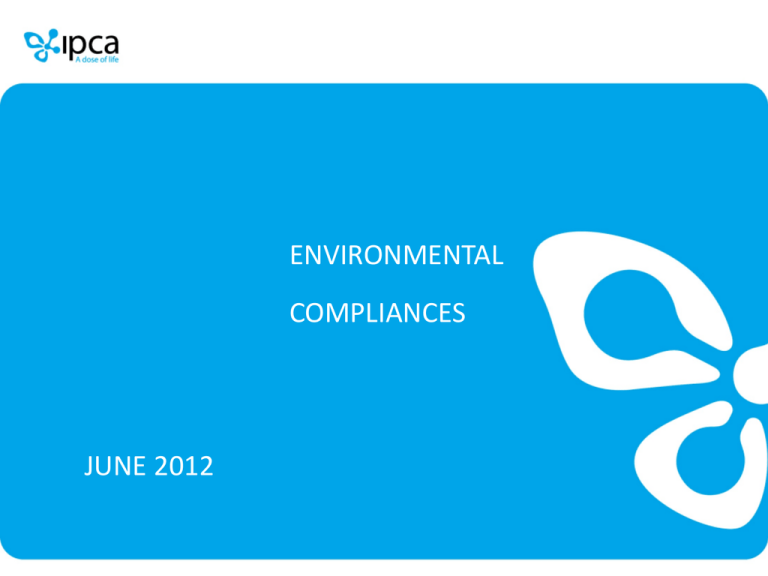 ENVIRONMENTAL
COMPLIANCES
JUNE 2012
Ipca Laboratories Limited
COMPLIANCE ON EC GENERAL CONDITIONS
(F.N. No. J-11011/850/2007-IA(II) Dated 12.05.2008)
Sr.
No.
Conditions
Remarks
(As on 30.06.2012)
01.
The project authorities shall strictly adhere to the
stipulations of the SPCB/state government or any
statutory body.
Agreed
02.
No further expansion or modifications in the plant
shall be carried out without prior approval of the
Ministry of Environment and Forests. In case of
deviations or alteration in the project proposal from
those submitted to this Ministry for clearance, a fresh
reference shall be made to the Ministry to assess the
adequacy of conditions imposed and to the add
additional environmental protection measures
required, if any.
Agreed
03
The project authorities shall strictly comply with the
rules and regulations under Manufacture, Storage
and Import of Hazardous Chemical Rules, 1989 as
amended. Authorization from the SPCB shall be
obtained for collection, treatment, storage, and
disposal of Hazardous wastes.
04.
Ambient air quality monitoring stations shall be set
up in the downwind direction as well as where
maximum ground level concentration are anticipated
in consultation with the State Pollution Control
Board.
Agreed and complying.
Ambient Air quality station is operative and Ambient air
monitoring reports submitted to State Pollution Control
Board on regularly basis. Copy enclosed as per
Annexure No.1
05.
For control of process emissions, stacks of
appropriate height as per the Central Pollution
Control Board guidelines shall be provided. The
scrubbed water shall be sent to ETP for further
treatment.
Stacks of suitable height have been provided and
scrubbing solutions regularly treated at our ETP.
06.
The company shall undertake following waste
minimization measures:Metering of quantities of active ingredients to
minimize waste.
Reuse of by-product from the process as raw
materials or as raw materials substitutes in other
processes.
Maximizing recoveries.
Use of automated material transfer system to
minimize spillage.
Use of "Closed Feed" system into batch reactors.
Batch wise quantity is closely monitored.
Continues efforts are done to optimize raw material
consumption and to get maximum yield.
Solvents are recovered and reused.
Hazardous chemicals are handled in close system with
suitable operation control procedures.
Closed Powder Charging System is also provided.
07.
The project authorities must strictly comply with the
rule and regulation with regard to handling and
disposal of hazardous wastes in accordance with
the hazardous waste(Management and Handling)
Rules, 2003 .Authorization from the SPCB shall be
obtained for collection/treatment/storage/ disposal
of hazardous waste.
Industry already complying with Hazardous waste
management and handling rules.
Necessary approval from state pollution control board
(i.e. consent to establish / operate) under Water Act,
Air Act & and under hazardous waste management
and handling rules is taken.
08.
The overall noise levels in and around the plant
area shall be kept well within the standards (85
dBA) by providing noise control measures including
acoustic hoods, silencers, enclosures etc. on all
sources of noise generation. The ambient noise
levels shall conform to the standards prescribed
under Environment (Protection) Act, 1986 Rules,
1989 viz. 75 dBA (day time) and 70 dBA (night
time).
Noise level is regularly monitored and it is well within
limits. Copy enclosed as per Annexure No.2.
09.
A separate Environmental Management Cell
equipped with full fledged laboratory facilities shall
be set up to carry out the environmental
management and monitoring functions.
Company has full-fledged Environment management
cell and Environment Monitoring Laboratory.
Details of the same are enclosed herewith as per
Annexure No. 3 & 4.
10.
The project authorities shall provided rainwater
harvesting system and ground water recharge.
Rain water harvesting facility has been provided as per
the Geographical survey conducted and CGWA
recommendations.
11.
The implementation of the project vis-a-vis environment
action plans shall be monitored by Ministry's Regional
Office / SPCB / CPCB. A six monthly compliance status
report shall be submitted to monitoring agencies.
We are submitting the same on six monthly bases.
12.
The project proponent shall inform the public that the
project has been accorded environment clearance by
the Ministry a copies of the clearance letter are
available with the SPCB and may also be seen at
Website of the Ministry at http://envfor.nic.in. This shall
be advertised within seven days from the date of issue
of the clearance latter, at least in two local newspapers
that are widely circulated in the region of which one
shall be in the vernacular language of the locality
concerned and a copy of the same shall be forwarded to
the Ministry's Regional Office.
We already publish details of Environmental clearance in
local newspapers.
13.
The project authorities shall inform Regional office as
well as the Ministry, the date of financial closure and
final approval of the project by the concerned authorities
and the date of start of the project.
Date of financial closure is 31st March.
Date of start of project is 15th May'08 and it was
commissioned from 10th ofAug.'2008
Ipca Laboratories Limited
COMPLIANCE ON EC SPECIFIC CONDITIONS
(F.N. No. J-11011/850/2007-IA(II) Dated 12.05.2008)
Sr.
No.
Conditions
Remarks
(As on 30..06.2012)
01.
The company shall install full-fledged effluent
treatment plant to treat the wastewater and treated
wastewater shall be utilised within the plant for
gardening, washing, cooling purposes etc. to
achieve zero discharge.
Company have full-fledge ETP with 495 KL/D
treatment capacity.
ETP is having Primary, Secondary and tertiary
treatment facility.
Treated water is utilized for in house
gardening/agriculture work and utility purposes.
Zero discharge status is maintained with the help of
reverse osmosis and evaporation plants.
02.
The water consumption and waste water
generation shall not exceed 1050 KLD and 495
KLD respectively. Permission for drawl of ground
water shall be obtained from CGWA/CGWB and
copy shall be submitted within 3 months from date
of issue of this order to Ministry's Regional Office at
Bhopal.
Permission for CGWA is obtained
03.
The project authority shall obtain the membership
TSDF for disposal of hazardous waste and copy of
the same shall be submitted to the Ministry and
Ministry's Regional Office at Bhopal. The company
shall maintain the valid membership of TSDF.
Company has taken membership of TSDF site
(Madhya Pradesh Waste Management Project,
Pithampur)
04.
The company shall install scrubbers, Bag filters and
dust collection system for control of emissions to
achieve the norms prescribed by MPPCB or under
EP Act, 1986 whichever is stringent.
Company has installed scrubber systems at process
plant and dust collector (Mechanical cyclone) at Boiler to
control emission.
05.
The project authority shall ensure that the solvent
shall not be less than 95% and provide the
condensers with solvent storage tank to achieve
solvent recovery more than 95% and all the solvent
shall be provided breather valves to prevent solvent
losses. The monitoring arrangement for solvent with
the vents shall be provided. Solvent management
shall be as follows:
A.Reactor shall be connected to chilled brine
condenser system.
B.Reactor and solvent handling pump shall have
mechanical seals to prevent leakages.
A. Reactors condensers are connected with necessary
cooling arrangement like Brine, Chilling, Cooling water
etc.
C.The condensers shall be provided with sufficient
HTA and residence time so as to achieve more than
85% recovery.
D.Solvent benzene shall be stored separately
specified with all safety measures.
E.Proper earthing shall be provided in all the
electrical equipment wherever there is solvent
handling.
F.Entire plant shall be flame proof. The solvent
storage tank shall be provided with breather valve to
B. Mechanical seal pump are used for handling of
solvent.
C. For effective recovery efficient condensers has been
installed after calculating required HTA.
D. We are not using Benzene in our plant.
E. Proper earthing has been provided to all equipments
and regular inspections are done to maintain continuity.
F. All electrical fitting are flame proof in all flammable
areas /Zone.
Solvent storage tanks has been provided with suitable
safety systems like flame arrestors, fire hydrant system
etc. We will provide breather valves to solvent storage
tank.
06.
The company shall provide the monitoring
arrangement with vents and regular monitoring
shall be carried out and reports submitted to the
SPCB, CPCB and Ministry's Regional Office at
Bhopal.
Regular monitoring done and report submitted to
pollution control board.
07.
The project authorities shall provide the chilled
brine solution in secondary condenser for
condensation of VOCs. The process emissions,
VOCs and particulate matter from various units
shall conform to the standards prescribed by the
concerned authorities from time to time. At no time,
the emission levels shall go beyond the stipulated
standards. In the event of failure of pollution control
system(s) adopted by the unit, the unit shall be
immediately put out of operation and shall not be
restarted until the desired efficiency has been
achieved.
Secondary condensers are provided with chilled brine
solution and VOC is monitoring on regular intervals.
08.
Fugitive emissions in the work zone environment,
product, raw materials storage area etc. shall be
regularly monitored. The emissions shall conform
of the limits imposed by MPPCB. For control of
fugitive emission and VOCs following steps shall be
followed:
A.Closed handling system shall be provided for
chemicals.
B.Reflux condenser shall be provided with
mechanical seals to prevent leakages.
C.Solvent handling pump shall be provided with
mechanical seals to prevent leakages.
D.System of leak detection and repair of
pump/pipeline on preventive maintenance.
E.Solvent shall be taken from underground storage
tank to reactors through closed pipeline. Storage
tanks shall be vented through trap receiver and
condenser operated on chilled water.
Work Zone monitoring is conducted on regular basis.
A. Hazardous chemical are handled in close system.
B. N.A.
C. Mechanical seal pump are used for handling of
solvents.
D. Before start of a campaign leak detection or
pneumatic test is carried our and preventive
maintenance is done to keep system close and
effective.
E. Solvents are transfer in close system and receivers
are connected with condensers.
09.
The company shall carry out the HAZOP study and
the report shall be submitted to Ministry's Regional
Office at Bhopal.
HAZOP studies of manufacturing processes is a
continuously done by our Hazop cell. List of products
for which Hazop is completed is enclosed as per
Annexure no.5.
10.
The company shall comply with the CREP
guideline prepared by CPCB for Bulk Drug plants.
Company is complying with CREP guideline.
11.
The company shall develop greenbelt in 33% of the
project area as per the guidelines of CPCB to
mitigate the effect of fugitive emission.
complying
12.
Requisite financial provision shall be made in the
budget of the project for implementation of the above
suggested environment safeguards. Fund so
earmarked shall not be diverted for any other
purposes.
Agreed and it is being followed.
13.
During transfer of materials, spillage shall be avoided
and garland drains be constructed to avoid mixing of
accidental spillages with domestic waste and storm
drains.
Necessary operating procedures are made for handling
and transferring of material including spill control system
and handling is done under supervision of trained staff.
Moreover suitable Dykes / Bunds are provided in
material handling areas.
14.
Occupational health surveillance of the workers shall
be done on a regular basis and records maintained
as per the Factories Act.
Health check of all employees is conducted periodically
as per guideline of Factory Act and records are
maintained.
15.
The company shall make the arrangement for
protection of possible fire hazards during
manufacturing process in material handling.
For safety purpose Hazop study and risk analysis is
done.
Regular safety inspections are conducted and
necessary fire protection arrangements are made
available to meet any emergency.
Annexure
Particulars
Annexure No.1
AMBIENT AIR QUALITY MONITORING REPORT
Annexure No.2
AMBIENT NOISE LEVEL MONITORING REPORT
Annexure No. 3
ORGANOGRAM
Annexure No. 4
INSTRUMENT IN ENVIRONMENT LAB
Annexure No. 5
LIST OF PRODUCT FOR WHICH HAZOP STUDIES IS CONDUCTED
Annex 1
Annexure No. 4
INSTRUMENT IN ENVIRONMENT LAB
1.
2.
3.
4.
5.
6.
7.
8.
9.
10.
11.
12.
13.
14.
15.
16.
17.
18.
19.
20.
21.
22.
pH Meter
pH Meter (Online)
Oven
BOD Incubator
Hot Plate
Stirrer with regulator
High Volume Sampler
Stack Monitoring Kit
Heating Mantel
Noise Level Meter
Spectrophotometer
Digital Conductivity Meter
Oxygen Level Meter
Mono Pan balance (Electronic - digital)
Dragger Tube
Muffle Furnace
COD Digester (Open Reflux)
COD Digester (Closed Reflux)
Refrigerator
Ammonical Nitrogen distillation apparatus
Desiccators
Vacuum Pump and Vacuum line
Annexure No. 5
LIST OF PRODUCT HAZOP STUDY COMPLETED
S. No.
PRODUCTS
STUDY STATUS
1
Flumequine
Completed
2
Metoclopramide HCL
Completed
3
Trimethoprim
Completed
4
Atenolol
Completed
5
Chloroquine Phosphate
Completed
6
Pyrantel Pamoate
Completed
7
Morantel Citrate
Completed
8
Furosemide
Completed
9
N- Amyl Meta Cresol
Completed
10
Artesunate
Completed
11
Dihydroartemisinin
Completed
12
Alpha Beta Arteether
Completed
13
Artmether
Completed
14
Artimisinin
Completed
15
Cetirizine Di HCL
Completed
16
Chlorothalidone
Completed
Trend & Action Plan
17
Cilostazole
Completed
18
Citalopram Hydrobromide
Completed
19
Clopidogrel Bi-Sulphate
Completed
20
Fluconazole
Completed
21
Glimepride
Completed
22
Hydroxy Chloroquine Sulphate
Completed
23
Hydrochlorothiazide
Completed
24
Losartan Potassium
Completed
25
Metoprolol Succinate
Completed
26
Metoprolol Tartrate
Completed
27
Methyl Phenidate-HCl
Completed
28
Nabumeton
Completed
29
Propanolol HCL
Completed
30
Paroxetine Di Hemihydrate
Completed
31
Metformin HCL
Completed
32
Lumefantrine
Completed
33
Mesalamine
Completed
34
Ondansetron HCL
Completed
35
Bendroflumethiazide
Completed
36
Quetiapine Hemifumarate
Completed
37
Alendronate Sodium
Completed
38
Ritalinic Acid
Completed
39
Indapamide
Completed
40
Proguanil HCl
Completed
41
Sulfadoxine
Completed
42
Allopurinol
Completed
43
Etodoloc
Completed
44
Warfarin Sodium
Completed
45
Isotretinoin Sodium
Completed
46
Valsartan
Completed
47
Tramadole Hydrochloride
Completed
48
Triclabendazole
Completed
Thank you!