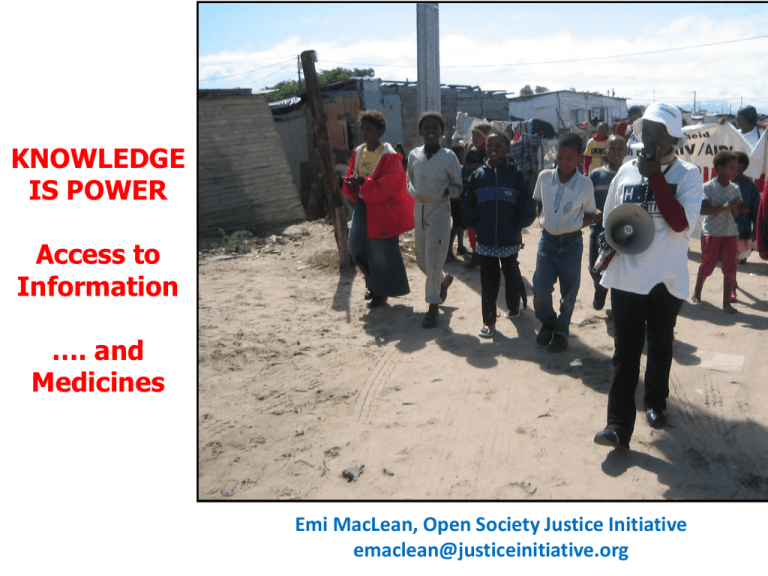 KNOWLEDGE
IS POWER
Access to
Information
…. and
Medicines
Emi MacLean, Open Society Justice Initiative
emaclean@justiceinitiative.org
DISCLAIMER:
A selfish admission….
INFORMATION AS A TOOL,
NOT AS THE END!
Transparency to what
end?
Accountability
Social Justice
Policy Change
Access to Medicines
KNOWLEDGE
IS POWER
Countering the Secrecy
• Pharmaceutical companies with
undue access to, and influence
over, WHO processes
• US and UK push to keep WHO out
of IP issues
• US strongarms Guatemalan
government to impose data
protection equivalent to US IP law
• Pfizer attempts to blackmail
Nigerian attorney general to drop
lawsuits related to drug trial which
led to the deaths of children
You don't need to storm the building or
wait for a Wikileaks document dump…
1.
Figure out what information would be useful to advance your campaign:
both substance and process.
2.
Do the background research to know with specificity what information you
need, and what information exists, and to justify your request for
information. [Example of "Stop Stock-outs Campaign".]
3.
Determine who has the information and on what grounds you have the
right to have access to the information.
4.
Ask for the information. Follow up. Follow up again.
5.
Bring a legal challenge to get access to the information, if that is strategic –
and possible. This should be coupled with media pressure, grassroots
activism, and other forms of advocacy.
6.
Make use of the information if and when it is available.
WE WANT THE INFORMATION …
… BUT WE ALSO SEE THE
STRATEGIC CAMPAIGNING VALUE
IN CALLING OUT SECRECY
"THE SECRET TREATY"
Oil find 'enough for Uganda'
- The Guardian
Who will benefit…?
Write down three types of information that
your government – or another government –
has that you want to know for your advocacy.
(If you're in South Africa, you can also include
information that corporations have that you
want to know.)
MAKING THE LAW WORK!
What is the legal basis for
the right to information in
southern and east Africa?
Treaties & Other Int'l Commitments
African Charter on Human & Peoples Rights (1986)

Article 9(1): Every individual shall have the right to receive information.
Dec of Principles on FOE in Africa (2002)

Public bodies hold information … as custodians of the public good
and everyone has a right to access this information, subject only to
clearly defined rules established by law.

Principles defining the right to information:
 right to information held by public bodies; and by private
bodies where necessary for the exercise or protection of a right;
 right to appeal to an independent body and/or the courts;
 duty to publish important information proactively;
 no sanction for good faith release; for release of info re
wrongdoing; or disclosure of serious threat to health, safety or
environment.
Constitutional Protections
 15 countries with explicit guarantee of the right to info
 South – DRC, Madagascar, Malawi, Mozambique, South
Africa
 West – Burkina Faso, Cameroon, Cape Verde, Ghana, Guinea
Bissau, Senegal
 East – Eritrea, Kenya, Tanzania, Uganda
 19 countries guarantee limited right to "receive info" as part of right to
freedom of expression
 South – Angola, Botswana, Lesotho, Mauritius, Namibia,
Swaziland, Zambia, Zimbabwe
 West – Liberia, Mali, Nigeria, Sierra Leone, Togo
 East, Central and North Africa – Chad, CAR, Ethiopia, Kenya,
Tanzania, Morocco
 Setback: Zambian Constitutional Conference deleted RTI from Feb
2010 draft Constitution
Uganda Constitution (Art. 41)
Every citizen has a right of access to
information in the possession of the state
or any other organ or agency of the state
except where the release of the information is
likely to prejudice the security or sovereignty
of the state or interfere with the right to
privacy of any other person.
Right to Info Laws
5 countries
 South Africa: Promotion of Access to Public Info Act 2000
 Uganda: Access to Information Act 2005
 Angola: Law on Access to Documents held by Public
Authorities 2006
 Ethiopia: Mass Media and Freedom of Information Act 2008
 Liberia: Freedom of Information Act 2010
Plus Zimbabwe…
 Zimbabwe: Access to Information and Protection of Privacy
Act 2002
Laws (continued)
RTI bills not yet law
 Nigeria and Sierra Leone - imminent passage expected
 Rwanda; Sudan; Zambia – bills pending
 Ghana; DRC; Malawi; Mozambique; Kenya; Tanzania;
Algeria; Morocco – bills not yet tabled
Other laws with RTI provisions






Archives Laws
Evidence and Administrative Codes
Civil and Criminal Procedure Codes
Anti-Corruption
Extractive Industries Transparency Initiatives
Environmental Impact Assessment
MORE THAN WORDS…
New laws:
Their significance will be proven by whether
and how they are used by the people.
And whether the government is obligated to
abide by them.
Some Ways to Advance the Issue
Information Requests to Governments (or in
South Africa, to corporations)
… and public and media advocacy,
parliamentary appeals, etc.
Where needed and desired: litigation before
domestic or regional courts
AU Rapporteur on FOE and ATI
 Monitors and advises states re: compliance with ATI
standards; can make public statements
Civil Society Orgs – Intl & Africa
 Africa Freedom of Info Centre (AFIC) – documentation, advocacy
campaigns, litigation; www.africafoicentre.org
 Africa Media Barometer (AMB) on ATI , 46 country reports from 25 countries (200509), www.fesmedia.org
 Int'l School for Transparency, U of Cape Town, with U of Södertörn,
Sweden & ODAC, programs for public servants and other key stakeholders,
www.dgru.uct.ac.za/focus/governance/transparency_school
 African Network of Constitutional Lawyers (ANCL) Committee on RTI, www.anclradc.org.za
 Affiliated Network for Social Accountability (ANSA), www.ansa-africa.net ; project
with ODAC in Angola, Uganda, DRC, Zambia; how CSOs and citizens access info;
project on EITI and public procurement, with WBI and TI
 Africa Governance Monitoring and Advocacy Projects (AfriMAP), monitors and
promotes compliance with requirements of good governance, democracy, human
rights and rule of law, http://www.afrimap.org
 Article 19, www.article19.org
 Carter Center, www.cartercenter.org/accesstoinformation.html
 Useful websites: www.freedominfo.org; www.right2info.org
Civil Society Orgs
 Engaged in strategic litigation, documentation, advocacy
Southern Africa
 Southern Africa Litigation Centre, www.salc.org.za
 Open Democracy Advice Centre (ODAC), www.opendemocracy.org.za
 Media Institute of Southern Africa (MISA), www.misa.org
East Africa
 Hurinet, Uganda: www.hurinet.or.ug
 MISA-Tanzania: http://www.misa.org/chapters/tanzania/misatanzania.html
 Int'l Commission of Jurists-Kenya, www.icj-kenya.org
West Africa
 Media Rights Foundation for West Africa, Ghana, www.mediafound.org
 Citizens Governance Initiative, Cameroon, www.citizensgovernance.org
 Right2Know Coalition, Nigeria, www.r2knigeria.org/
Information for Better Access to Meds!
 Budget monitoring
 Patents and registration
 Use or misuse of funds;
Corruption
 TRIPS-plus agreements –
anti-counterfeiting, FTAs, …
 WHAT ELSE?