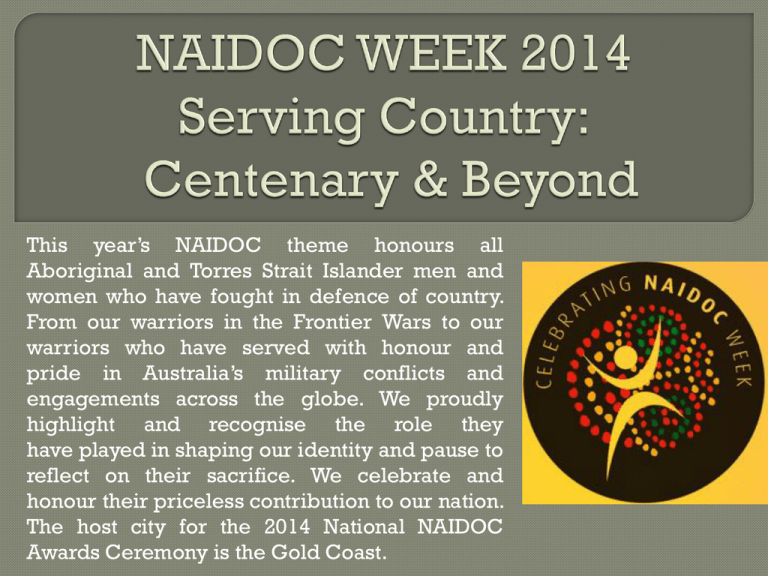 This year's NAIDOC theme honours all
Aboriginal and Torres Strait Islander men and
women who have fought in defence of country.
From our warriors in the Frontier Wars to our
warriors who have served with honour and
pride in Australia's military conflicts and
engagements across the globe. We proudly
highlight and recognise the role they
have played in shaping our identity and pause to
reflect on their sacrifice. We celebrate and
honour their priceless contribution to our nation.
The host city for the 2014 National NAIDOC
Awards Ceremony is the Gold Coast.




Have fought in every conflict since the start
of the 21st century including the Boer War,
WW1, WW11, East Timor and probably
Afghanistan.
Participated in the South African Boer War
(1899-1902) as trackers and guides.
Were barred from involvement in conflict in
the first half of the 20th century but about
500 managed to enlist in WW1.
Exact numbers were unknown as ethnicities
were not recorded on personnel files.
William Stubbings, great-grandson of members of the
Boorooberongal clan of the Darug, fought in the Boer War.





Were rejected (racial reasons) but
around 500 enlisted
Slowly changed attitudes within
army – fought in all campaigns.
Numbers increased due to
conscription
New order made enlisting easier
if 1 parent was of European origin
Some this as an opportunity to
prove their equality with
Europeans or to get better
treatment after the war.
Reg Saunders was the
first aboriginal soldier
to be commissioned as
an officer in the
Australian Army.
Just like other Australians many
indigenous soldiers became POWs.
Private Reginald Francis Hawkins, a
station hand from Jericho, QLD, enlisted
at the age of 23 on 29 October 1915 and
embarked for overseas on 5 June 1916
aboard HMAT Borda. He was hit by a
shell in the left leg and right side of the
head and captured at Armentieres,
France, on 14 February 1917. After
being taken prisoner, Private Hawkins
was assigned the POW identity number
6.6518 (see uniform). Private Hawkins
was held as a POW in various camps in
Germany until repatriated to England
on 10 January 1919 and Australia on 12
May 1919.
The repression of Indigenous
Australians increased between
wars, as protection acts gave
government officials greater
control
over
Indigenous
Australians. As late as 1928
Indigenous Australians were
massacred in reprisal raids by
white Australians. A major
Aboriginal political movement
in the 1930s achieved little
improvement in civil rights.
Indigenous Australians like William
Cooper, Secretary of the Australian
Indigenous
Australians'
League,
argued that Indigenous Australians
should not fight for White Australia.
Cooper lost his son in WW1 and was
bitter that Aboriginal sacrifice had not
improved rights and conditions.
Cooper demanded improvements at
home before taking up "the privilege
of defending the land which was taken
from him by the White race without
compensation or even kindness".
Political activist
William Cooper




Greater numbers of indigenous
soldiers in WW11 until 1940 when
indigenous participation was
considered "Neither necessary not
desirable" (Defense committee, 1940)
Soldiers in the North front lined
against Japanese in 1942.
Indigenous soldiers received equal
pay, promotion on merit and forged
strong relationships with white men.
Between & following both wars
Leonard Waters - first
indigenous soldiers treated with same Aboriginal Australian
military aviator, and
or worse discrimination as before.
only one to serve as a
fighter pilot in the RAF.
Hundreds of Indigenous Australians
served in the 2nd AIF and the militia.
Many were killed fighting and at
least a dozen died as POWs. As in
WW1,
indigenous
Australians
served under the same conditions as
Whites in most cases, with promises
of full citizenship after the war which
they didn't get. However attitudes
changed and restrictions based on
race were abandoned in 1949. Since
then indigenous Australians have
served in all conflicts in which
Australia has participated.
Private Graeme Brown
– an indigenous soldier
who served in Somalia
in 1993.
In 1941 the Torres Strait Light Infantry
Battalion was formed to defend the
strategically-important Torres Strait area.
Other Islander units were also created,
especially for water transport and as
coastal artillery. By 1944 almost every ablebodied male Torres Strait Islander had
enlisted but did not get the same rates of
pay or conditions as White soldiers. At first
their pay was one-third that of regular
soldiers. After a two-day "mutiny" in
December 1943 this was raised to twothirds. In proportion to population no
community in Australia contributed more to
the war effort in the Second World War than Aboriginal & Torres Strait
War Memorial in Adelaide
the Islanders of the Torres Strait.
Aboriginal women played an
important role with any enlisting in
the women's services or working in
war industries. In northern Australia
Aboriginal and Islander women
worked hard to support isolated
RAAF outposts and even helped to
salvage crashed aircraft. Poet, artist
& educator Oodgeroo Noonuccal
(Kath Walker) joined the Australian
Women's Army Service in 1942, after
her brothers were captured by the Oodgeroo Noonuccal in her
Japanese at the fall of Singapore.
army uniform. She was
stationed at Chermside.
Wartime service gave many
Indigenous Australians pride and
confidence in demanding their
rights. Nevertheless, Indigenous
Australians who fought for their
country came back to much the
same discrimination as before.
For example, many were barred
from Returned and Services
League clubs, except on Anzac
Day. Many were not given the
right to vote for another 17 years.
Private Horace Dalton
Service No. 57247
Enlisted: 16 May 1916
11 Light Horse Regiment
Dunwich/Caloundra
Served in Egypt from 1918-1919
Returned to Australia in 1919
Died: 1956
Buried in an unmarked grave for 56
years at Ipswich Cemetery
Official burial on 1 October 2012 at
Ipswich.
Aboriginal Trooper Horace Dalton fought in WW1 for the freedom of
all Australians, even though he didn't enjoy the same rights as white
Australians. When he enlisted in the army at 19, Horace Dalton lied
to satisfy the requirement that service people be of "substantially
European" origin.
Horace had to go through a strict process to be admitted into the
defence force. He signed an affidavit saying he had the right
heritage to be an Australian soldier even though he was one of the
true owners of the land.
When Horace returned from the war, he wasn't allowed to attend
reunions and when he passed away there was no no military funeral.
When the war veteran died in 1956, he was buried in an unmarked
grave in the Ipswich Cemetery.
Trooper Dalton's son Ken said he was proud of his father's
military service, and grateful it was finally recognised with
the official burial at Ipswich Cemetery on October 1 2012.
Ken was only 16 when Horace died and said his father felt a
duty to defend Australia. "Dad fought for the rights of
Australians, even though he didn't have them himself," he
said. "He signed up, even though his country treated him
shamefully".