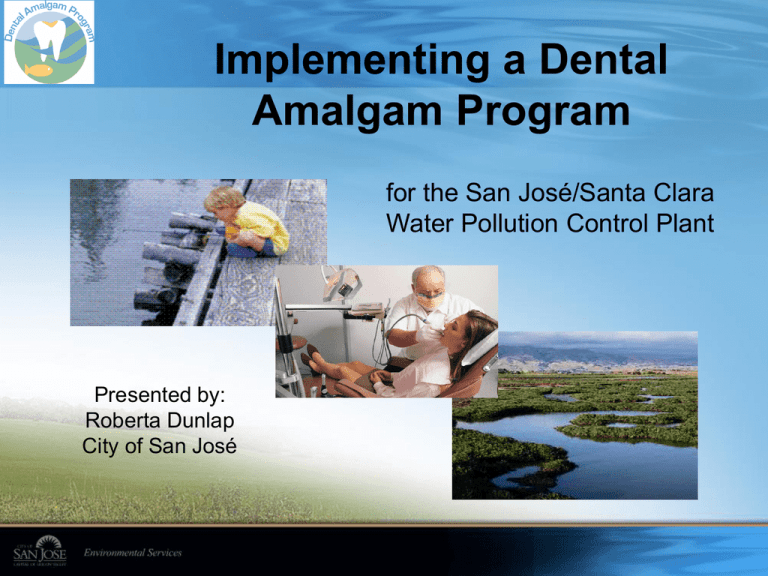 Implementing a Dental
Amalgam Program
for the San José/Santa Clara
Water Pollution Control Plant
Presented by:
Roberta Dunlap
City of San José
Dental Amalgam Program
• Program Design
• Implementation
• Lessons Learned
•Q&A
SJ0509i1_overall
SJ/SC WPCP
Milpitas
5%
Santa Clara
8%
Cupertino
4%
Saratoga
2%
Monte
Sereno
SJ0509i1_overall
San José
71%
Campbell
3%
Los
Gatos
2%
SJ0509i1_overall
Dental Amalgam Program
San Francisco Bay
Mercury exceeds allowable levels
Dental Amalgam Program
• November 2007 Mercury Watershed
Permit for Dischargers to SF Bay
• Requirement for Pre-treatment Strategy
for Dental Offices.
Target : 85% of Dental Offices Participating
within Five Years.
Dental Amalgam Program
Mine tailings are a
significant source of
mercury in the Central
Valley and SF Bay
Watersheds
Dental Amalgam Program
Sources of Mercury in Wastewater
Hospitals
Universities
Vehicle Services
Medical Clinics
Human Waste - Amalgam
Household
Products
Dental Offices
AMSA/EPA Mercury Pollution Prevention Project (2001)
Laundry
Greywater
Dental Amalgam Program
Where Amalgam Goes
70%
Amalgam
Removal
Procedure
10%
20%
Vacuum
Plastic
Suction
Tip
Chairside
Screen
Swallowed
By
Patient
Collected
For
Recycle
7%
Amalgam
Placement
& Carving
1%
Plastic
Cuspidor
Chairside
Screen
Filling
In
Tooth
Collected
For
Recycle
2%
90%
Dental Amalgam Program
Four Phases:
• Program Design
• Pre-Implementation Tasks
• Implementation
• On-going Program
Dental Amalgam Program
Decisions, Decisions, Decisions!
• Permit vs Self Certification
• Mandatory vs "Recommended"
• Do we inspect?
• Mandate Best Management
Practices?
Dental Amalgam Program
Program Design
• Dental practices as critical users
• Five-year Wastewater Discharge Permit
– No Fee
• Self-Certification of Best Management Practices
• Installation of ISO Certified Amalgam Separator
• Maintenance & amalgam disposal records
• Annual Report
• Inspections – once during permit period
Dental Amalgam Program
Pre-Implementation
•
•
•
•
•
Identify dentists
Reach stakeholders & build partnerships
Amend the Muncipal Code
Develop several forms
Modify an existing database
Dental Amalgam Program
Locating the Dentists
• California State Department of
Consumer Affairs
http://www.dca.ca.gov/consumer/public_info/index.shtml
• Business Licenses
• County Department of Environmental Health
• Phone Book/Internet
Dental Amalgam Program
Stakeholder Process
• Local Dental Society
- Dinner Meetings
- Presentations
- Newsletter
• California Dental Association
http://www.cda.org
• Vendor Workshops
Dental Amalgam Program
Forms!
• Permit Application
• Identify who owns practice
• Who works with whom
• Shared Separators!
• Permit
• BMPs
• Certifications
• FAQs
• Approved Separators & Vendors
• Sample Maintenance Log
Dental Amalgam Program
Shared Separators
• Two or more dentists share a
vacuum line
• Need to ID who is
responsible
• Aligning permit effective
dates
• Challenge of determining
how they are sharing
Dental Amalgam Program
Brochure
• Step by Step Guide
• Visual BMPs
• Common FAQ's on
back
Dental Amalgam Program
Issue permits
Dental Amalgam Program
Dental Amalgam Program
Database
• Able to use existing Source Control
Database
• Track Dentists
- who has and has not responded
• Track Permits Issued
• Track Inspections
Dental Amalgam Program
Some Logistic Suggestions
• Guidance Document
• Decide who is responsible for what
• Filing protocol
• Finalize Forms
• Order Supplies in Advance
Dental Amalgam Program
Implementation
• Sent Application Packet to
each individual dentist
• Cover letter
• Permit Application
• Brochure
Dental Amalgam Program
Permits
From effective date of permit:
• Implement BMPs for amalgam waste
- 90 days to certify BMPs
• Install an approved amalgam separator
-180 days to certify separator installation
• Keep maintenance records
• Annual report due every January
Dental Amalgam Program
Inspections
• Check placement and operation of
the amalgam separator
• Confirm implementation
of the BMPs
• Review amalgam waste
management practices
• Review waste shipment records
• Enforcement Plan
Dental Amalgam Program
Lessons Learned
• Simple forms
Shared separators – list suite #'s/names
• Send certified mail
• Be prepared – files, labels, etc.
• Communication with stakeholders/partners key
• 10-15% will be hard to find
• Need to send reminders
It will take time!
Dental Amalgam Program
• Over 1,800 dentists identified
• 740 permits issued to date
• Processing BMP & separator
installation certifications
• Sending reminders
• Started doing some inspections
– Two inspectors, part-time
– Ramping up this summer
Dental Amalgam Program
City of San José web site
http://www.sanjoseca.gov/esd/wastewater/dental-amalgam-program.asp
California Dental Association
http://www.cda.org/
Baywise.org
http://www.baywise.org
Roberta Dunlap
roberta.dunlap@sanjoseca.gov
(408) 277-5364
Dental Amalgam Program
Questions?