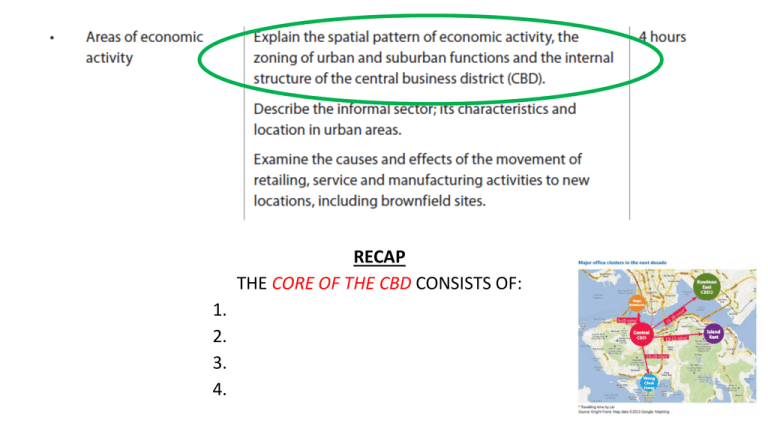 RECAP
THE CORE OF THE CBD CONSISTS OF:
1.
2.
3.
4.
What are the characteristics of the CBD?
CHARACTERISTICS
DESCRIPTIONS
Intensive land use
Multi-storied buildings: highest retail productivity per unit area, characteristics by
higher order functions.
Find images of the HK CBD that illustrates each of these
characteristics. Locate each photograph on a map.
Extended vertical scale
Growth mainly vertical.
Limited horizontal scale
Greatest horizontal dimension seldom exceed walking scale.
Limited horizontal change
Gradual horizontal change, with slums and undesirables limited to a few blocks.
Concentrated day time
population
Location of highest concentration foot traffic; absence of permanent residential
population.
Focus of mass transit
Major mass transit interchange location for entire city.
Centre of specialised functions
Extensive use of office space for executive and policy making functions: centre of
specialised professional and business services.
http://www.rgs.org/NR/rdonlyres/AB1B3354-8E38-42BA-892C-9D542DDC7FF7/0/FW_Toolkit_urban1big.jpg
What are the 4 core land uses in the FRAME?
Zone of Discard
A haven for the homeless and social dropouts and as an area for adult
entertainment. Common functions include pawnshops, cheap bars,
low-grade cafes, cheap movie houses, repair shops, gun shops and low
quality consumer mechanise.
Find images of the HK FRAME that illustrates some of these
characteristics. Locate each photograph on your map.
But it isn't that simple…
Zone of Assimilation – areas into which the CBD (and its characteristics)
is expanding. Process known as…
GENTRIFICATION
This back-to-the-city trend is taking place that has spurred a revitalisation of once-dying urban
cores (e.g. Detroit). It causes the recycling of buildings and streetscapes but in the process
causes a rise in land values that push out existing residents from low-cost housing.
Find a suitable location(s) in HK that can be considered the Zone of
Assimilation. Select an appropriate image and again add to your map.
https://suite.io/james-gibson/5p0r2ga
1. Yau Tsim Mong
2. Kowloon City
3. Kwun Tong
4. Wong Tai Sin
5. Sham Shui Po
6. Kwai Tsing
7. Tsuen Wan
8. Sha Tin
9. Tai Po
10. Yuen Long
11. Tuen Mun
12. Central and Western
13. Wan Chai
14. Eastern Island
15. Southern Island
16. Islands
http://www.spatioepi.com/m0101.asp
Why do these economic changes occur?
(a) Changing economic structure
Some functions become obsolete e.g. __________________.
Some functions require more space e.g. __________________.
(b) Deteriorating conditions of buildings
Many 18th century buildings still stands in some cities. Some were given attention in terms of conservation efforts while
others were only left to rot.
(c) Outdated and inefficient street and utilities layout
Street layout and utilities system (sewerage, power and water) not designed with the modern city in mind.
Road development constrained by densely built-up area
(d) Population shift
There is reduced rate of rural migration due to an alternative growth pole
City will decline and deteriorate over time
(e) Rising cost and competition from new users
Economic expansion and the modernisation of the economy shift the economic focus from farms, mines and ports to
other functions such as finance and banking.
The emergence of high value, high turnover land users pushes out traditional occupants.
(f) Increase in number of functions
As more and more functions began to emerge, the CBD become too complex to be considered as a single entity. As a
result, some form of fragmentation had to take place.