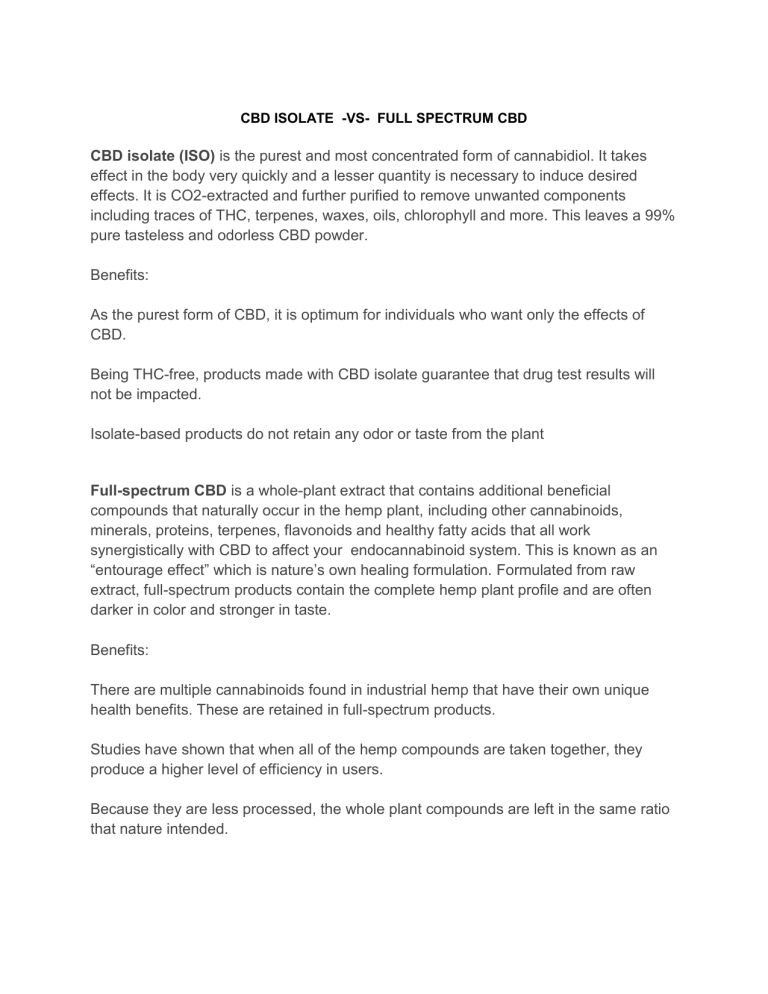 CBD ISOLATE -VS- FULL SPECTRUM CBD
CBD isolate (ISO) is the purest and most concentrated form of cannabidiol. It takes
effect in the body very quickly and a lesser quantity is necessary to induce desired
effects. It is CO2-extracted and further purified to remove unwanted components
including traces of THC, terpenes, waxes, oils, chlorophyll and more. This leaves a 99%
pure tasteless and odorless CBD powder.
Benefits:
As the purest form of CBD, it is optimum for individuals who want only the effects of
CBD.
Being THC-free, products made with CBD isolate guarantee that drug test results will
not be impacted.
Isolate-based products do not retain any odor or taste from the plant
Full-spectrum CBD is a whole-plant extract that contains additional beneficial
compounds that naturally occur in the hemp plant, including other cannabinoids,
minerals, proteins, terpenes, flavonoids and healthy fatty acids that all work
synergistically with CBD to affect your endocannabinoid system. This is known as an
"entourage effect" which is nature's own healing formulation. Formulated from raw
extract, full-spectrum products contain the complete hemp plant profile and are often
darker in color and stronger in taste.
Benefits:
There are multiple cannabinoids found in industrial hemp that have their own unique
health benefits. These are retained in full-spectrum products.
Studies have shown that when all of the hemp compounds are taken together, they
produce a higher level of efficiency in users.
Because they are less processed, the whole plant compounds are left in the same ratio
that nature intended.