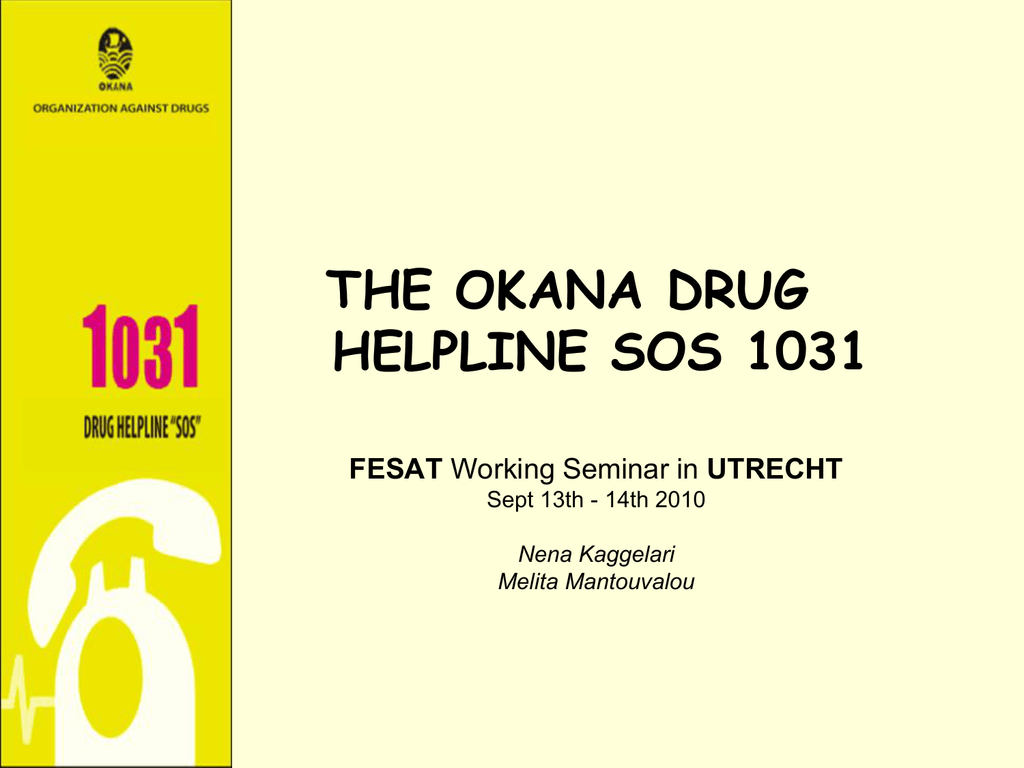 THE OKANA DRUG
HELPLINE SOS 1031
FESAT Working Seminar in UTRECHT
Sept 13th - 14th 2010
Nena Kaggelari
Melita Mantouvalou
OKANA
(ORGANIZATION AGAINST DRUGS)
The Organization Against Drugs
(OKANA) was established by Law
2161/93 and operates since 1995 in
Greece
Main Goals of OKANA
Design, promote & coordinate a
national policy on prevention, treatment and
rehabilitation in the field of substance abuse.
Study the phenomenon of drugs at a national
level, & provide information and help to the
public.
Create & develop municipal Prevention Centers,
Therapeutic Programs & Centers of Social and
Professional Rehabilitation.
Networking
o
o
o
o
o
Ministry of Public Health
Therapeutic programs
Local government
Universities
European and International
Organizations
 OKANA has developed an extensive network of
Prevention Centers all over Greece, in cooperation with
local municipality.
 It has also created various programs covering
Treatment and Social Rehabilitation of drug users.
OKANA's SERVICES
1. Prevention:
71 Prevention Centers operate all over the country in
cooperation with Local government.
2. Treatment :
1 Admission, Information and Orientation Center
24 Therapeutic Substitution Units,
3 Adult Drug Free Programs
4 Young people Drug Free Programs
3. Social Rehabilitation:
1 Social Rehabilitation Unit
1 Vocational Training Center (in Athens and Thessalonica).
4. Direct Services
1 Emergency Care and Support Unit
1 Day Care Center for Drug Addicts
1 Telephone Drug Helpline SOS 1031
5. Support Services
Administrative support services
Overview of the Drug
Helpline SOS 1031
• Started in 2000.
Covers the whole country as a low call
service (free of charge for Vodafone users).
Anonymity and confidentially of callers is
ensured.
Staff includes 5 mental health professionals:
a manager, 4 counselors, and an
administrative secretary (no volunteers at
the present moment).
Opening hours: Monday-Friday 8:00-20:00.
GOALS OF THE HELPLINE
 Information, support & guidance for all those
concerned with any aspect of substance misuse:
legal & illegal drugs, alcohol, tobacco, etc.
 Counseling for motivational purposes and
emotional support
 Emergency help & advice in case of a crisis
(withdrawal period, etc.)
 Referrals to services for treatment & prevention
 Advice on mental health & emotional support
resources
The OKANA DRUG HELPLINE
SOS 1031 RESPONDS TO:
The needs of people, directly or indirectly
involved with drug abuse
Specifically:
Drug users
Parents-siblings and relatives
Friends-Partners
Social workers-Health care professionalsEducators - Students-Employers
Media-Police -Public at large.
CALLER' S REQUESTS
Information about drugs.
Therapeutic or prevention
programs.
Help to handle an emergency
crisis.
Psychological guidance & support.
Technology & Reporting
Call details are registered daily in
a computerized database program
(Access)
Call records are collected on a
monthly basis & processed by the
helpline team
Statistics are used for Okana &
for Fesat's Monitoring Project
STATISTICS OF DRUG
HELPLINE SOS 2000-2009
CALLS TO THE HELPLINE 2000-2009
Irrelevant
No
relative calls
calls
Repeat calls
Repeating
calls
300
5919
New calls
18295
CITY OF CALLER 2000-2009
Thessalonica
1%
Rest of country
12%
Unkown
2%
Other
1%
Athens
84%
IDENTITY
2000 - 2009
ΙNDENTITYOF
OFCALLERS
CALLERS 2000-2009
General
populatoin
(teachersSocial Workersmedia-police
Specialistsetc)
Doctors etc
1%
3%
Unkown or
Other
7%
Friends Partners
13%
Drug Users
18%
ParentsSiblingsRelatives
60%
CALLERS REQUESTS 2000-2009
Relaionship
problems
3%
Legal aspects
1%
Prevention
2%
Other
5%
Medical aspects
5%
Therapeutic
possibilities
84%
DRUG USERS 2000-2009
WOMEN
16%
ΜEΝ
84%
ΜEΝ
WOMEN
SUBSTENCES2000
2000-2009
SUBSTANCES
- 2009
Other
Alcohol
Alchohol
4%
Cocaine
Cocain
Other (Pills,
(Benzodiazepines,
XTC,
Bezniodiazepine
LSD,
s, XTC,
LSDetc)
etc)
7%
6%
Hashish
19%
Heroin
64%
The role of the Counselor
Must create a trustful relation with the caller and
encourage open expression.
Clarify the question or problem.
Determine the goal of the conversation, together
with the client,
& help him make his own decisions, without giving
direct advise
Provide Closure
Update records & information regarding available
services in drug field.
Drug Helpline SOS
About us…………..
Methodological Approach
 Basic Principles of Client-Oriented Counseling
(Active Listening, Empathy, Unconditional Support
& a Non-Judgmental Approach).
 Transtheoretical model (5 Stages of Change,
Prochaska and DiClemente, 1984).
 Motivational Interviewing Techniques,
Miller and Rollnick, 1991.
Daily obstacles &
challenges:

Calls concerning safe home detoxification,
due to the existence of only one state detox treatment
program in the Psychiatric Hospital of Salonica (with a
limited capacity).

Difficulties when referring people for help to
substitution treatment programs, due to long waiting
lists

Having no feedback or follow up after referrals (for
most of the cases)

Suggesting further appropriate treatment & support to
people who have already tried many times in the
past and have no motivation (particularly older users)
SUPERVISION
A key tool in our function is our weekly
supervision session with the drug helpline
manager which has the following goals:
Developing skills/potential of our team for
improvement of our services.
Exploring the issues and difficulties
arising in certain calls & follow-up
Discussion & Feedback on topics of common
concern
TRAINING
 Participation in Conferences, Seminars &
Workshops organized by mental health
agencies.
 Additional training by the helpline manager
or the staff on various mental
health subjects, such as:
- chat model service,
- alcohol & gambling addiction,
- debriefing after crisis calls, etc.
THE PHILOSOPHY of our
HELPLINE is based on :
Confidentiality, Anonymity
and Equal opportunities, and
aims at creating
a relationship of
safety & trust where the
caller feels able to speak
freely.