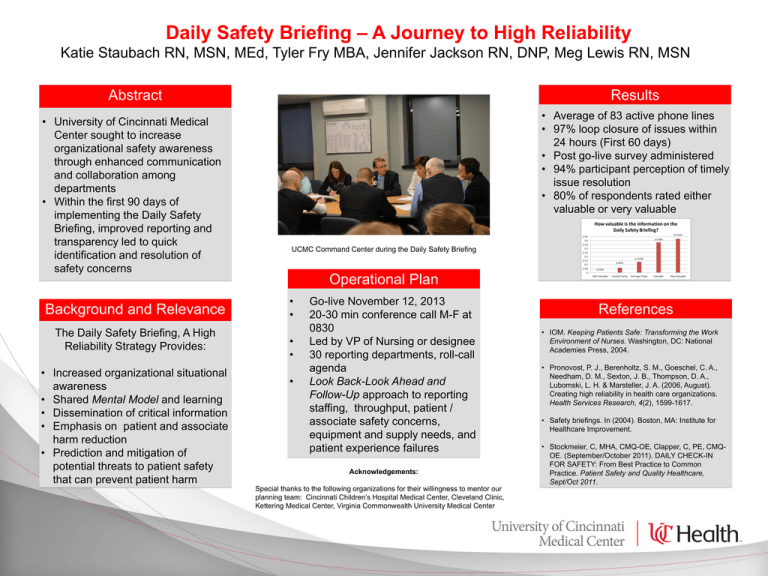 Daily Safety Briefing – A Journey to High Reliability
Katie Staubach RN, MSN, MEd, Tyler Fry MBA, Jennifer Jackson RN, DNP, Meg Lewis RN, MSN
Abstract
• University of Cincinnati Medical
Center sought to increase
organizational safety awareness
through enhanced communication
and collaboration among
departments
• Within the first 90 days of
implementing the Daily Safety
Briefing, improved reporting and
transparency led to quick
identification and resolution of
safety concerns
Background and Relevance
The Daily Safety Briefing, A High
Reliability Strategy Provides:
• Increased organizational situational
awareness
• Shared Mental Model and learning
• Dissemination of critical information
• Emphasis on patient and associate
harm reduction
• Prediction and mitigation of
potential threats to patient safety
that can prevent patient harm
Results
• Average of 83 active phone lines
• 97% loop closure of issues within
24 hours (First 60 days)
• Post go-live survey administered
• 94% participant perception of timely
issue resolution
• 80% of respondents rated either
valuable or very valuable
UCMC Command Center during the Daily Safety Briefing
Operational Plan
•
•
•
•
•
Go-live November 12, 2013
20-30 min conference call M-F at
0830
Led by VP of Nursing or designee
30 reporting departments, roll-call
agenda
Look Back-Look Ahead and
Follow-Up approach to reporting
staffing, throughput, patient /
associate safety concerns,
equipment and supply needs, and
patient experience failures
Acknowledgements:
Special thanks to the following organizations for their willingness to mentor our
planning team: Cincinnati Children's Hospital Medical Center, Cleveland Clinic,
Kettering Medical Center, Virginia Commonwealth University Medical Center
References
• IOM. Keeping Patients Safe: Transforming the Work
Environment of Nurses. Washington, DC: National
Academies Press, 2004.
• Pronovost, P. J., Berenholtz, S. M., Goeschel, C. A.,
Needham, D. M., Sexton, J. B., Thompson, D. A.,
Lubomski, L. H. & Marsteller, J. A. (2006, August).
Creating high reliability in health care organizations.
Health Services Research, 4(2), 1599-1617.
• Safety briefings. In (2004). Boston, MA: Institute for
Healthcare Improvement.
• Stockmeier, C, MHA, CMQ-OE, Clapper, C, PE, CMQOE. (September/October 2011). DAILY CHECK-IN
FOR SAFETY: From Best Practice to Common
Practice. Patient Safety and Quality Healthcare,
Sept/Oct 2011.