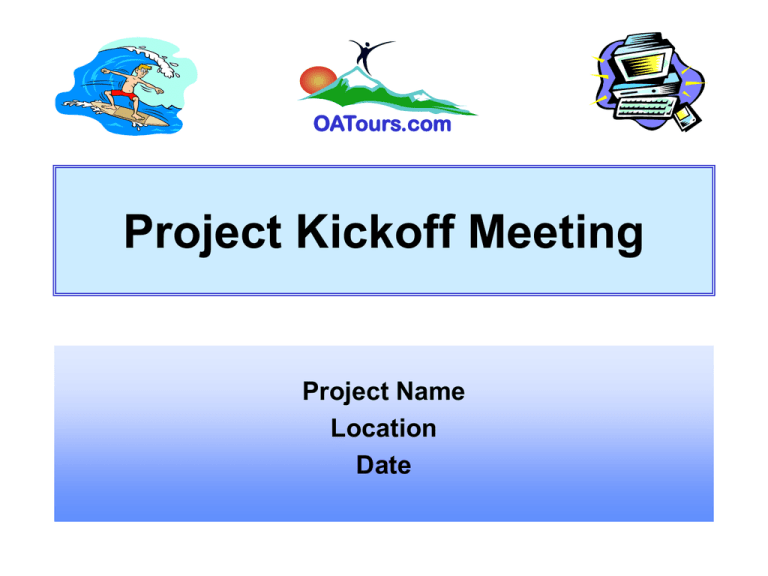 OATours.com
Project Kickoff Meeting
Project Name
Location
Date
Project Kickoff Meeting Agenda
•
Introductions (Review Agenda, Session Objectives, Ice Breaker exercise)
•
Client Executive/Sponsor Briefing
(Business and Project Vision, Company culture and values, Client Organization)
•
IT Organization Briefing (Overview of IT organization, culture, values)
•
Project Approach
(Project Life Cycle Process, deliverables (with samples), scope management,
communications plan, project extranet)
•
Project Team Organization
(Client and Development team roles and responsibilities, Team organization chart )
•
Project Vision (Vision for the Futire)
•
Risk Assessment (Identification and mitigation of key risks)
•
Measures of success
•
Next steps
Session Objectives
• Define project team roles and responsibilities
• Review project methodology and approach
• Define project policies and procedures
• Define measures of project success
• Create a cohesive, successful, high-performing team
Are there any other objectives we should include?
Introductions
• Your Name
• Your Organization
• Your Role
• What is the most interesting thing you have ever done
Icebreaker – World Map Exercise
Imagine a Map of the World (Mercator projection) on the floor
World Map on the next slide can be used for orientation
• Place yourself where you were born (2 minutes)
• The best place you have visited (1 minute)
• A place you want to go but never have (1 minute)
N
Client Executive Briefing
Client Executive invited to speak for 30 minutes on:
• What are the strategic and business drivers for this project
• Why is the project important to the organization
• Vision of the Future
• Specific objectives for the project
• Measures of success
• Client Company values and culture
Your Company/Organization Overview
• Your History
• Your Organization
–
–
–
–
Structure
People
Offices
Capabilities
• Your Projects/Clients
Project Approach
Team1 presentation
Project Approach
Project Approach
•
Project Life Cycle Process
•
Deliverables (with samples)
•
Scope management
•
Communications Management
•
Project extranet
Project Team Organization
Team 2 presentation
Project Team Organization
Project Team Organization
•
Client and Development Team roles and responsibilities
•
Team Organization Chart
Project Vision
Team 3 presentation
Project Vision
Project Vision
• Divide into mixed groups of 5 – 7 people max, and address the
following questions:
– How will this project enable you to do business in 1 – 2 years from now
– What will the "day in the life" look like for your customers and other
stakeholders?
– How will this project affect the organization?
(Employees, culture, organization structure)
– What are the Top 5 requirements for this project?
• Working as a team, develop one of the following:
– A short play or skit demonstrating a future "Day in the Life" of stakeholders
affected by this project
– A few web pages (on flip charts) that illustrate future functionality
– A Fortune magazine article written a year or two from now describing the
merits of your project
– A piece of art work illustrating your Vision of the Future
Risk Assessment
Team 4 presentation
Risk Assessment
Risk Assessment
• Prepare a Risk Response Plan for the Top Five Risks on your
project
Risk Response Plan – OATours.com project
#
1
2
3
4
5
Date
Risk
Prob.
Impact
(H/M/L)
(H/M/L)
Mitigating Actions
Action By – Target Date
Status
Measures of Success
• How do we measure the success of this project?
• What are the factors that will help to achieve this success?
Next Steps
• Determine the next steps
(Actions, with target dates and assigned responsibilities).