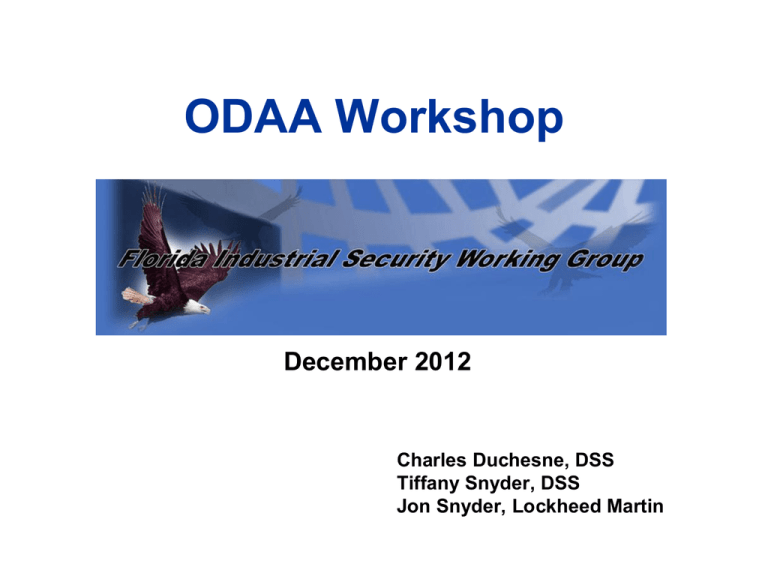 ODAA Workshop
December 2012
Charles Duchesne, DSS
Tiffany Snyder, DSS
Jon Snyder, Lockheed Martin
Objectives
• C&A Lifecycle
• Certification & Accreditation
– ISSM Certification
– Self Certification
– IS Disestablishment
• Waiver, Variance& Risk Letters
– Examples
– POA&M
• Hands On Lab
Certification and
Accreditation
C&A Lifecycle
• Certification and Accreditation Lifecycle
– What must be Accredited
– Systems Security Plan (SSP)
•
Plan types
– Information System Security Manager (ISSM) Certification
•
•
Steps/documentation required
Automated tools
– (M)SSP Submission
•
ODAA Email
C&A Lifecycle
• Interim Approval to Operate (IATO)
– Reasons for IATO denial
•
•
•
•
•
•
ODAA Review
DSS ISSP On-Site Review
Approval to Operate
Tracking IATO's and ATO's
Reaccreditation
Self-Certification
– Requirement for an ISSM
– General Guidelines
• Disestablishment of IS
Certification and Accreditation
• ISSM Certification
– Essential part of the IS life cycle.
– Attest that the protection measures described in the plan are
implemented and functioning correctly
– Certification of: ISSM System Certification Test Checklist.pdf
•
Physical Area Safeguards
• User Training
• Hardware
• Software
• Labeling
• Each Operating System that resides on the IS
Certification and Accreditation
• Self-Certifications
– The need for Self-Certification shall be reviewed on an annual
basis
• Requirements
– Successful completion of the NISPOM Chapter 8 course
– Facility must have a Satisfactory rating from the previous DSS
annual review. Or if a lower rating is received, finding are not
the result of the AIS program
– Written recommendation from contractor management
Certification and Accreditation
• ISSM's Self-Certification can be rescinded by:
–
–
•
Recommendation from the contractor management
Two or more serious IS-related findings at the most recent
annual review
General guidelines for Self-Certification
–
–
–
–
MSSP is the vehicle used for self-certifications
Separate MSSP must be written for each classification level
of processing
Caveat information does not require a separate MSSP
Each environment requires a separate MSSP e.g. Multi-user
Standalone, Domain Controlled, Peer-to-Peer
Certification and Accreditation
–
–
–
–
Self-Certification is not granted under an IATO
Based on similar systems and environments
Self-Certification will be identified through a current ATO letter
Self-Certified system must be properly identified and review by
DSS during the next vulnerability assessment
– Notification of self-certified systems must be made to ISSP/ISR
– Systems with variances cannot be self-certified
– ISSM cannot self-certify a WAN system but can self-certify a
WAN node
Certification and Accreditation
– Non-compliant systems cannot be selfcertified
– Variations e.g. Alternate Trusted
Download Procedures maybe approved
after a compliant system is self-certified
– Test equipment must be same make
and model
•
Recommend that a comprehensive list of
all test equipment to include
manufacturer, nomenclature, model, type
and amount of memory, and clearing and
sanitization procedures for each piece of
equipment use at the facility be
developed and submitted to DSS.
Certification and Accreditation
• IS Disestablishment
– End of Contract or program
– Media and memory must be sanitized using approved
procedures, destroyed or disposed of in accordance with
program requirements
– Record and logs associated with the IS must be retained for
one review cycle
– Systems not in use for more than 90 should be considered for
disestablishment
– ISSM submits a signed letter to the ISSP/ISR stating the
reason for the disestablishment and the disposition of the
hard drive (s) and media
Waiver, Variance & Risk
Letters
Definitions
• Variance - difference between what is expected by
NISPOM requirements and what actually occurs
• Waiver- approval document that provides relief from a
NISPOM requirement
• Risk Acceptance Letter (RAL)- Government Cognizant
Authority letter that accepts all residual risk for the
variance(s)
RAL Documents
• GCA accepts all residual risk for the variance
• Typically needed for relief for:
– Variances to Chapter 8 technical requirements
•
Legacy systems (Windows 95/98, Solaris 5.1, HP-UX)
• Special purpose, tactical, embedded systems
• Technical logon and authentication controls (not implemented)
– Alternate trusted download procedures
• RAL must be included with the security profile
submission
• ISSM cannot self certify systems operating under
RAL (i.e. with variances to NISPOM requirements)
• A new RAL must be generated after 3 years
RAL Requirements
•
•
•
•
•
•
Letter published on GCA letterhead
Reference applicable requirements that are not met
State the reason for the variance
Describe mitigation for the variance
GCA must state the approach is necessary
The GCA must acknowledge there is a risk in not
meeting NISPOM requirements
• The GCA must accept all residual risk for not
meeting NISPOM requirements
Example RAL
Plan of Action & Milestone (POA&M)
• A "get well" plan for systems that do not meet
technical requirements
• Identify if non-compliance was found during C&A
activities or an inspection
• Determine risk level from non-compliance
– Low- 365 days to be compliant
– Medium- 180 days to be compliant
– High- 90 days to be compliant
• Items are closed when validated by DSS
• GCA must approve all non-compliant settings due
to program compatibility or contract requirements
POA&M Template
POA&M Example
Variance Approval Request
• Approved by the RDAA of that region
• Typically used for:
– Auditing variance for holiday shutdown
– Alternate auditing procedures- infrequently used systems
or non-automated auditing systems
• For holiday shutdown, system must be accredited
or self-certified already
• For alternate auditing procedures, the ISSM may
include the procedure in the profile submission
• ISSM can still self-certify with this type of variance
approval
Variance Approval Request Requirements
• Letter published on company letterhead addressed
to the ISSP
• Holiday Shutdown
– Identify physical security measures that preclude access
– Systems must be audited can checked for tampering upon
return
– Should be submitted weeks in advance
• Alternate Auditing Procedures
– Identify physical security measures that preclude access
– Identify supplemental logs (ie. Safe logs, seals)
Example Variance Request Letter
DSS Waiver
• Can be challenging to obtain
• Submitted to ISSP, then to DSS Field Office Chief
for review
• Forwarded through to DSS/ODAA senior
management
• May be approved by:
– DSS Director
•
Approval of waivers related to NISPOM
• Must be for a single contractor and for a specific timeframe
– Deputy Under Secretary of Defense (DUSD)
•
Broad Application (multiple contractor facilities)
• International Issues or related for FGI
• Typically not used for chapter 8 requirements
DSS Waiver Requirements
• Identify NISPOM paragraph and reason for not
being able to meet the requirement
• Statement of criticality
• Description of information or material requiring
protection to include classification and caveats
• Description of physical area
• Copies of agreements and/or procedures relating to
the requirement
• The contractor's proposed alternative to the
NISPOM requirement (risk mitigation)
• Explain why the alternate countermeasure should
be acceptable and identify additional risks
DSS Waiver Sample
Hands On Lab
Hands On Lab
• How to certify Windows XP
– NISPOM + ISFO version 3 requirements
– MUSA, PL1, Restricted Area
– NISP tool verification
Questions?