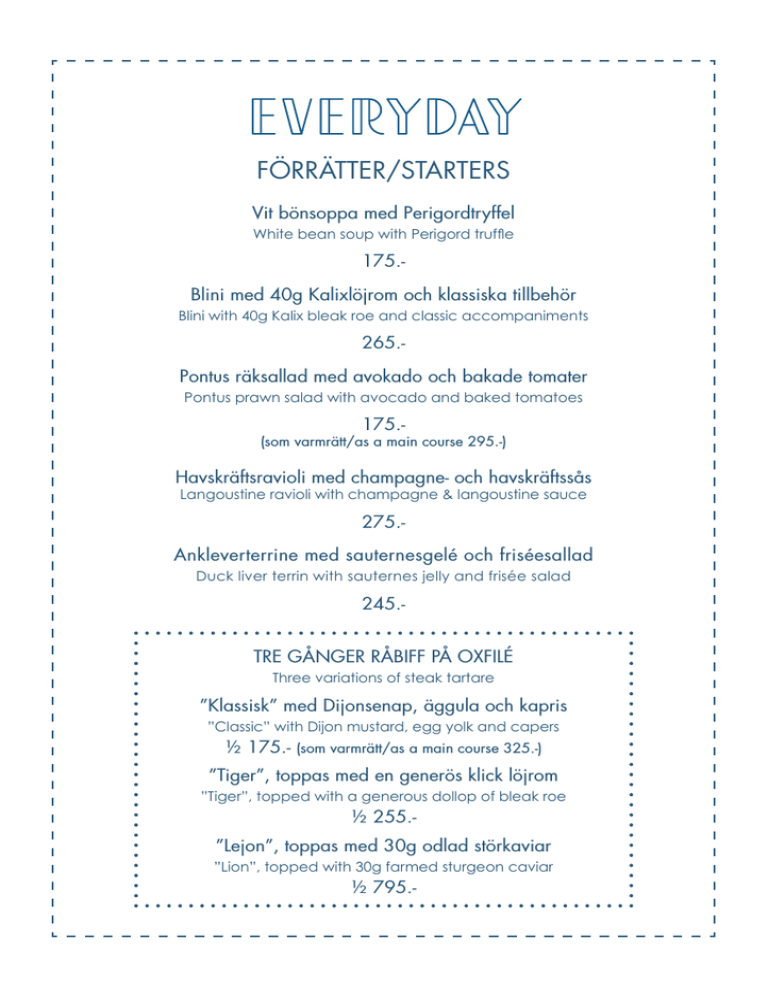 FÖRRÄTTER/STARTERS
Vit bönsoppa med Perigordtryffel
White bean soup with Perigord truffle
175.Blini med 40g Kalixlöjrom och klassiska tillbehör
Blini with 40g Kalix bleak roe and classic accompaniments
265.Pontus räksallad med avokado och bakade tomater
Pontus prawn salad with avocado and baked tomatoes
175.-
(som varmrätt/as a main course 295.-)
Havskräftsravioli med champagne- och havskräftssås
Langoustine ravioli with champagne & langoustine sauce
275.Ankleverterrine med sauternesgelé och friséesallad
Duck liver terrin with sauternes jelly and frisée salad
245.TRE GÅNGER RÅBIFF PÅ OXFILÉ
Three variations of steak tartare
"Klassisk" med Dijonsenap, äggula och kapris
"Classic" with Dijon mustard, egg yolk and capers
½ 175.-
(som varmrätt/as a main course 325.-)
"Tiger", toppas med en generös klick löjrom
"Tiger", topped with a generous dollop of bleak roe
½ 255."Lejon", toppas med 30g odlad störkaviar
"Lion", topped with 30g farmed sturgeon caviar
½ 795.-
VARMRÄTTER/MAIN COURSES
Rimmad, ångad torsk
med Smögenräkor, ägg, brynt smör och pepparrot
Cured, steamed cod with "Smögen" prawns, egg, browned butter and horseradish
375.Piggvar au vin blanc med legumes barigoule
Turbot au vin blanc with legumes barigoule
595.Kyckling från Bjäre med jordärtsskocka i tryffel- och kycklingbuljong
Chicken from Bjäre with Jerusalem artichoke in truffle & chicken consomme
285.Kalventrecôte med haricots verts, bakad cocktailtomat,
pommes fondant och sherrysky
Veal rib eye with haricots verts, baked cherry tomato, pommes fondant and sherry jus
295.Tournedos Rossini
- hängmörad oxfilè med halstrad anklever, tryffel och stekt brioche
- tenderized fillet of beef with panfried duck liver, truffle and brioche
545.Pontus! Burger av KRAV-märkt svenskt nötkött, cheddarost,
bacon, bifftomat, romansallad och grillad rödlök
300g minced rib eye and beef brisket, with cheddar cheese, bacon and red onion
215.Plusmeny med anklever/duck liver & tryffelaioli 355.-
Ekologiska köttbullar med gräddsås, rårörda lingon och potatispuré
Organic meatballs with creamy gravy, lingonberries and potato purée
185.Just nu! Prata med personalen om vilken specialrätt köket erbjuder just idag
Right now! The staff will give you all the details on this special
Vill du veta exakt vad maten innehåller? Be personalen om lista över samtliga allergener.
Do you want to know exactly what the food contains? Ask the staff for list of all allergens.