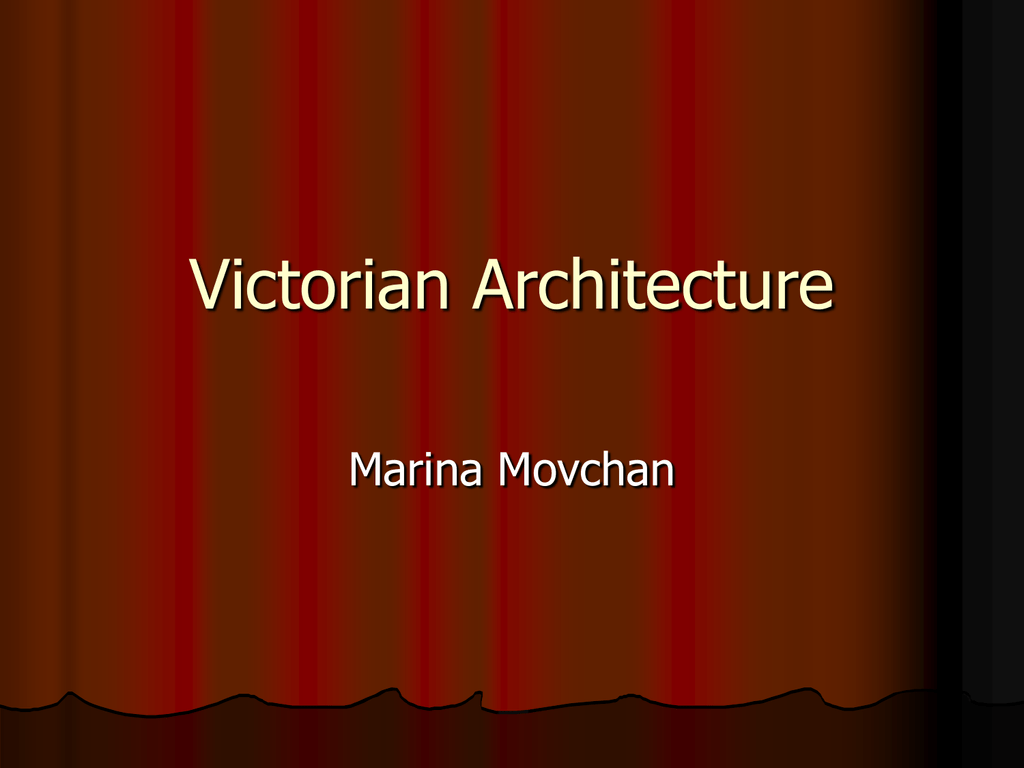 Victorian Architecture
Marina Movchan
Queen Victoria
(reign: 20 June 1837
– 22 January 1901)
Victorian architecture in the United
Kingdom
Mentmore Towers
Joseph Paxton
Crystal Palace
Archibald Simpson,
Alexander Thomson,
Holmwood House
North of Scotland Bank
in Aberdeen
St. Mark's Church by
Alexander Marshall
Mackenzie
Styles conceived in the Victorian era

Jacobethan (1830–70)
Anthony Salvin's Harlaxton Manor

Renaissance Revival (1840–90)
Mentmore Towers
National Westminster Bank
Neo-Grec (1845–65)
 Romanesque Revival
 Second Empire (1855–80)

Old Billingsgate Market, by John Jay
Grosvenor Hotel

Queen Anne (1870–1910)
County Hall, Wakefield, designed
by architects James Glen
Sivewright Gibson and Samuel
Russell in 1894.

British Arts and Crafts movement (1880–
1910)
Blackwell by Baillie Scott
Other movements popularized in the
period

Gothic Revival
Palace of Westminster,
completed in 1870.
Designed by Sir Charles
Barry and August Pugin
Fonthill Abbey by
William Thomas
Beckford
Manchester Town Hall by
Alfred Waterhouse

Italianate
Osborne House completed
1851 (by Sir Charles Barry)
Cliveden: Barry's NeoRenaissance mansion

Neoclassicism
Glasgow City Chambers by John
Carrick
International spread of Victorian
styles
William Butterfield
Jacob Wrey Mould
St. Peters Cathedral, Adelaide
North America
Banff Springs Hotel by
Bruce Price and Walter S.
Painter
The Saitta House,
Dyker Heights,
Brooklyn ("Queen
Anne") by René
Edward De Russy
Australia
Former General Post Office, Martin
Place, Sydney (Free Classical)
Bibliography
Dixon, Roger and Muthesius, Stephan. Victorian
architecture. Thames & Hudson: 1978. ISBN 0500-18163-2
 Prentice, Helaine Kaplan, Rehab Right, TenSpeed Press. ISBN 0-89815-172-4, includes
descriptions of different Victorian and early 20th
Century architectural styles common in the San
Francisco Bay Area, particularly Oakland, and
detailed instructions for repair and restoration of
details common to older house styles.

Thank you for attention!