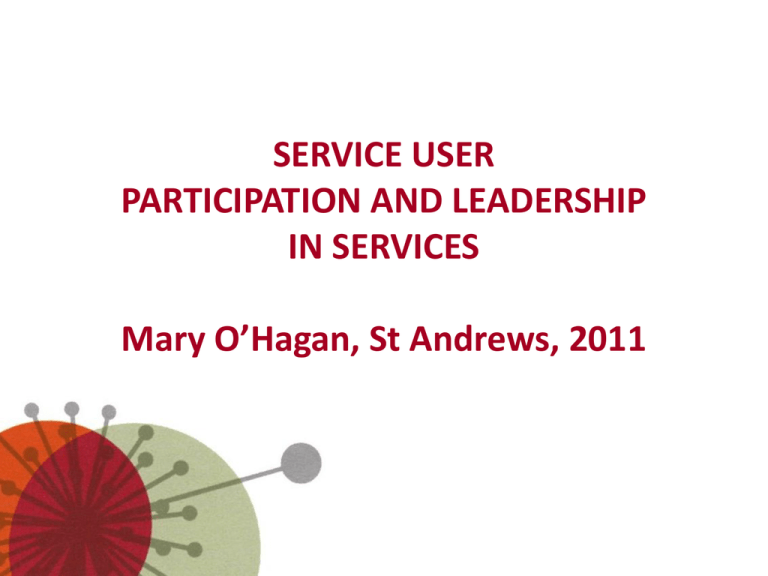 SERVICE USER
PARTICIPATION AND LEADERSHIP
IN SERVICES
Mary O'Hagan, St Andrews, 2011
INTRODUCTIONS
Mary O'Hagan
Name and organisation of participants
PURPOSE OF MORNING
To provide a helicopter view of service user leadership
and participation
To scan the internal and external contexts that help or
hinder service user participation and leadership in Fife
DEFINITIONS
Tables
What do we mean by:
• Service user
• Participation
• Leadership
• SUPL?
(3 mins)
SUPL LEVELS
Individual
• Own recovery
• Client-staff relationship
Service
• Service user run initiatives
• Mainstream services
System
• Local
• National
DEGREES OF POWER
LOW
HIGH
Neglect
Paternalism
Tokenism
Professional Power
Institutional era
Participation
Leadership
Shared Power
User Power
Transitional era
Recovery era
SUPL ORIGINS
Human rights
Customer rights
User/survivor movement (40 yrs)
Government policy (20 yrs)
WHY IS SUPL IMPORTANT?
Tables
Why does SUPL in services:
• Improve services?
• Improve recovery?
(5 mins)
SUPL TODAY?
Discussion
How well is Fife implementing SUPL today at all levels:
• Individual – Own recovery, client-staff relationship
• Service – Service user run and mainstream services
• System – Local to national
SEISMIC SHIFTS NEEDED
The four 'P's:
• Philosophical
• Psychological
• Power
• Practical
PHILOSOPHICAL SHIFTS
Beliefs about madness – a challenging but legitimate
human experience.
Responses to madness – support people to lead own
recovery, according to values of:
• Hope
• Self-determination over life
• Choices of services
• Valued place in world.
PSYCHOLOGICAL SHIFTS
New identities and roles:
• Service users – active agents
• Workforce – expert resource
• Families – supporters of recovery
• Communities – unfearful and inclusive
POWER SHIFTS
Transfer decisions & resources to service users
Individuals
• Collaboration, personalisation
• Prevent coercion
Collective
• Independent systemic advocacy
• Service users as leaders in services
PRACTICAL SHIFTS - INDIVIDUAL
Prevent legal and extra-legal coercion.
Practice collaboration eg strengths assessment/
personal planning, shared medication management,
shared risk management, self-directed care, personal
budgets.
Improve access to peer support & recovery education.
PRACTCIAL SHIFTS – PEER SERVICES
Plan, fund and develop peer run services:
• Support groups and networks
• Support in housing, education and employment.
• Support in crisis
• Artistic, cultural and social activities.
• Recovery education for peers.
• Mentoring, counseling and befriending.
• Systemic and individual advocacy.
• Information development and distribution.
PRACTICAL SHIFTS – MAINSTREAM SERVICES
Employ people with lived experience in:
• Generic roles eg professionals, managers.
• SU Specific roles eg advisors, peer support workers.
Support staff with lived experience
• To 'come out'.
• workplace adjustments.
Create transparent, responsive feedback loops for
service users as individuals and as a collective.
PRACTICAL SHIFTS – SYSTEM
Community governance – user led stakeholder boards to
oversee local inter-sectoral service development:
• Investigate the needs/strengths of local communities
• Investigate outcomes for people using services.
• Evaluate services.
• Advise funders and providers.
• Provide information on services and their quality.
BREAK
15 mins
SUPL CONTEXT IN FIFE
Small groups
1. PEST analysis – Political, economic, social &
technological environment (looking out)
2. SWOT analysis – Strengths, weaknesses, opportunities
& threats (looking in)
(30 mins)
POLITICAL
ENVIRONMENTAL
SOCIAL
TECHNOLOGICAL
STRENGTHS
WEAKNESSES
OPPORTUNITIES
THREATS
LEARNING FROM THE MORNING
Take a blank sheet of paper
• Write the three most memorable things you have
learnt
• No more than a sentence for each
• Write clearly
• Put paper in middle
LUNCH
Back at 1.30
INTRODUCTIONS
Mary O'Hagan
Name and organisation of participants
SUMMARY OF MORNING
What was learnt.
Other comments.
See handout.
PURPOSE OF AFTERNOON
To map current service user participation and leadership
in Fife – good, poor and non-existent.
To design and agree on new and improved service user
participation and leadership processes.
MAPPING SUPL IN FIFE
Small groups
NHS, Council, Voluntary sector, Interagency
Draw up the points where important decisions are made
at the service or system level and plot where service user
participation/leadership is:
• Good
• Poor
• Not happening
INTERAGENCY GOOD
NHS GOOD
COUNCIL GOOD
VOLUNTARY SECTOR GOOD
INTERAGENCY POOR
NHS POOR
COUNCIL POOR
VOLUNTARY SECTOR POOR
INTERAGENCY NONE
NHS NONE
COUNCIL NONE
VOLUNTARY SECTOR NONE
BREAK
15 mins
FILLING THE GAPS IN SUPL IN FIFE
Small groups
NHS, Council, Voluntary sector, Interagency
Design new or improved processes for service user
participation/leadership where it is poor or not
happening.
INTERAGENCY NEW OR IMPROVED
NHS NEW OR IMPROVED
COUNCIL NEW OR IMPROVED
VOLUNTARY SECTOR NEW OR IMPROVED
QUOTE
The best way to predict the future is to invent it.