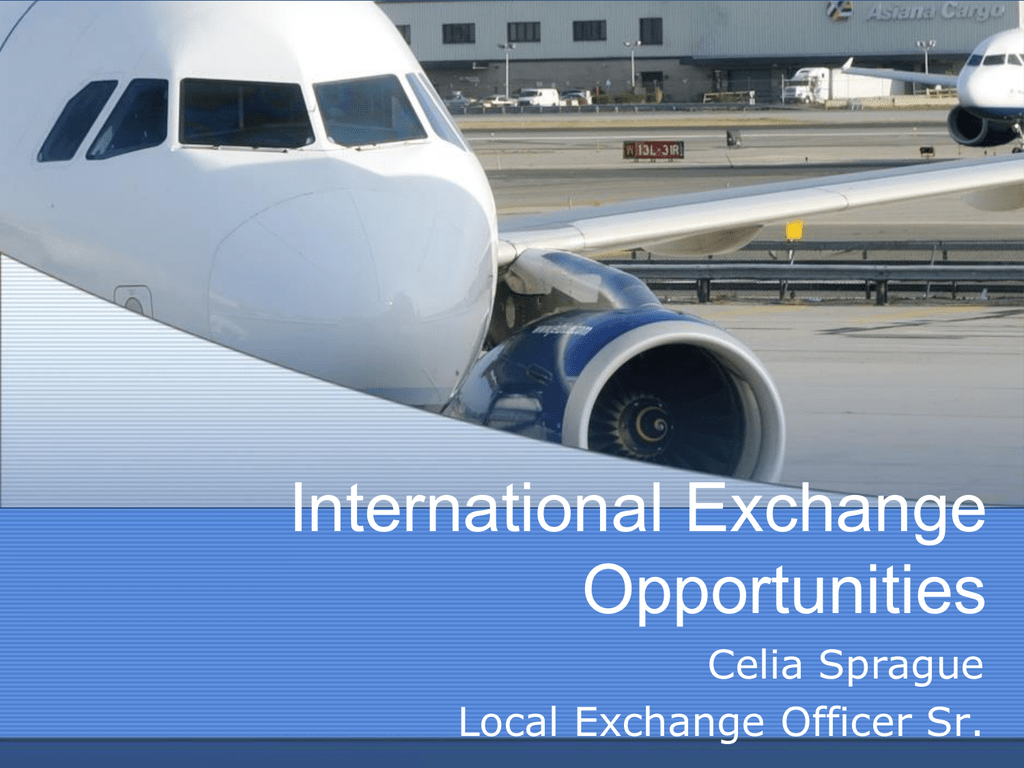 International Exchange
Opportunities
Celia Sprague
Local Exchange Officer Sr.
IFMSA
International Federation of Medical Students
Association:
• Established in 1951
• Run for and by medical students
• Officially recognized as a Non-Governmental
Organization by the United Nations
• Recognized by the World Health
Organization as the International Forum for
medical students world-wide
Local Exchange Officer
• Facilitate process for outgoing students
• Collect applications for request for exchange
• Communicate with IFMSA and CFMS
representatives pertaining to exchange
process
• Organize pre-departure training (in
collaboration with Global Health Team)
• Establish Welcoming Committee for incoming
international students
Local Exchange Officers
Local Exchange Officer Sr.
Celia Sprague (West campus)
Local Exchange Officer Jr.
Andrew Ross (West campus)
Exchange Opportunities
• Clinical (SCOPE)
• Research (SCORE)
• Exchanges are geared toward 1st and
2nd year medical students
• NOSM has approved International
Exchange Electives to apply toward
mandatory elective
SCOPE
• Standing Committee on Professional
Exchange
• Clinically based exchange
• Combines curricular benefit to cultural
enrichment
• IFMSA currently holds contracts with
19 countries for professional exchange
SCOPE Countries 2010/11
• Brazil-IFMSA
• Chile
• Columbia
• Switzerland
• Denmark
• Jamaica
• Peru
• Brazil-DENEM
• TartarstanRussia
• Turkey
• Jordan
SCORE
• Standing Committee on Research Exchange
• Primary mission is to provide intensive and
focused research projects, which allow
medical students to expand their knowledge
of specific scientific areas of their choice,
while encouraging the formation of
professional and social networks abroad
• IFMSA currently holds contracts with 14
countries for research exchange
SCORE Countries – 2010/11
•
•
•
•
•
•
•
Tunisia
Switzerland
Serbia
Poland
Japan
Greece
Taiwan
•
•
•
•
•
•
•
Egypt
Czech Republic
Chile
Tatarstan-Russia
Austria
Brazil-DENEM
Brazil-IFMSA
Unilateral vs Bilateral Exchanges
• Unilateral  housing & food costs are
paid out-of-pocket by the outgoing
student, no requirements for hosting
an incoming student
• Bilateral  housing & partial food costs
are covered with the agreement that
you will host an incoming student if
necessary
Unilateral & Bilateral
• Can students apply for both
bilateral and unilateral exchanges?
• Yes. But bilateral positions will be
selected first. If they are selected for a
bilateral spot, their name will be
removed from the unilateral pool.
SCOPE vs SCORE
• SCOPE = clinical
• SCORE = clinical research
• Can I apply to both?
• Yes. But they cannot take both
positions if they are selected for each
one. They will have to choose which
one they prefer.
How do I apply?
1. Go to:
http://cfms.org/global_exchanges.asp
Read FAQs
2. Review the exchange conditions for
each country that you would like to
apply to:
SCOPE:
http://www.ifmsa.net/public/ecscopeselect.php
SCORE:
http://www.ifmsa.net/public/ecscoreselect.php
How do I apply?
• Remember, if the exchange conditions
require applicants to be in clerkship –
1st & 2nd year NOSM students can
apply – you are considered to be
clinical students.
3. Go to
http://cfms.org/global.asp?PageID=13
58
Fill out online application. This takes
about 5 min only.
How do I apply?
REMEMBER THE DEADLINE IS:
th
29
OCT
@
MIDNIGHT
Now what?
• You will be informed mid-November if
you have been offered an exchange.
• You will then have about two weeks
to decide whether you would like to
accept or decline the exchange.
Questions?
• Email Celia Sprague
([email protected])
Or call me at 807 215 2690
Thanks!