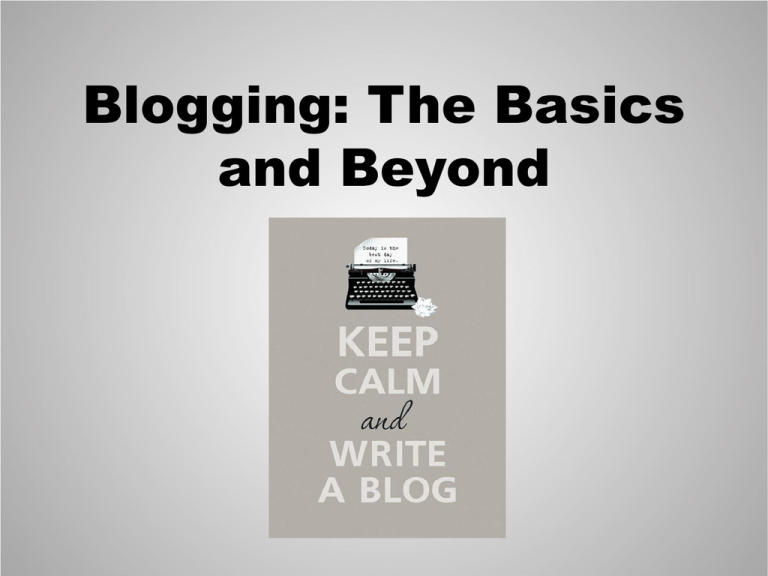 Blogging: The Basics
and Beyond
What is a blog?
• Originally slang for web log, the word
brought the two words together and
dropped the "we" according to the Oxford
English Dictionary
• Multitudes of platforms today. The most
popular are free and globally reaching.
• Examples of platforms include Wordpress,
Blogger, Tumblr, and Twitter.
Some Starting Discussion
• What is your idea of a blog?
• How do you see the purpose of blogs?
• So you already have a blog and, if so,
what do you use it for?
Blogs
vs.
Websites
• Frequently updated
• Sometimes updated?
• Interactive
• Static
• User-friendly (easy to
work with)
• Less easy (require
some skill)
• Shared
• Owned
Source-based:
Information is centrally-located
User-based:
Information is shared
Who Blogs?
• New York Public Library
– http://nypl.tumblr.com/
• GSLIS
– https://publish.illinois.edu/gslis-itd/
• Library of Congress
– https://twitter.com/librarycongress
• Individual Librarians
– http://freerangelibrarian.com/
– http://librarianinblack.net/librarianinblack/
Why Blog?
•
•
•
•
Current
Free
Interactive
You, too, as a librarian or representative of
an institution have a voice
• Why do you want to blog?
• What would be your goals?
• How would you want your blog to seem to
other people?
Getting Started
Content
Audience
Delivery
•
•
•
•
Who is your ideal audience?
Where are they located?
What are their needs do you think?
How can you match those needs given the
different ways you can blog?
Content
•
•
•
•
FOCUS
Keep it concise
Be visual
Find your niche
– What is your specialty?
– What is in your collection?
– What are you involved with?
Audience
• Who is it?
• What do they need?
• What can you give them?
Delivery: Blogging vs.
Microblogging
Microblogging
• Focuses on very short
entries
• Often uses single
images per entry and
hyperlinks
• Examples include
Tumblr and Twitter
Blogging
• Entries relatively
more textual
elaborate but still
concise
• Visual in layout and
uses many images
per entry
• Examples include
Blogger and
Wordpress
Questions?
Do check out our upcoming workshops on
blogs! Now you know the basics so you
can jump into more detail.