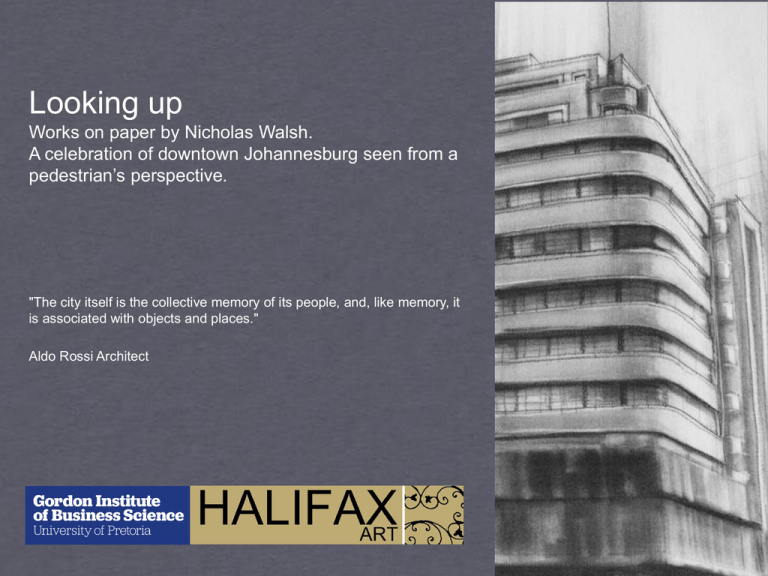 Looking up
Works on paper by Nicholas Walsh.
A celebration of downtown Johannesburg seen from a
pedestrian's perspective.
"The city itself is the collective memory of its people, and, like memory, it
is associated with objects and places."
Aldo Rossi Architect
Nick Walsh was born into a tobacco farming family
in Zimbabwe and educated at St george's College in
Harare.
He studied Graphic Design in johannesburg and
joined the advertising world initially as a story board
artist then on to becoming an award-winning art
director in a number of leading johannesburg
advertising agencies.
He now works as a commercial film director and
divides his time between film sets and his studio in
Greenside.
LOOKING UP.
With the exciting hustle and bustle of traffic , hawkers and the frenetic life in the inner city of Johannesburg
one scarcely looks up at the magnificent skyline.
Nick Walsh is assembling an exhibition of drawings which reflect his passion for the iconic architectural
heritage of Johannesburg that for over a century have been beacons of progress and testament to the gold
rush . The detail in the work captures the technical and structural magnificence of the buildings, both big
and small, and in particular the outstanding Art deco influences of the 1930's.
His drawings are rendered in monochromatic shades of charcoal and pastel . He chooses to omit anything
that corrupts the detail , street clutter is ignored , drawing the eye upward.
The idea for an exhibition is to introduce the public to the magnificent heritage we have on our doorstep.
Through the work take a walk down town and learn a little about the legacy of Johannesburg and the
scramble for the skyline.
The show will have various parts - a formal series of grand land mark buildings. The Scramble for the
skyline in the 1930's and the surge of art deco influences in design. A selection of little known smaller
buildings and jewels of the city.
The show is being sponsored by the Gordon Insitute of Business Studies under thier Art at Gibbs program
and will be opened on the May 29 by well respected Architect and heritage consultant Brian McKechnie.
Patidar Mansion. 1947.
Standard Bank Commissioner Street.
Normandie Court, Kerk Street.
Ansteys Building Jeppe Street.
Chrysler House Albert Street.