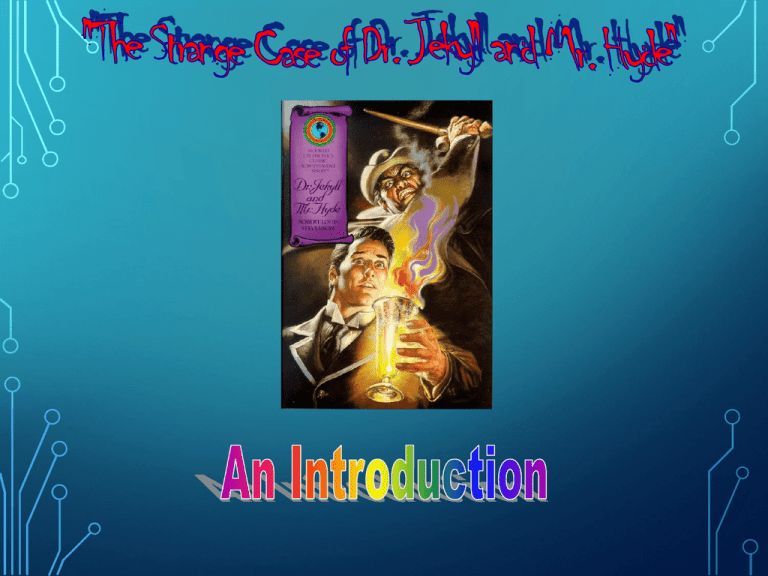 Robert Louis Stevenson
1850-1894
• Scottish essayist, poet, and author of fiction and
travel books
• Many stories have horror and supernatural
elements
• Characters often prefer unknown hazards to
everyday life of Victorian society.
• Gained first fame with the romantic adventure
story Treasure Island (a combination of travel
adventure and romance)
•
Stevenson suffered from tuberculosis as a child.
•
He spent much time in bed and composed stories
even before he learned to read.
•
To improve his health, Stevenson travelled the
Continent and the Scottish Highland.
•
The trips provided him with inspiration for his writing.
•
He died of a brain hemorrhage on December 3, 1894
 "The Strange Case of Dr. Jekyll and Mr. Hyde"
was published in January of 1886.
 Stevenson was interested in a person's character.
Why could they be bad as well as good?
 He was fascinated by the "dregs of humanity," but
came from a good family.
 After a nightmare, Stevenson wrote the story of
Dr. Jekyll in just three days.
Novella
Longer and more complex
than short stories but shorter
and simpler than novels.
Victorian Era
•1830s-beginning of 1900s
•Queen Victoria ruled 1837-1901
•Britain world's leading economic and military power
•Controlled a vast empire
•Period of intense changes in many areas (Railroads,
postal system, medicine, industry
•People flocked to cities in search of work
•1880s poverty began to become a problem
•Changes in traditional society frightened many
Britons.
• Jekyll's fine home in a formerly grand
neighborhood is now in decay
• Lanyon's comfortable home is in
Cavendish Square (many
distinguished doctors have their
houses and offices)
• Hyde's house in Soho is a part of
London known for its immigrant
populations.
www.englishteaching.co.uk
Victorian London Readers
•Sold over 40,000 copies in 6 months
•Conflict between Jekyll and Hyde
reveals era's class phobias
•Story of double personality and
metamorphosis appealed strongly to
Victorian readers
Doppelganger
Concept of a "double-self" or "twin"
Alter Ego: The continual struggle of
who we are and who we are expected to be.
Popular in 1800s
Genre began with a story about this type of double
when Dr. Frankenstein created his monster in 1818
Characters have become part of cultural
mythology
Good/ Evil
Does everyone have a
little bit of both?
Hyde and Go Tweet
Dual Nature/ Split Personality
Think about a time when you showed kindness
to an animal or another person and then about a
time when you were cruel or unkind.
Why might you act in these opposite ways at
different times? What causes a person to act in
such radically opposite ways and what does this
suggest about human personality or human
nature?
Dual Nature/ Split Personality
•Many religions use the concept of dual nature to
explain the struggle within a person to choose
between good and evil. (Adam/Eve; Cain/Abel)
•Films and fiction often explore the dual nature of a
criminal by showing an evil person performing an act
of kindness.