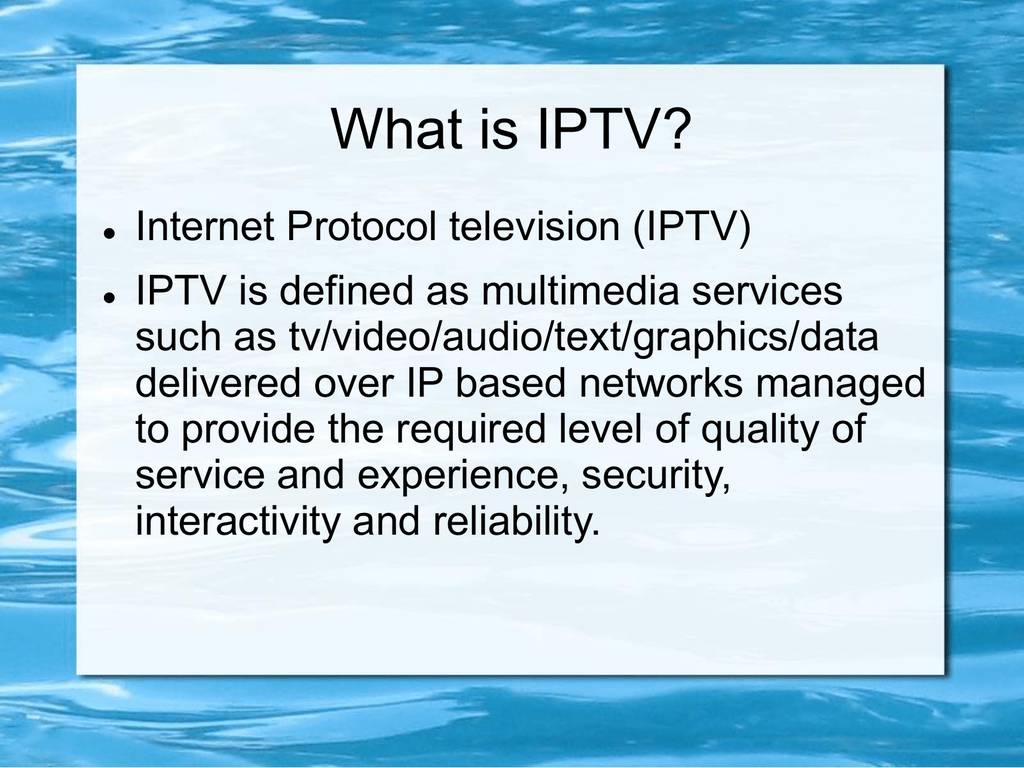 What is IPTV?


Internet Protocol television (IPTV)
IPTV is defined as multimedia services
such as tv/video/audio/text/graphics/data
delivered over IP based networks managed
to provide the required level of quality of
service and experience, security,
interactivity and reliability.
IPTV history?



1994 first time television show was
broadcast over internet by ABC - Word
News Now.
The term IPTV first appeared in 1995 with
the founding of Precept Software by Judith
Estrin and Bill Carrico.
First continuous live webcasts started by
Internet radio company AudioNet
10.Jan.1998
IPTV main services

Live television

Time-shifted television (replays)

Video on demand (VOD)

Radio broadcast

Interactive applications (web browsing, email, games and others)
IPTV Architecture

Content source (Video/stream store)

Delivery and Management Network
(Encode and stream servers. Multicast,
Unicast)

Home network (PC, TV, STB...)
IPTV Architecture 2
IPTV Security Objectives
The main security objectives for IPTV service are:
IPTV service should be high stable and high available.
Only allowed people can access and operate on the IPTV
services
Abuse actions should be controlled to reduce garbage data.
The IPTV service should be protected against unauthorized
deletion, insertion, modification or replay attack.
The IPTV service programs should be protected by
copyrights.
IPTV Attacker's Goals

Take control of home networks

Service disruption

Spreading worms, trojans, virus

Broadcast own material (for political or
other reasons)

Steal the content

For piracy or as simple as P2P TV source

For free TV or VOD
IPTV Security Testing
A combination of:

Network penetration testing

Web application security testing

Device security testing

Software vulnerability testing
May also include

Policy and procedure review
VOD Encryption
Verimatrix Encryption solusion
Verimatrix High-Level Architecture
Thank you for listening!

Questions?